Soulcalibur VI review: A cut above the rest
Scoop up the long-awaited Soulcalibur VI and chop 'til you drop.
We're reader-supported and may be paid when you visit links to partner sites. We don't compare all products in the market, but we're working on it!
Though it's been a whopping 23 years since this fighting series first unsheathed its weapons, its soul still burns brightly. Interestingly, what we have here today is a unique chapter in that the plot is being walked back to the events of the original Soulcalibur. Yup, for the first time ever Project Soul is literally doing the franchise's catchphrase: this tale of soul 'n' swords will transcend history and the world to be (eternally) retold.
The fundamentals haven't changed. You still have a one-on-one fight scenario where two warriors will do their utmost to hit one another with large chunks of metal in a 3D arena where "8-way running" is supported. Likewise, you still have all your old basic buttons (horizontal and vertical attacks, plus kick and block) not to mention slightly more advanced techniques like throws, armour breaks and Guard Impacts (parries). More advanced, edgemaster-esque players may also use ultimate attacks and combos known as Critical Edges and Soul Charges.
If you're a veteran of the series, all of that is pretty par for the course stuff. What's new here is a system called Reverse Edge. All you need to do is tap R1 or RB to trigger an attack animation which, once it successfully lands, will trigger a cinematic, slow-mo moment where both parties effectively play a game of rock, paper...well, sword. Actually, you get about eight input choices rather than three, though the concept of one action trumping another still applies. Matched inputs will result in an anti-climactic exchange of no damage, mismatched pairings mean somebody's gonna get a new breathing hole installed.
I had my reservations going in, but I quite like this new system in practice. On the one hand, it's not bound by a gauge and can be used by players of any skill level to turn the tide a little. On the other, it can't be reliably spammed in such a way as to be an annoyance. Reversal Edges have a fairly slow, pretty telltale wind-up animation that is a vertical attack (traditionally one of the easiest moves to laterally skirt around). In the end, it's all about knowing your opponent. Everybody has that one special mate who, in the heat of the moment, thinks that nothing beats rock...
Beyond that change, the bulk of new stuff in VI comes in the form of new modes, a roster of new, old and long-lost favourites returned, plus the visual aesthetic is much more vibrant. In more recent years the world had been ravaged by the demon soul at the centre of this tale and as a result, the Project Soul artists had gone darker and edgier. Back at the start of it all everything is noticeably brighter and cheery, plus there's a neat time of day system for the stages that often bathes the deciding round of your brawls in romantic sunset hues.
I'm also happy to say that Bandai Namco hasn't done a wham-bam Tekken 7, two-hour job on the solo content here. You actually get 2 modes and about 10 to 12 hours of playtime. Soul Chronicles is a lengthy timeline affair that lets you stick with a character from woah to go, or you can change course (and go back in time if necessary) to any of the 20 others at any point in the affair to see what they were up to on their own journey. As per usual it's an "all roads lead to the demon sword" affair and I don't think it trumps Injustice 2, the current gold standard for fighting game storytelling. That said, it's a vast improvement over previous entries in this franchise.
The cherry on top: Libra of Souls is an even chunkier offering that dips into RPG territory. You'll build your own character from scratch and take them on a map-hopping trek to beat the snot out of other random and established characters alike. Via text-heavy interactions you'll meet and greet NPCs who offer you morality-defining moments or personal problems that need...you guessed it, "swording" out.
Typically a quest involves unique conditions-based fights where you'll need to play to tactic in order to win the day and a chunk of XP. Levelling up earns you the right to wield more potent unlockable weapons which have unique effects to them as well. You can also buff yourself before a fight with food, or kit out and send in an AI mercenary in your stead. If they're good, they'll win the fight without you having to lift a finger. If they suck, they'll at least wound the opponent before you get in and do your own dirty work. It's pretty cool stuff.
Roster-wise, the stable of fighters here is the best it's been in years. Soulcalibur V infuriated fans by removing and/or replacing a few favourites, but Soulcalibur VI brings back the ones we love, plus it adds one of the best fitting "guest characters" the franchise has ever seen. Geralt of Rivia, drawn from The Witcher RPG series, is a magic-imbued swordsman who's not to be taken lightly. His pirouetting sword style can be tough to read, his projectile-like blasts give him quick reach and his knockback hits make him a bit of a ring-out bandit, too.
He's flanked by two other worthy newcomers: Grøh, a tricksy two-sworder who teleports and Azwel, an unorthodox conjurer of weapons who will constantly keep people on their toes. They're solid enough imports, but to be honest I haven't really warmed to them like I have The White Wolf. Neither of them cause much of an upset in online or offline multiplayer, both of which work fine at the time of writing (and the measure of these were taken in special pre-launch sessions and conditions). Here's hoping there are no last-minute server kinks come launch. Don't imagine there will be.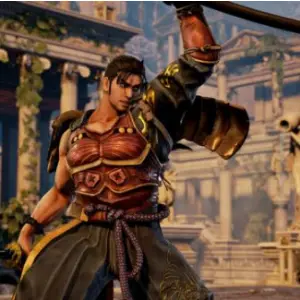 When all's said and stabbed, Soulcalibur VI stands victorious as the best sequel seen in ages. It's retained all of its approachability while diluting none of its technicality. The solo content is also remarkably robust (for the genre) though it has to be said that the content is bloated with way more blah blah than actual skull bashing. Be that as it may, on the whole this is the sharpest package we could have hoped for after a worrying six-year drought. Unsheathe this at your earliest possible convenience.
Soulcalibur VI
8.5 EXCEPTIONAL
What we liked...
Weaponmaster-like story mode with RPG elements
Returns (almost) all of our fave fighters
Brighter and more stunning than ever in 4K
Geralt of Rivia is an absolute boss
What we didn't like...
20 character roster is a bit slim
Story is heavily weighted to exposition rather than fights
VERDICT
It's been a long time coming, but the wait for Soulcalibur VI was totally worth it. VI packs in the story content, adds in game-changing mechanic that doesn't destroy the meta and undoes the roster missteps of V. Scoop it up and chop 'til you drop.
For more information on how finder.com.au scores games, check our review guidelines.
---