Sonos One is now Alexa-enabled in Australia

Australians will be able to update their Sonos One speakers to use Amazon's voice assistant from today.
Sonos' voice-capable speaker, the Sonos One, has been available in Australia since late last year but it launched with one critical missing element, namely an integrated voice assistant. At the time that wasn't so much of an issue, given that Amazon's Alexa service, available on Sonos One overseas, hadn't launched here either.
Amazon did (eventually) launch Alexa-enabled devices such as the Amazon Echo and Amazon Echo Dot as part of its smart speaker range, but Australian Alexa support for the Sonos One was nowhere to be seen, at least until today.
Sonos has announced that it's rolling out an update for Sonos One owners that will enable Alexa support from today, with the firmware update handled from the Sonos app on your Android or iOS device directly.
The Sonos One will support most Alexa commands, save for calling, with Sonos' Ryan Taylor, Global Director of Partnerships, telling finder that "we didn't want to interrupt the enjoyment of music" as the reason why.
While Sonos now includes support for Audible audiobooks, they too won't be able to be accessed via voice, although standard volume commands should work if you're already listening to a book launched through the Sonos app.
The Sonos One will also work with other Alexa-enabled devices, so it's feasible to control playback on a Sonos One via, say, an Echo Dot device if you already have one. Sonos' expectation is that it should work with all other available Alexa Skills, so you will also be able to use the Sonos One to control Alexa-compatible smart home devices.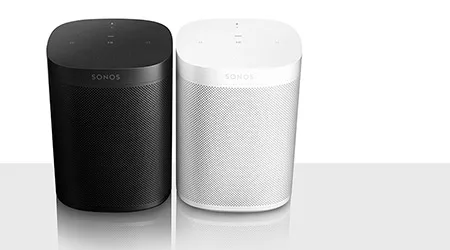 Buy the Sonos One speaker
from Amazon
Sonos combines its expertise in music quality within a compact speaker that also incorporates Amazon's Alexa assistant to keep your smart home running.
View details
The high-end smart speaker world is certainly heating up of late, with Panasonic recently announcing Australian availability of its GA10 smart speaker, LG jumping into the space with its WK7 AI ThinQ speaker, and Apple getting ready to release its AirPlay 2 update for the Apple HomePod to enable stereo modes.
---
Follow us for all the latest smart speaker news and deals
---