Sonic Mania Plus (Switch) review: The postscript to last year's love letter
Sonic Mania Plus is an elaborate love letter to the Sonic games, although it's only a tiny improvement over Sonic Mania itself.
We're reader-supported and may be paid when you visit links to partner sites. We don't compare all products in the market, but we're working on it!
Good love letters are hard to write.
Sure, it's easy enough to write a terrible love letter, full of schmaltz and rosy reminiscences, but making a good ode to your love, whatever or whoever it may be, is a tough ask. It's a balancing act of displaying passion while not overloading the subject with the strength of that same passion.
I know what you're thinking. You're wondering if you've accidentally wandered into the hitherto unknown Romance Finder part of the site, but bear with me. You see, 2017's Sonic Mania was undeniably a love letter to the classic Sonic games, developed by folks largely outside Sega itself (and notably not part of Sonic Team) with a hearty helping of design inspiration from Sonic The Hedgehog 1–3, as well as Sonic & Knuckles and even Dr Robotnik's Mean Bean Machine. It was one of 2017's finest games if you like classic 2D platformers, especially if you'd never played any of the "classic" Sonic titles.
Which brings me to Sonic Mania Plus, an upgrade for Sonic Mania that existing owners can either buy as affordable DLC download or as its own distinct physical copy.
Naturally, the latter will set you back a few more dollars than just upgrading the game, although at least for the Switch version you do also get a nifty art booklet and reversible cover that pretends Sonic Mania Plus is a Sega Megadrive game.
Essential extras? Hardly, but if you're of the retro persuasion like me, they're a lovely little extra bonus. The bonus chocolate in the love letter envelope, if you will.
The plus in Sonic Mania Plus relates to adding two "new" characters to the mix, in the form of Mighty the Armadillo and Ray the Flying Squirrel. They're not actually "new", strictly speaking, having been borrowed from the Japan-only SegaSonic The Hedgehog arcade game. If you try to tell me you remember them from the original arcade rather than having sneakily emulated them, I'm probably going to accuse you of fibbing.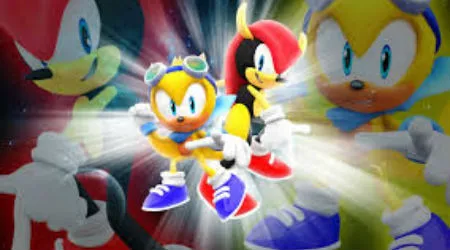 Mighty can perform a downwards ground pound and being an armoured dillo (not that I'm aware of any other kind), he's also immune to some environmental hazards that otherwise send your rings spinning.
Ray's got a somewhat Poochie-fied look to him, but he's likely the character that you'll enjoy more out of the pair, thanks to his gliding ability that makes it easier to explore Sonic Mania's sprawling levels to find those elusive Chaos Emeralds.
You also get a new "Encore" mode, which further mixes up Sonic Mania's Mania Mode by switching around character selections on the fly and changing enemy placements.
Encore Mode is fine, but not quite as well balanced as Mania Mode, thanks to the character swapping gimmick. It does get past the issue that Mania Mode has where you're stuck with your character selection the whole game through, because you're rapidly swapping between all available characters through each level.
Encore mode also introduces a new bonus pinball game, presumably so that the developers could also tick Sonic Spinball off their to-do lists. Sadly, though, it's a weak pinball game bonus round and not up to the standard of the rest of the package. I guess it's a rule that every Sonic game, even the good ones, has to have a notable weak point.
Less problematic is the new multiplayer split-screen competition mode. You'll need additional couch players, rather than online, but then the fast pace of Sonic Mania wouldn't lend itself well to online play anyway. As it was back in the days of Sonic 2, it's a slight experience – especially if you all try to crowd in around the Nintendo Switch's tiny display – but a good laugh with friends or family.
Sega hasn't always done the right thing by Sonic The Hedgehog over the years, to put it very kindly. There have been so many mediocre Sonic games and so few real gems to enjoy.
If you loved Sonic Mania last year, then the DLC should be a must-buy for you. Running through its remixes of classic levels, alongside a smattering of new content as Ray or Mighty is awfully good fun.
If you played Sonic Mania and didn't love it, I really don't know what to say to you. Maybe gaming isn't your thing after all? Perhaps collecting rare smelly cheeses might be more up your alley.
Never played a Sonic game before? Only aware of his mediocre 3D outings? Sonic Mania Plus is an ideal stepping-on point to see why so many longer-term fans are so in love with Sega's spiky blue mascot.
If Sonic Mania was the love letter, then Sonic Mania Plus is the simple and effective PS at the bottom that reminds you that Sonic still loves you.
Although with those spikes, you shouldn't hug him too hard.
Sonic Mania Plus
9.0 AMAZING
What we liked...
New characters breathe life into the existing Mania mode
Charming and fun for experts and newbies alike.
What we didn't like...
Only really a minor upgrade over Sonic Mania
Encore mode isn't always well balanced
Pinball bonus round is weak
VERDICT
Sonic Mania Plus is an easy recommendation for any retro gaming fans, or those who are curious about why Sonic's fans still stick with him after so many terrible games.
Its use of classic levels means it's not the most original of titles, but originality doesn't matter so much in the face of so much sheer fun. If you bought last year's Sonic Mania it's not worth picking up the full package just for the slipcase and art book, though.
Available for
For more information on how finder scores games, check our review guidelines.
More guides on Finder
Handypay Green Loan

A Green Loan from Handypay could help you make your home more energy-efficient. Handypay green loans are available up to $75,000 on terms of up to 10 years.