Sole Trader Insurance
Being your own boss is the dream of many Australians...but what types of insurance should you get?
We're reader-supported and may be paid when you visit links to partner sites. We don't compare all products in the market, but we're working on it!
While being a sole trader provides you with a range of rewards such as freedom and the satisfaction of knowing you are your own boss, you are also responsible for covering your back if the unexpected happens e.g.
Getting injured or falling ill and not being able to work
Injuring someone else or damaging someones property
Compare insurance options for sole traders
An adviser can help you find cover from trusted life insurance brands.
Get competitive quotes from multiple brands

Lower rate of declined claims (according to ASIC)

Save time and effort
---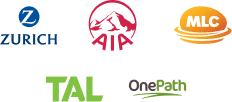 What types of insurances are relevant to sole traders?
Like any businesses, sole traders need a variety of insurances to protect themselves and their livelihood. Options include public liability insurance, motor vehicle insurance and business insurance, as well as personal insurances such as income protection or personal accident insurance.
Income Protection Insurance provides up to 75% of your income if you are ill or injured and unable to work, and total and permanent disability (TPD) insurance is often bundled with IP insurance to provide additional cover if you are totally and permanently disabled. Premiums for IP insurance held outside of your superannuation fund are also tax deductible, or if funded through your superannuation, benefits paid are taxed at a much lower rate.
Some sole traders opt for personal accident insurance as an alternative to IP. While it only covers accidental injury and does not cover illness, it is a lot cheaper than IP insurance. Advantages of personal accident insurance include:
It pays a regular benefit for a period of time if you are injured and can't work, so it can provide an alternative if you don't qualify for IP insurance.
Unlike IP insurance, there are no medical questions or tests involved at application.
Capital benefits are often paid in the event of permanent disability or death.
Premiums can be lower than IP insurance.
The most important reason sole traders to consider cover
No workers compensation
Unlike most employees in Australia sole traders are not eligible for workers' compensation. Not having access to work cover mean that if you're injured on the job, you won't have access to any form of financial compensation.
While it's not a legal requirement for you to have personal insurance, you may want ton consider an income protection or personal accident policy.
Workers compensation vs work arrangement
| Employment status | Are you eligible for workers compensation? | Insurance types to consider |
| --- | --- | --- |
| Employee | Yes | Income protection for extra protection |
| Sole trader | Only for your employees | Income protection to fill the gap of workers compensation Personal accident insurance workers compensation for your employees |
| Contractor | Yes (if you are considered a worker under state legislation) | Income protection if not eligible for workers compensation Personal accident insurance |
Why can't sole traders get workers compensation?
A sole trader does not qualify for workers compensation because, in order to be eligible, you must be employed by another person or company. You must be their employee and as such, they are required to take out workers compensation on your behalf.
As a sole trader, you are not an employee but an employer and, if you have any staff working for you, you must take out workers compensation on their behalf. You should also look for other forms of financial protection for yourself and your business, such as IP insurance.
You will need to provide cover for your employees
It's worth pointing out that if you are a sole trader, you will need to have adequate work cover in place for any of your employees.
Things to consider when applying for sole trader insurance
When considering sole trader insurance there are a few important factors to look at:
Waiting period. As business expenses insurance has waiting periods anywhere from 14 days to 12 months. The waiting period determines how long you will have to wait receiving the benefit after you make a claim. The shorter the waiting period the higher your premium.
Features and Limitations. No two policies are the same. Make sure you understand the features and limitations of your policy. Take note of how things are defined to avoid any misunderstanding and disappointment when making a claim.
Flexibility. Another important factor that you might want to check is how flexible your policy is, make sure it increasers with CPI to avoid being underinsured.
Am I eligible for Sole Trader Insurance?
Criteria will generally vary between policies, but in general:
There is usually an age limit. This is usually between 18 and 75 for personal accident, and up to 64 for income protection.
Permanent resident. You'll need to either be a citizen or considered a permanent resident of Australia. If you're on a working visas, you can get cover if you are considered a permanent resident and a policy agrees to cover you.
How much cover do I need?
This is perhaps one of the most common questions people have. While the answer to this question varies from person to person, you can calculate you needs by asking yourself:
Do you have funds you can readily access? Having some savings only apportioned to your business can provide you with a much needed safety-net and mean that you don't require as much cover as someone who is devoid of saving.
Do you have plans to expand your business? If you're planning on expanding your business at any time in the future, you need to ensure that your company can continue to grow without you at the helm.
Do you have loans or debts? While sole trader insurance is for protection of your business' fixed costs, it can also lessen the financial strain for you in times of need. It will allow you to continue to pay your ongoing business expenses.
Sole trader insurance gives you the assurance of being able to continue your business even if you fall into hard times. Why risk losing it all when you can have something to protect your lifelong investment with sole trader insurance?
Compare income cover quotes for sole traders
* The products compared on this page are chosen from a range of offers available to us and are not representative of all the products available in the market. There is no perfect order or perfect ranking system for the products we list on our Site, so we provide you with the functionality to self-select, re-order and compare products. The initial display order is influenced by a range of factors including conversion rates, product costs and commercial arrangements, so please don't interpret the listing order as an endorsement or recommendation from us. We're happy to provide you with the tools you need to make better decisions, but we'd like you to make your own decisions and compare and assess products based on your own preferences, circumstances and needs.
More guides on Finder