Google Smart Home: Everything you need to know
From search engine to smart home: Can Google do it again?
We're reader-supported and may be paid when you visit links to partner sites. We don't compare all products in the market, but we're working on it!
Since building what is undoubtedly the most useful tool on the Internet, Google has grown into one of the most multi-faceted companies in the tech industry. From a balloon-powered Internet to self-driving cars, it seems no frontier is off-limits for the billion-dollar organisation. It was just a matter of time, then, before Google set its sights on the burgeoning smart-home market.
Like Apple's HomePod, Amazon's Echo products and other competing initiatives, Google's smart-home solution revolves around a central hub device, Google Home, that connects to and controls additional smart devices over your home Wi-Fi network. The primary means of interacting with Google Home is through Google Assistant, which interprets and responds to voice commands.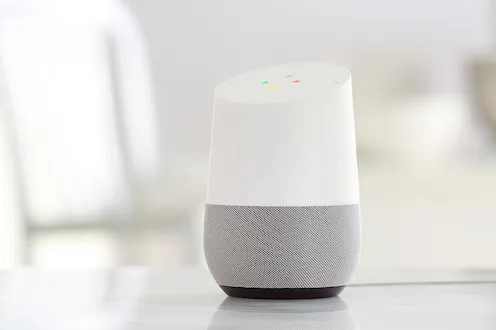 Buy Google Home
from The Good Guys
Control your home with your voice using the powerful Google Home speaker.
View details
What is Google Assistant?
Similar to Apple's Siri and Amazon's Alexa, Google Assistant is a virtual personal assistant that responds when addressed with a specific command—in this case, "Okay Google". You can then instruct Google Assistant to search the Internet for answers to fact-based questions, report the latest news, check the status of a flight, make dinner reservations and perform numerous other online tasks.
Google Assistant launched in late 2016, which was significantly later than Siri or Alexa. As a result, device support for Google Assistant remains limited. Originally exclusive to Google Home and Google's Pixel smartphones, the virtual assistant has since started rolling out on other Android smartphones as well as on iOS devices. Google Home, though, remains the showpiece for what Google Assistant can do.
What is Google Home?
Released in the US in late 2016 alongside Google Assistant, Google Home is a smart speaker designed to function as the command centre of your smart home. Powered by Google Assistant, Google Home can not only perform general tasks like finding and reading out online recipes or delivering weather forecasts, it can integrate with a wide variety of first- and third-party services, too. These include playing music from Spotify, streaming Netflix to your Google Chromecast device and even ordering a pizza from Domino's. Better yet, support for new services is added on a regular basis.
Home automation, though, is where Google Home hangs its hat. It's right there in the name, after all. The smart speaker can connect with a large number of Wi-Fi-enabled devices and control them remotely, serving as a hands-free go-between for turning lights on and off, activating and deactivating security cameras and controlling thermostats. All you need to do is speak the command, and Google Home will take care of the rest.
The list of smart devices compatible with Google Home is growing all the time, but here are some of the most popular products that are already supported:
Google Chromecast
Nest Thermostat
Philips Hue smart lights
LIFX smart lights
TP-Link smart plugs
Rachio water sprinklers
August smart locks
Chromecast-enabled speakers from Sony, Philips, Vizio and LG
What is Google Home Mini?
Following on from Amazon's success with its mini smart speaker Amazon Echo Dot, Google is expected to announce a smaller version of Google Home at its 4 October event in San Francisco. Dubbed Google Home Mini, the pint-sized device will reportedly house all the same features as the original Google Home except for the built-in battery; instead, it will need to be plugged into a wall socket for power. Like Echo Dot, the Mini is expected to retail for a reduced price of less than half that of the full-sized Google Home.
What features are coming to Google Home in the future?
One of the drawbacks to smart-home solutions like Google Home is their reliance on a constant Internet connection for processing voice commands. The upside of this is that new functionality can be rolled out at a faster clip, since it can reside on servers in the cloud and harness their computing power to perform more complicated tasks.
Google is taking advantage of this with a number of updates slated to hit Google Home in the coming months. Support for making hands-free phone calls is high on the list along with a feature dubbed "Proactive Assistance" which will automatically report relevant news and updates to users, such as alerting them when traffic conditions change before a scheduled meeting or when a colleague cancels an appointment.
Additionally, Google Home will soon be able to use connected mobile devices or Chromecast-enabled TVs to display visual media alongside its verbal responses, such as pulling up a map with directions to local restaurants or opening your calendar's weekly schedule.
When did Google Home release to Australia?
Google Home released Down Under 20 July 2017.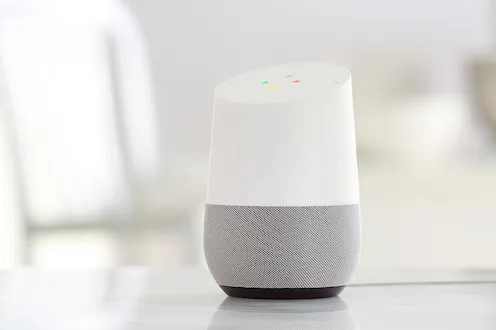 Buy Google Home
from The Good Guys
Control your home with your voice using the powerful Google Home speaker.
View details
What other smart devices does Google support?
Alongside Google Home, Google is steadily building up support from other hardware manufacturers by rolling out Google Assistant on an increasing number of third-party devices. These include the following:
English-language Android smartphones running Android 6.0 or higher
English-language iPhones running iOS 9.1 or higher
Android Wear 2.0 devices
All of these compatible devices have access to the same functionality as Google Home, including the ability to control smart-home devices connected to the same Wi-Fi network.
Nest
Back in 2014, Google purchased the home automation company Nest, and in the process acquired its entire line of smart-home devices. Unfortunately, only one of these devices has been updated to work with Google Home so far: Nest Thermostat. The rest of Nest's catalogue remains incompatible with Google Home, though all Nest devices support a wide range of other smart-home hubs and devices.
Nest's smart devices have recently made it to Aussie shores, though currently, only Nest Cam Indoor, Nest Cam Outdoor and Nest Protect are available for purchase. The rest of Nest's smart devices will likely roll out in the coming months.
Nest's current product line includes the following:
Nest Thermostat
Designed to reduce your electricity bills by optimising your household's energy use, Nest Thermostat is a Wi-Fi-enabled smart thermostat that automatically adjusts the heating and cooling in your home. After an initial breaking-in week where you tweak Nest Thermostat's settings manually, the device will have learned your preferred temperature and manage it autonomously from then on out. It can also detect when nobody is home thanks to its built-in sensors and the GPS on your phone. It will then shift into power-saving mode to further cut down your power bill.
Nest Thermostat is not yet available in Australia.
---
Nest Protect is a smoke and carbon monoxide detector with a bunch of extra smarts built in. Not only can you check its status remotely through the Nest mobile app, it'll send you a phone alert the instant it detects an increase in smoke or CO2 levels in your house, regardless of whether you're at home or out and about. Nest Protect also boasts a commercial-grade photoelectric sensor capable of detecting smoke faster and more accurately than a regular smoke alarm.
Self-testing is another of Nest Protect's handy features. When no one is home, Nest Protect will sound its alarm and verify its integrity using a built-in microphone. If anything's wrong, it'll let you know immediately. And should you be a perennial toast-burner, you won't have to worry about waking the neighbourhood when the alarm goes off since you can silence Nest Protect with a quick tap from your phone once you've determined that it's just a false alarm.
Nest Protect is available for $189.
---
Despite the different names, Nest's pair of smart security cameras are functionally identical. The only distinction between the two is in their physical construction, with Nest Cam Outdoor featuring a weatherproof camera head and a slightly longer power cable.
Both Nest Cams can stream everything they see and hear live in 1080p to your phone or computer, wherever you are in the world. That doesn't mean you have to be watching 24/7, though; Nest Cam is constantly on the lookout for sudden movements or out-of-place noises, and it'll alert you the moment it thinks something is up. If you do discover somebody sneaking around your house, you can take advantage of Nest Cam's built-in speaker to scare the deviant off.
Nest Cam Indoor and Nest Cam Outdoor are both available for $319 each.
---
Nest Cam IQ
Nest Cam IQ is an upgraded version of Nest Cam Indoor, featuring sharper vision and more smarts than its predecessor. It packs a 4K sensor, an 8-megapixel camera, 12x digital zoom and support for HDR lighting. Additionally, it can tell the difference between a person and an object, and even track someone as they walk across its field of view.
Audio also receives a boost in Nest Cam IQ, with the device packing a speaker seven times as powerful as Nest Cam Indoor's. It features two extra microphones as well, along with noise and echo suppression for hearing more clearly what's going on at home.
Nest Cam IQ is not yet available in Australia.
---
Along with its physical smart devices, Nest also offers a subscription security service called Nest Aware. It expands the capabilities of all three Nest Cams by adding support for up to 30 days' worth of online video storage as well as providing access to a handful of cloud-based computing algorithms.
One such algorithm grants Nest Cam Indoor and Nest Cam Outdoor the ability to differentiate between people and things. Since Nest Cam IQ can already do this, a Nest Aware subscription instead provides it with the smarts to recognise familiar faces and send customised alerts depending on who it sees.
A Nest Aware subscription also lets you designate activity zones within a Nest Cam's vision. Any movement or sound from these zones will trigger special alerts, notifying you whenever the front door opens or when a pet starts clawing your expensive rug.
There are two tiers of Nest Aware subscription: the Basic tier with support for 10 days' worth of online video storage, and the Extended tier with support for 30 days' worth of video storage. The Basic tier is priced at $14 a month, while pricing for the Extended tier has yet to be announced.
---
Picture: Shutterstock