Slightly Mad are Two Months Quicker at Building Cars than Polyphony Digital

As race fans begin to compare the two big upcoming games in the genre, we get an insight into why one has more cars than the other.
It's a huge, huge year for race fans. The unlikely situation of the three biggest motorsport simulation series in gaming releasing new titles in the space of a few weeks is about to be realised. Project Cars 2 (PC, Xbox One, PS4) has already beaten the pack, releasing just last week. Forza Motorsport 7 (XBO) follows on 3 October. Then Gran Turismo Sport (PS4) lands on 18 October. Not to mention the likes of F1 2017, WRC 7, Need for Speed Payback and more racing out in between.
I've been following all the releases carefully, in particular Project Cars 2 and Gran Turismo Sport. I have enjoyed lengthy interviews and play time with both Slightly Mad Studios and Polyphony Digital respectively. I recently published a story on the latter, in which the studio indicated it took six months to create each car for the game. On launch day fans can enjoy a healthy 138 vehicles from 34 manufacturers. Nothing to sneeze at! (Although when you look at the full list of cars, that number does feel quite inflated given the slight variations between many models. Is a safety car variation really different?)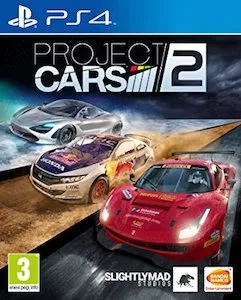 Buy Project Cars 2
from ozgameshop.com
Project Cars 2 features GT, touring cars, endurance prototypes and exotic hypercars and delivers the full spectrum of motorsport racing with complete freedom to choose what and where to drive.
View details
Project Cars 2, on the other hand, features 189 vehicles from 38 manufacturers, with a further eight already revealed for post-launch DLC. You can see the full list here. Approximately 40% more.
Naturally, there's more to a racing game than just the number of cars. How does each handle? How realistic does it look? Not just outside, but behind the wheel as well. Polyphony Digital is famed for its attention to detail, so it should come as no surprise that each car is painstakingly put together over the course of six months. But the cost of that diligence is the number of total cars created over the development cycle.
When I had a chance to interview Rod Chong, chief commercial officer at Slightly Mad Studios, I took the opportunity to see how long his team took in creating a car. Here is what he said:
In regards to development time, what is the balance between cars and tracks? I'm wondering what the cost is, in terms of your production timeline, of adding a new car versus a new track. Like, if you had a new track, does that take resources away from adding four new cars?
We have separate car and track teams, so if we add more tracks it doesn't take away from the number of cars. Their production runs in parallel. The timeline for a normal car, from start to finish, is usually about four months. That includes data gathering. So we may have to scan the car. We may get CAD (computer-aided design) files or photograph it. Then modelling it and getting the physics set up. Testing the physics, too. All of that is about four months. Then there is quality assurance, delivery and all that [post-creation] aspect.
A normal track is about the same. It's about four months as well from start to finish. Where that changes is if you have a city track like Long Beach. That's six months - much longer – because of all the buildings. That's a big job. Certainly you can see our level of ambition when you realise we must also account for 24 hours of lighting and any weather. We have to work to four seasons on every track. As soon as you say that the job becomes huge. Add 60 locations on top of that! We are a bit crazy.
---