How can Siri control my smart home?
Siri lets you control your smart home with the power of your voice.
We're reader-supported and may be paid when you visit links to partner sites. We don't compare all products in the market, but we're working on it!

---
What is Siri?
Siri is Apple's virtual personal assistant, popularised with its introduction on the iPhone 4S back in October 2011. By using a supported device's microphone to listen for the key phrase "Hey Siri", the software-based assistant can understand and respond to voice commands in a variety of ways, from answering questions to reading out news and traffic reports, to interacting with other physical devices over the Internet.
While Siri is only available on Apple devices, support has grown significantly since 2011 to include the iPad (3rd generation and up), the iPod Touch (5th generation and up), Apple TV (3rd generation and up) and will launch on the upcoming HomePod alongside the range of current iPhone models.
How can Siri control my smart home?
In 2014, Apple released HomeKit, a framework for third-party hardware manufacturers to create smart devices you can control from your iOS device through Apple's Home app. By purchasing HomeKit-enabled devices and registering them to the Home app, you can turn them on and off, adjust their settings and check their status through the app instead of juggling separate remotes for each device.
More importantly, the Home app supports Siri, so you can use voice commands to shut off your smart lights, crank up the air conditioner or display the feed from your security camera. To do this, you'll first need to add each smart device to the Home app on your iPhone by searching for it through the app and entering or scanning the eight-digit HomeKit code located on the device itself. After that, you can give the device a name you want Siri to recognise, such as "front door camera" or "bedroom light". You can also designate which room it's located in to make it easier to track if you have multiple devices of the same type.
Once you've set up your HomeKit devices and configured the Home app, you can issue Siri a number of commands, including:
"Hey Siri, turn on the lights in the kitchen."
"Hey Siri, set the temperature to 25 degrees."
"Hey Siri, turn off the radio."
For added complexity, you can also create "scenes" in the Home app, which allows you to group multiple actions together under a single voice command. An "I'm home" scene might combine turning on the living room lights, turning on the heater and playing your favourite music. A "bedtime" scene might activate your security cameras, dim your bedroom lights and lock the front door. Activating any scene is as simple as speaking the name of the scene to Siri.
You can also control your smart devices through the Home app when you're out of the house by setting up an iPad or Apple TV as a Home Hub. In the iCloud settings section of either the iPad or Apple TV, you'll find the option to use your device as a Home Hub. After activating this, you'll need to add your own Apple ID (and the Apple ID of anyone else you want to access your smart devices) to the Home app by clicking the "Invite" button and editing the user's permissions to allow remote access.
With that done, you'll need to leave your iPad or Apple TV turned on and connected to your home Wi-Fi network in order to control your smart devices through the Home app on another iOS device while you're out and about.
What smart devices does Siri work with?
While the number of HomeKit-enabled smart devices started off small, there are now over 50 brands that create devices supported by HomeKit and, consequently, Siri. You can determine whether a particular device supports HomeKit by looking for the "Works with HomeKit" label on the device packaging.
These devices span a wide range of home automation categories, with some of the most popular product lines including:
Lights
---
Light switches
Koogeek switches and dimmers
Leviton Decora switches and dimmers
---
Power outlets
Koogeek Smart Outlet and Smart Plugs
---
Thermostats
---
Sensors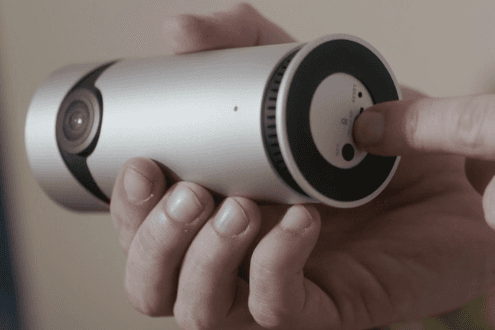 Buy HomeKit products from Apple
from Apple Store
Shop for Apple HomeKit compatible cameras, lights, locks and sensors.
View details
Picture: Shutterstock
More guides on Finder
Handypay Green Loan

A Green Loan from Handypay could help you make your home more energy-efficient. Handypay green loans are available up to $75,000 on terms of up to 10 years.