Sickness and Accident Insurance
Cover your ongoing expenses in the event of a serious illness or accident.
We're reader-supported and may be paid when you visit links to partner sites. We don't compare all products in the market, but we're working on it!
Accident and Sickness Insurance helps you keep on top of your expenses while off work. Most policies will cover you for serious illness or injury, permanent total disablement, loss of a limb and death caused by accident.


Compare income protection insurance to help protect against sickness and accidents
If you're looking at insurance to cover sickness and injury, it's important to be aware of waiting periods. It can be cheaper to have a higher waiting period but you might find yourself in a lurch if you need cash quickly and can't work because you're sick or hurt.
Click Get Quote so you can see some of the different waiting periods and how they impact the price of your insurance.
An adviser can help you find cover from trusted life insurance brands.
Get competitive quotes from multiple brands

Lower rate of declined claims (according to ASIC)

Save time and effort
---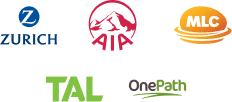 How can this page help me compare Sickness and Accident Insurance?
What can Accident and Sickness Insurance cover?

An accident and sickness policy will typically provide either a monthly benefit or a lump sum payment.
Benefit type
Type of event
Monthly benefit

A serious event that leaves you unable to work

A serious injury that leaves you unable to work

Lump sum benefit

An accident leaves you disabled permanently
Accident and sickness insurance: Quick tips
Can I get accident and sickness income protection?
Yes you can. Income protection insurance can cover you when you suffer a sickness or accidental injury and are unable to work as a result. When this happens, income protection cover offers a monthly benefit as a replacement for your normal income, usually covering up to 75 per cent of your pre-disability income.
With income protection cover in place, you don't have to worry about making ends meet while you are unable to earn an income. Instead, all you have to do is focus on your recovery and getting things back to normal.
What is the maximum age of eligibility?
The maximum age at which you can take out sickness and accident insurance cover varies between insurance providers. However, as a general rule, Australian residents aged from 18 to 75 years of age are typically able to apply for cover.
Most sickness and accident insurance policies will also stop providing cover once you reach a certain age, usually 90 years. Check your PDS for the eligibility requirements of your policy.
Is sickness and accident insurance tax deductible?
In many cases, the premiums you pay towards sickness and accident insurance are tax deductible. In order to claim a deduction, you'll need to be able to show that the premiums are an expense incurred in order to provide cover for your ability to earn a taxable income. This type of accident cover is often called income protection insurance.
However, if you hold accident insurance through your superannuation fund, you won't be able to claim your premiums as a tax deduction. Keep this in mind when deciding how you will take out cover.
What is accident-only insurance?
Accident Only Income Protection Insurance will offer cover only for accidents that the policyholder has suffered and forces them to take time off work longer than the waiting period. The policyholder will begin to receive a benefit of 75% of their regular income if they are forced out of work for a period longer than the waiting period.
What are the benefits?
Cover is cheaper than Income Protection Insurance
Many people feel they are more likely to be forced out of work by a serious accident than an illness
Cover does not require medical underwriting
The individuals smoking status does not matter
Is accident only cover right for me?
While there are certain benefits, applicants should be fully aware of how this type of cover could leave them exposed in certain areas e.g. sickness. It is essential to always read the product disclosure statement and be fully aware of all features and benefits.
What's the benefit of sickness and accident insurance if I'm self employed?
Sickness and Accident Insurance provides an obvious benefit to self employed workers that are not covered under group policies from their employer. If you were suddenly unable to keep your business running through your own sickness or injury, a sickness and accident insurance could be your only financial survival opportunity.
Income protection for the self employed
A sickness and accident insurance policy will give your up to 75% of your gross income, to ensure you are able to continue paying your bills while incapacitated as well as keep food on the table. The reason why the amount paid is restricted to 75 percent of your income is that there still has to be an incentive for you to return to work once you have recovered.
While it can be more difficult for self-employed workers to find a provider that is willing to offer cover insurance cover, if the worker has previously been employed in their field as an employee, they can often apply for an indemnity style policy. This is usually only necessary for workers that have been self-employed for less than 12 months. After this period, the worker will usually be able to apply for an Agreed style policy.
---
What types of sickness and accident claims are people making
Sickness claims
| Condition | Total % of claims (males) | Total % of claims (females) |
| --- | --- | --- |
| Cancer | 62.10% | 85.20% |
| Ischaemic Heart Disease | 16.30% | 2.50% |
| Benign Brain Tumour | 5.60% | 2.70% |
Source: General Reinsurance
Accidental injury claims in the workplace
| Injury | Percentage |
| --- | --- |
| Strains and sprains | 42.40% |
| Musculoskeletal disorders | 13.70% |
| Fractures | 8.80% |
Source: 2014 Key Work Health and Safety Statistics
What are the top causes of accidents in Australia?
In Australia overall:
| Cause | Percentage of total causes |
| --- | --- |
| Falls | 40% |
| Other unintentional causes | 32% |
| Crashes during transport | 12.2% |
| Self-harm | 6.1% |
| Assault | 4.7% |
| Thermal causes | 1.3% |
| Poisoning from pharmaceuticals | 0.6% |
| Poisoning from other substances | 0.4% |
| Drowning | 0.1% |
2012–13 hospitalised injuries in Australia, Australian Institute of Health and Welfare.
Your frequently asked questions
Compare sickness and accident insurance
Read more:
More guides on Finder