Shadow of the Colossus review: Colossus Hunter
This is the second game this year that makes me feel terrible about slaying giant, magnificent beasts.
We're reader-supported and may be paid when you visit links to partner sites. We don't compare all products in the market, but we're working on it!
Quick Facts
Genre: First-person shooter
Developer: Bluepoint Games/JAPAN Studio
Publisher: SIEE
Release date: 6 February 2018
Platform: PlayStation 4
What everyone will say: A new benchmark for remakes
During the PS2 era, the only chance I had of buying a video game was if it turned up in the used section of my local video store (Leading Edge) or the odd occasion when I travelled out of town to an EB Games or GAME store. Mind you, eBay was around at this stage, but I was at the age where parents were the sole gatekeepers to the credit card and after some heavy techno fearmongering that must have been doing the rounds on ACA at the time, they drew a hard line on purchasing online.
It was about two years after the release of Shadow of the Colossus (SotC) that I began my search for a mythical physical copy, but my scavenger hunts in the pre-owned bin turned up nothing as did my last ditch attempts at scoring a wayward copy from a Cash Converters.
I eventually gave up on the search, but as the years went by, the urge to dust off the PS2 and order a copy for myself never faded. Fast-forward to E3 2017, where a remake of Fumito Ueda's cult hit was announced. Finally, I had my chance to slay the beasts that I first saw via a cameo appearance in Adam Sandler and Don Cheadle's 2007 tearjerker Reign Over Me.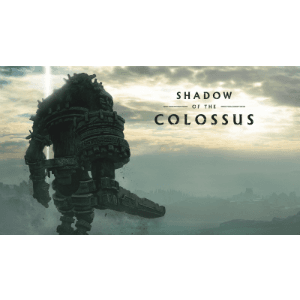 Click to buy Shadow of the Colossus for PS4
from Amazon
With fully overhauled graphics and modern controls, there's never been a better time to relive the majesty of this classic action-adventure game.
View details
---
---
I was offered a second opportunity when the remastered ICO and Shadow of the Colossus HD collection was released, but if I remember correctly I was tied up with Batman: Arkham City at the time (look, I was a frugal uni student, I had to pick my purchases wisely). Nearly 13 years later, I've finally conquered all 16 colossi and experienced what is both one of the most exquisite video game experiences I've ever had and a major source of frustration.
I should note that for the sake of this review, I did track down a copy of the PS2 version. Turns out it's much easier to find these days.
Having just finished The Last Guardian the weekend prior to Shadow of the Colossus, Ueda's distinctive style and barebones approach to storytelling are fresh in my mind. The similarities between the two are blinding. The overgrown, ornate ruins of mystical man-made structures, cracking and crumbling under the pressure of both heroes' weighty adventures, made their way into both games – as did the dark shadowy force said ruins barely contain.
Playing both games so close together, I almost found myself forgetting exactly which one I was playing. This does, after all, seem to be a shared universe and Colossus's epic graphical overhaul puts in on par, or even ahead, of Ueda's latest creation (which to be fair, started development back in 2007).
The focus on climbing, whether that's clambering unstable monuments or holding on to grassy fur for dear life, plays almost identically in both games (that's not always a good thing) and both heroes are honourable crash test dummies when it comes to getting knocked about. I'm going to say it now: both heroes would be goners if it weren't for the magical reset button as SotC's Wander takes exactly seven seconds to recover from a knock and The Last Guardian's boy doesn't fare much better.
Thankfully, Shadow of the Colossus for PlayStation 4 delivers some of the most stunning visuals I've ever seen in a game. The original was no ugly duckling, but with a full graphical overhaul and the 4K/HDR power of the PlayStation 4 Pro, there's no question this is the most pristine version of an already beautiful game. Ueda's world is one that's prime for the new generation of visual fidelity. More on that in a moment.
I'd better get this out of my system now. While I will never forget Shadow of the Colossus for as long as I live, that memory will always be somewhat marred by an unmanageable, unwieldy third-person camera and ambitious but unreliable climbing mechanics. Moments that would have otherwise driven an emotional sword straight through my ticker were watered down by some horrendous camera issues. Epic throwdowns often made me repeat the tedium of climbing a colossus over and over after the wonky physics tossed me from the top.
Without spoiling anything, there's a heartbreaking moment in the game involving a crumbling bridge (those who have played know exactly what I'm talking about). Right before the big gut punch, the camera forcibly swings to a side-on view, making it hard to see the narrow path in front. Three times I fell off the edge and waited impatiently while Wander and his horse stood casually mid-air where the bridge once was, falling at a snail's space. Another involved the big finale – the last Colossus. It was a towering monstrosity that took what felt like an age to climb after being dropped again and again. The problem here was less about the camera and more to do with the game's shabby climbing. I experienced (not for the first time) a weird glitch where Wander would repeatedly try and grab a hold with his free hand, where there was plenty of space, but failed to hold on to anything. Eventually, my stamina would dry up and I'd be dropped like a sack of potatoes from the Centre Point Tower.
I'm yet to upload some of my own colossal fails, but this tweet paints an (admittedly exaggerated) picture of the frustrations I suffered.
I COULDN'T MAKE THIS UP IF I TRIED#ShadowOfTheColossus pic.twitter.com/Wn6Rgpc21B

— JKyuun (@JQWeeaboo) February 7, 2018
There's an argument to be made that these glitches are all part of the game's everlasting charm, much like how tangling with Trico's bizarre behaviour and unreliable responsiveness is considered a fairly realistic interpretation of what it's actually like being a new pet owner. This is cute for a while in both games but grows tired as the adventure goes on – like a dog that never grows out of chewing your shoes.
With all that said, the story of Wander's doomed quest to save his lifeless love Mono, the unspoken bond between Wander and his horse Agro, and the dark, misguided quest to fell this wonderful world's statuesque colossi is still just as sharp 12 years on. The updated visuals are just a sleek new set of threads on an experience that was always classy as hell.
Held side-by-side, Shadow of the Colossus for PS2 looks like a grainy, weathered photograph of this year's crisp remake.
In well-lit areas, like the starting open field, the desaturated greens and hollow greys still paint a bleak backdrop for this ill-fated tale. However, the power of the Pro's 4K/HDR capabilities allows for much greater depths in the forest greens and in the emphasised blacks of the Colossus's skin, eyes and black smog. Held side-by-side, Shadow of the Colossus for PS2 looks like a grainy, weathered photograph of this year's crisp remake.
Thank the heavens, Bluepoint Studio (which has made a name for itself as the remake master) has included a Photo Mode in Shadow of the Colossus for PlayStation 4. The PlayStation 4 has no shortage of grammable games (kill me). Uncharted 4: A Thief's End is obviously way up there, with Horizon Zero Dawn trailing close behind, but Shadow of the Colossus, despite its age, deserves a spot right alongside these current-gen games. The Photo Mode UI isn't as sophisticated as the ones found in Uncharted 4 and Horizon Zero Dawn, but you can still get some beautiful snaps if you spend enough time tinkering with the sliders.
---
---
Bluepoint Studio has done a stand-up job of updating Shadow of the Colossus's environments and lighting, but where you'll really notice the difference is when climbing the furr-ious colossi. You can see and hold every strand of wispy hair which looks especially realistic blowing in the wind or parting under Wander's footsteps.
A big part of Shadow of the Colossus is keeping an eye out for the big beasties' weak points; the real pleasure is discovering a huge scruffy patch of fur to cuddle... I mean, climb.
While parts of the PS2's codebase is still buried in this latest version, all assets were totally overhauled by Bluepoint which is why this version's colossi look so polished. This sheen gives the colossi an extra gram of soul that was missing from the PS2 version, making the heart-wrenching quest to slay them all a little more confronting.
And at least Shadow of the Colossus is confronting. Another monster-slaying simulator that released this year takes psychopathic glee in watching you chase down vulnerable, injured beasts in the name of "research" (but I can't stop playing it).
That's sort of Shadow of the Colossus's legacy. Ueda's greatest accomplishment has been used as fodder for the tired "games as art" debate since its release. And that's because it so confidently breaks the conventions of an action/adventure game that it's nearly an injustice calling it such. Shadow of the Colossus is a puzzle. Each colossus presents a new and interesting obstacle, and with each fall you collect another jigsaw piece to the narrative and your heart sinks a little further. Shadow of the Colossus is and always was about questioning your actions in the face of intense personal and emotional investment. It's one of the most enriching stories ever told – not with words, but actions.
We reviewed Shadow of the Colossus PS4 on PlayStation 4 with a copy provided by the publisher.
Shadow of the Colossus for PlayStation 4 review
8.0 EXCEPTIONAL
What we liked...
A magnificent 4K beast
A holy union between gameplay and narrative
Fresh assets add a whole new depth to the game
Remake sacrifices nothing in the process, bar a few big, dumb colossi
What we didn't like...
Unfortunately, Bluepoint didn't take an axe to the camera
Climbing glitches feels more unforgivable than ever
Persistent issues take the weight out of what should be incredibly moving moments
VERDICT
Shadow of the Colossus is still the giant that carries many others on its shoulders, and it's grown a mile with the help of the PlayStation 4 Pro and Bluepoint's tender loving care. But climbing and camera problems of yore still remain and manage to kneecap this giant a little too often.
Available for PS4
For more information on how finder scores games, check our review guidelines.
---
More guides on Finder
Handypay Green Loan

A Green Loan from Handypay could help you make your home more energy-efficient. Handypay green loans are available up to $75,000 on terms of up to 10 years.