Shadow Of The Beast Review: Wears its old school badge with pride

Shadow Of The Beast wears its retro focus with pride, and that's both its best and worst feature.
Retro gaming has its advocates, and there are plenty of titles that fans of old school gaming clamour for remakes or updates for. I'll be honest; I'm one of them. For whatever it's worth, whoever manages to make proper modern versions of Head Over Heels or Fairlight may as well just open up my wallet and take what they like. That being said, of all the titles to receive a fresh coat of paint, Shadow Of The Beast probably wasn't high on too many retro fanatic wish lists.
Which isn't to say that it wasn't a prominent title in its time. That time was 1989, when the Amiga original (developed by Reflections/Psygnosis) appeared and was widely lauded for its exceptional art design and visuals. Shadow Of The Beast was, for its time, quite the looker. Scratch underneath the surface, however, and there was a fairly bland action platform game beneath the pretty visuals. Shadow Of The Beast stood out more for being unforgiving rather than exceptionally good.
What can a 'new' version of a bland game offer?
It's 2016 now, and gaming has advanced considerably, so what can a "new" version of what was a pretty-but-pretty-bland game offer?
Shadow Of The Beast isn't afraid of its retro roots, instead deciding to reflect them in the majority of its gaming choices. You still play as the eponymous Beast, on a path of ripping and roaring revenge that's extremely bloody and can be exceptionally satisfying. That's as long as you're prepared to accept that it eschews many modern gaming conveniences and concepts along the way. There's an evil overlord, because of course there is. There are kidnapped infants, again, because it suits the style. Naturally, there are plenty of evil fantasy creatures that stand between you and your goal. When your hands are literally razor sharp spikes matched by your impressively sharp teeth, you're not going to sit down for tea and crumpets with them.
Shadow Of The Beast starts off simply enough with enemies you can take down with single button presses, but before long you're mixing up blocking, stunning attacks, throws and even chewing the faces off your enemies to recover your own health. Shadow Of The Beast has a level of combat complexity that can be deeply satisfying, as long as you can hurdle over the retro style with which levels are put together. If you don't get combat right you'll get hit from either side, rapidly lose health and fail. When you do fail, you can revive at the cost of rare potions or a constantly ticking innocent soul count, or opt to repeat the entire level depending on the score you want to achieve for each part.
While Shadow Of The Beast's combat can be viscerally satisfying, its platform sections are a little less well balanced. Again, this reflects the way that the developers have taken on a deliberately retro play style. In order to manage jumping accurately, you've got to time it according to the animation of the Beast's legs, which for most jumps means you need a run up. It's all too easy to forget this, because in the intervening 27 years since the original, platforming game tropes have moved on more than a little. For gamers who like a challenge and for very old school types this might not be an issue, but more modern-minded gamers could find it annoying in the extreme.
Casts a short shadow
Shadow Of The Beast also isn't terribly long. Unless you dive headfirst into the most difficult setting, you'll romp through the main action in around four to five hours from start to finish. There are alternate endings, and secrets to uncover that give you considerably more plot detail than the original game ever managed, but this isn't a particularly long game. It's an interesting balancing act, because it doesn't outstay its welcome, but it's not exactly overloaded with content either.
Shadow Of The Beast can't quite visually impress the way it did back in '89; this is no real competitor to Uncharted 4: A Thief's End in the visual stakes. The art direction is laudable, both for being respectful to the original, as well as being well-balanced with plenty of impact. The Beast himself is a serious block of dismembering rage who lumbers across varied landscapes, meeting fantastical creatures and generally leaving them oozing in a pile of their own quivering innards.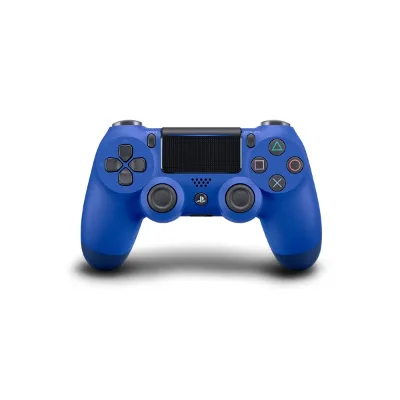 Buy a new Dualshock 4 PS4 controller (Wave Blue)
from ozgameshop.com
Get a brand new DualShock 4 controller for your PlayStation 4. Order from Ozgameshop now!
View details
It's also worth noting that the original game is also locked within the new version if you really fancy a trip down retro lane. That's likely to be of most appeal to those gamers who played it back in the late 80s, and even then the nostalgia goggles may drop off pretty quickly, because it's still the same pretty visuals but simple and somewhat unfair game experience it was back then.
We reviewed Shadow Of The Beast on PlayStation 4 with a copy provided by the publisher.
Final thoughts
Shadow Of The Beast won't thrill everyone. If you're a retro purist, it's not quite the same game the original was, although its inspiration is clear. If you don't have a nostalgic connection, the way it slavishly adheres to old school gaming standards may be irksome.
That's not the same thing as saying that it's a bad game, however. Underneath the surface, it's challenging with a steep learning curve, but there's definite fun to be had, whether you revel in its rather base violence, or take on the challenge of managing its complex combat choices in the most optimal way. It's not terribly long, but it's quite fairly priced for the game on offer.