Sennheiser Ambeo Smart Headset review: 3D audio for creators
The Sennheiser Ambeo Smart Headset is a fascinating innovation with some nifty features, but it doesn't quite know what it is.
Quick Verdict
Sennheiser's Ambeo Smart Headset is a decent headset with a very cool 3D recording feature. Mobile content creators and audio enthusiasts will appreciate its capabilities, but for the average consumer it's an unnecessary inclusion.
The good
Customisable environmental listening
3D audio recording and playback
Lightweight, comfortable profile
The bad
iOS only (until 2019)
Wired with a chunky in-line remote
Identity crisis
---
Sennheiser has long occupied a spot at the very top of the premium headphone market, but in a world saturated with wireless Bluetooth devices, it's increasingly hard to sell something with a cable.
The AMBEO Smart Headset, or the ASH as Sennheiser calls it, is a very different product to the rest of its line-up. In contrast to its classic over-ear high-quality headphones typically worn by audiophiles, the ASH is an interesting multipurpose headset with innovative recording capabilities.
We've reviewed Sennheiser products before: if you're after the sporty touch, check out our review of the Sennheiser PMX 686i SPORTS earphones. Alternatively, if you want a comfortable, classic over-ear headset, the Sennheiser HD 4.50 BTNC Over-Ear Wireless Headphones might be a good fit for you.
AMBEO Smart Headset: Design
The overall aesthetic of the ASH is light, sporty and functional. It's an interesting design choice, as Sennheiser seems to be targeting tech-savvy content creators and audiophiles with this device. It has perhaps forgone the sleek, "professional" vibe of its classic premium line of products in favour of an appeal to modern sporty headsets and it's an attractive look regardless.
The over-ear loops are made of a soft plastic that's definitely comfortable, but retains shape very well to stay securely on your head. That said, it isn't suitable for sporty or hyper-mobile individuals, it's wired, which is becoming less typical in a market saturated with wireless bluetooth headphones. It's also restricted to iOS devices, as at September 2018, which is a big annoyance for the nearly 80% of the worldwide smartphone market who are Android users.
The in-line remote is chunky, but this likely won't be an issue for the sort of people who'll most enjoy the ASH. It's definitely not designed as a low-profile listening product and Sennheiser is targeting audio enthusiasts and content creators.
Back to top
AMBEO Smart Headset: Installation
The in-line remote controller on the ASH is large and somewhat annoying, dangling somewhere mid-chest, but pretty easy to use. It's got a 2-way toggle for switching between default, noise cancelling and "transparent" listening profiles, which comes in handy if you're lazy like I am and don't want to take them off to talk to your colleagues. A few multipurpose buttons for calling, play/pause, skipping and volume are pretty standard and there's also a recording mode toggle (if you prefer mono over 3D recording).
Unfortunately, the ASH is locked in to iOS devices only at the moment and it's a Lightning connector or bust. Providing both the power and the connection, it's a bit of a hurdle towards recommending the ASH for a larger audience. However, speaking with one of Sennheiser's product managers, Adam Karolewski, I've been assured that an Android compatible version (likely USB-C) is in the works for early 2019. In the meantime, you'll need an iPhone to take advantage of the headset - I tested the ASH on the iPhone X.
The earbuds fit my (and finder.com.au's resident ear model, Jason's) ears quite well and I've had issues in the past with in-ear buds staying in. The ASH comes with three sizes of buds, so no matter your ears (unless you've got the cauliflower ears of a rugby player) you ought to be able to find the right fit. In terms of comfort, the ASH is cosy and I had no problems wearing it for extended periods. The entire earbud + loop component is very lightweight, somehow without feeling too cheap or flimsy.
Back to top
AMBEO Smart Headset: Performance
Standard audio playback was excellent, although perhaps not quite as good as one might expect at this price range. Still, it delivered very satisfactory bass, good mid-range and good trebles, with nothing standing out as particularly lacking.
The standout feature of the ASH is its 3D or binaural recording functionality. Don't worry, I had to look up "binaural" as well. It's essentially a method of recording audio for how the human head receives it, with two ears corresponding to two microphones. It's more complicated and not to be confused with plain old stereo, but it basically gives recordings a real "surround sound" feel. It's actually very impressive and the sound is directionally very precise in that it really sounds like it's coming from the exact location it was recorded from. At a Sennheiser event, I had the opportunity to watch a short film filmed entirely on smartphones and recorded with the ASH. In one particular scene, a villain breathed down the neck of a hapless protagonist from behind the camera and you could almost feel it. It sounded just as if the man was actually behind you and was downright chilling.
The device's real potential may lie in VR applications. The ASH's affordable, hobbyist-targeted 3D audio recording capability may yet prove a boon to VR developers and content creators, especially small-scale or independent producers. VR is yet to truly break through into mainstream content consumption, but if it does, technologies like Sennheiser's will come in handy.
The 2-way toggle on the remote switches the ASH from "Transparent hearing" mode to active noise cancellation. It's a super useful feature and a safety-conscious one at that. At the flick of the toggle you can instantly hear what's happening around you in "Transparent hearing" mode, that is, sounds at a normal conversational level or outdoor sounds like traffic or passersby. The button choice itself is a bit of a strange one, though. You have to press the toggle twice to go from one mode to another via "default" mode, which is for standard listening, we presume.
The ASH's active noise cancellation is reasonably effective. Similar technologies have been around for some time now and are becoming fairly standard in headphones at this price range. It's good, but not great and could be a victim of Sennheiser trying to pack a little too much into this multipurpose headset. If you're purely after a comfortable wireless listening experience, the Sennheiser HD 4.50 BTNC Over-Ear Wireless Headphones could be a safe bet. We've also done a cheapest pricing comparison on popular noise-cancelling headphones here.
Back to top
AMBEO Smart Headset: Verdict
The ASH doesn't make sense for a lot of people, but for those audiophiles who want a relatively affordable binaural microphone/earphones, it's great. It's a well-designed, innovative niche product that no doubt is helping to push the envelope for modern audio consumption.
Back to top
AMBEO Smart Headset: Pricing and availability
The AMBEO Smart Headset retails in Australia for $469.95 from Sennheiser and Apple.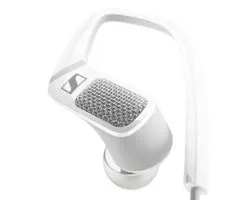 Sennheiser AMBEO Smart Headset
from Apple Store
Sennheiser's Ambeo Smart Headset is a great headset with a very cool 3D audio recording feature. Mobile content creators & audio enthusiasts will definitely appreciate its capabilities.
View details
Back to top
AMBEO Smart Headset: Alternatives
There are very few products in a similar price range that offer the same sort of binaural recording that the AMBEO Smart Headset does. It's the first of its kind we've reviewed here at finder.com.au, but I was able to find one similar device by a reputable manufacturer, the Roland CS-10EM. It's a stripped-down, binaural earphone + microphone combo built for the music industry, so it naturally lacks the features the ASH has for typical consumers.
If you're looking for a great pair of wireless earphones sans fancy microphone, check out the Samsung Gear IconX.
AMBEO Smart Headset: What the other reviewers say
| Site | Comment | Score |
| --- | --- | --- |
| The Verge | "Sennheiser's 3D audio headphones are amazing, for the few who want them" | 7/10 |
| SMH | "They're overkill for your average smartphone owner but, if you want your atmospheric videos to sound as good as they look, Sennheiser's Ambeo Smart Headset offers a handy way to dive into binaural audio." | N/A |
| AFR | "The Sennheiser Ambeo Smart Headset strives to deliver more than just great sounding tunes. It can record audio in surround, cancel out background noise, or even boost it when you want." | N/A |
Back to top
Specifications
Product Name

Sennheiser AMBEO Smart Headset
Connectivity

Lightning only
Frequency response

15-22,000 Hz
Max. sound pressure level

112dB
Ear coupling

In-ear
Cable length

116mm
Colour

White/Black
Back to top
---
Follow us for all the latest smart home news and deals
---