Sega Mega Drive Classics review: No Ecco or Sonic 3?
Up, down, left, right, ...X?, START
We're reader-supported and may be paid when you visit links to partner sites. We don't compare all products in the market, but we're working on it!
I'm a survivor – a veteran of an era where battle lines were drawn over the phrase "Sega Does What Nintendon't". It triggered a bloody console war filled with nonsense marketing terms like "blast processing" and schoolyard skirmishes.
I'm typing this with shaking hands and a 1,000-yard stare, begging for the whiskey to kick in and silence the ghostly screams of friends dragged away with dead-legs and 3rd-degree Chinese burns. Sega Mega Drive Classics might be retro-chic to millennials but for me, it's PTSD on a disc.
This collection also plays it pretty loose with the term "classics" with regards to the 54 games on offer. What we have here is a very eclectic collection of genres and titles that are incredibly up and down in terms of quality. And now I'm going to hit you with a bloody great list of what they are before we sort the wheat from the chaff:
Alex Kidd in the Enchanted Castle, Alien Soldier, Alien Storm, Altered Beast, Beyond Oasis, Bio-Hazard Battle, Bonanza Bros., Columns (plus Columns III), Comix Zone, Crack Down, Decap Attack, Dr. Robotnik's Mean Bean Machine, Dynamite Headdy, ESWAT, Fatal Labyrinth, Flicky, Gain Ground, Galaxy Force II, Golden Axe (plus II snd III), Gunstar Heroes, Kid Chameleon, Landstalker, Light Crusader, Phantasy Star II (plus III and IV), Ristar, Shadow Dancer, Shining Force, Shining Force II, Shining in the Darkness and Shinobi III.
But wait, there's more! You also get
Sonic 3D Blast
,
Sonic Spinball
,
Sonic the Hedgehog
(plus 2, but not 3),
Space Harrier II
,
Streets of Rage
(plus 2 and 3),
Super Thunder Blade
,
Sword of Vermilion
,
The Revenge of Shinobi
,
ToeJam & Earl in Panic on Funkotron
,
ToeJam & Earl
,
Vectorman
,
Vectorman 2
,
Virtua Fighter 2
,
Wonder Boy III: Monster Lair
and
Wonder Boy in Monster World
.
Whew! That's a lot of games, folks, but in my estimation, you can basically ignore at least 10 of them. There are some clunky as hell platformers that pale into insignificance when put alongside the Sonic titles. Also, aside from the Phantasy Star series (and Beyond Oasis), the RPG offerings in this list are incredibly primitive, plus there are a few ropey arcade conversions that don't do the real McCoy coin-ops justice. Last but not least, how many "drop blocks à la Tetris" variants do we really need? Three is overkill.
Speaking of disappointments, some corners have been cut. Having no Sonic 3 is an incredible oversight and when are we going to see some Sonic & Knuckles action? The Mega Drive was also beloved for its two Ecco the Dolphin games, both of which are curiously absent. The 2009 compilation released on PS3/360 included a handful of unlockable arcade and Master System versions that have been ghosted as well. (R.I.P.: Alien Syndrome, Altered Beast, Congo Bongo, Fantasy Zone, Golden Axe Warrior, Phantasy Star, Shinobi, Space Harrier and Zaxxon.)
On the upside, what is included runs flawlessly and the presentation is pure nostalgia. Your main menu is basically an early Nineties bedroom frozen in time. It's all here: crappy bodacious decor and a whopping 13" CRT TV perched above a fully modelled Mega Drive One console (complete with that weird volume slider on the front for the headphone input you never used). Better yet, selecting a game from your bookshelf physically slides it into the console, but there's no button to blow into the cartridge to make the damn thing work. Inauthentic.
From there you get a decent amount of modern creature comforts. We have the usual trophies/achievements, online and local multiplayer is supported, a mirror mode exists which makes the text-heavy RPGs useless and there's a texture filter that turns the lovely sprites of yesteryear into unattractive blobs (just keep it old school).
This collection stands as a solid investment for the retro tragics out there
You also have savestate/rewind functionality to keep yourself in the sweet spot of winning at all times. Personally, I was hooked on the bite-sized mini-challenges that have been set up in the Extras menus. You're essentially dropped into a certain level of a game with low health and strict requirements to do/not do certain things. They're incredibly novel and I wish there were more.
When all is said and played, this collection stands as a solid investment for the retro tragics out there who fondly remember parachute pants and awful techno. Personally, I found it to be a great edutainment tool to teach my gamer younglings about "the olden days" and the simple joys of two players scrolling ever rightward, meeting strange new creatures and dispensing violence. The only big downside here is a lack of a few key titles, a dearth of bonus material and a Switch version that's curiously AWOL.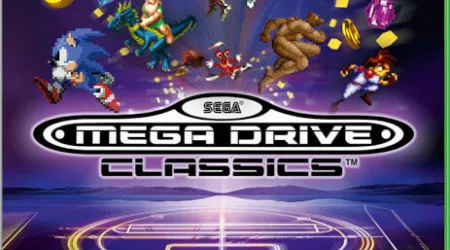 Click to buy Sega Mega Drive Xbox One
from Amazon
View details
We reviewed Sega Mega Drive Classics on PlayStation 4 with a copy provided by the publisher.
Sega Mega Drive Classics
7.0 VERY GOOD
What we liked...
Great value for money
Presentation that has heart
Decent modern creature comfort options
They called a game "Dynamite Headdy"
What we didn't like...
Ecco and Sonic 3 need to be here
2009 extras scrapped
Needs more behind-the-scenes extras
VERDICT
Sega Mega Drive Classics isn't the absolute best package it could have been, but for 50 bucks (which roughly equates to .92 cents a game) it's a tough deal to pass up.
For more information on how finder.com.au scores games, check our review guidelines.
---