Secret of Mana Review (PS4): What the hell did you do Square Enix?
Secret of Mana is an all-time classic game, but its remake is just a soulless shell.
We're reader-supported and may be paid when you visit links to partner sites. We don't compare all products in the market, but we're working on it!
Quick Facts
Genre: Retro RPG
Developer: Square Enix
Publisher: Square Enix
Price: $59.95
: Release date: 6 February 2017
Platform: PlayStation 4, PC, Vita
Classification: E10+
What everyone will say: A remake that's a pale imitation of its source material
---
Secret of Mana is one of the all-time great games and a must-play title for anyone who enjoys classic action retro games. Even after all these years, it's still a spectacular title, especially when you've got two other players sitting on the same sofa as you, taking down endless waves of Rabites, Werewolves, and curiously helmet-wearing enemies known only as Captain Duck.
Although now that I stop and think about it, they're named that way because they're ducks in army helmets. Kind of obvious in retrospect. If you're coming in late, Secret of Mana is a SNES-era RPG title in the Zelda vein, but with more of a focus on action than puzzles, and a unique three-player simultaneous mode that's a raucous amount of fun. Everyone should play it, and if you've played it, play it again.
Well, that was an easy review to write, but then it should have been.
I've been playing Secret of Mana for more than 20 years now, typically through around once per calendar year. I know the game inside out, from the weird glitches to the slightly odd translation to the best way to level up your magic. It was a classic then, and it's only grown better now...
Wait, what? This is a remake of Secret of Mana?
Is it advisable to mess with near-perfection? Well, I guess there are some loading transitions that could be faster, and it couldn't hurt to have a little more animation on board. So a remake that does all that would be an easy 11/10 game, our first ever.
I should have known better just from the launch trailer alone:
---
---
Still, a trailer is just a hype reel, and sometimes there are gems lurking underneath the surface, right?
Well… no.
The remake of Secret of Mana annoys me intensely, because at its heart it still is Secret of Mana, and that's still a great game. The remake should be great, but it just plain isn't. A remake could have reinvigorated the entire franchise, perhaps finally brought us a proper legitimate translation of its Japanese-only sequel, and of course introduced new gamers to one of my top five favourite games of all time. We could have even had the three-game collection that came out for the Switch in Japan last year!
Only, however, if like the recent Shadow of the Colossus remake, it's actually polished over any game design decisions that haven't stood the test of time.
Sadly, that's precisely what the remake of Secret of Mana fails to do, both on a minute level (to appease pedants like me) but also on a larger scale. I loathe in some ways to criticise because there is still the beating heart of a great game in here, but equally, I'd be lax if I didn't properly assess what's been done in the remake.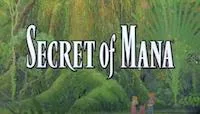 Order Secret of Mana PS4
from ozgameshop.com
Embark on an action-packed, worldwide adventure in the 3D remastered version of Secret of Mana.
View details
So let's start with the introduction of voice acting for what was always a text-only game. The English language track has a lot of voice acting, including new cutscenes that play out when you rest in an Inn that give the characters a little more context and humanity. Or at least they would if they were reasonably well acted, rather than being inconsistently voiced, or often just way too repetitive. As an example, each of the three protagonists has an exclamation you'll hear when they get knocked down and, in best Chumbawumba fashion, get back up again.
Like Chumbawumba's best-known hit, you're going to hear those phrases so damned much you'll want to cut yourself, or possibly switch to the Japanese audio just for the variety. I can at least console myself that I'm doing a little light Japanese study by putting that soundtrack on.
Visuals have switched from straight 2D pixels to a more rounded and very bright 3D look. One cute touch is that the in-game map is made up of the classic visuals, but beyond that, it's rife with lazy animation and very simple character models. Eyes sometimes move to convey emotion, but there's no mouth animation to go with the voice acting, which means every cutscene plays out like it's a four-year-old playing pretend with a bunch of Playmobil toys.
It's totally a personal irritation, but I'm also annoyed that the new designers have been lazy across a range of smaller visual touches. Like the way that the screen simply fades to black when you get near the edge of each map area, rather than walking out along the paths. Or the endless small loading screens that are somehow slower than on the SNES original. The shift to 3D models brings with it its own problems. Secret of Mana is an action RPG that, in its original SNES incarnation has quite tight collision detection making battles both strategic and tense.
In the Secret of Mana remake, you're far more likely to flail about to the side of your foes than actually hit them, all the while being expertly peppered by any enemies with long-range weapons. It does totally change the difficulty spikes in the game, even for a veteran player like myself, but not for the better.
There are other gameplay tweaks that annoy. The inclusion of shortcuts for quick weapon switching on the shoulder buttons is a great idea in theory, but you can't pair those shortcuts with the princess or sprite's magic, making them mostly pointless.
Mana's action rings for selections are still present, but where in the original game they popped up around the character who had invoked them, here they're always centred on the screen, making it harder than it should be to pick who's actually set them off.
Maybe it's the complexity of 3D models at play, but your companion AI has somehow degraded as well. While Secret Of Mana is at its absolute best in three player mode, it's perfectly playable with just one character as long as the NPCs actually follow your movement.
Secret of Mana Images
They're frequently bamboozled by hedges, rocks or enemies in their way, something that the original game really didn't suffer from. It's annoying to have to backtrack to unstick a stupid computer-controlled character, and even more so if you get swarmed because they're not there to help you in a critical battle.
Even the iconic soundtrack isn't free from meddling, with a weak, techno-ish take on the classic tunes (yes, even the Dwarf Village soundtrack). At least you can switch to the proper soundtrack at any time, which I would encourage you to do post-haste.
If there's merit in the remake, it's because the original is a great game, not because the remake has improved anything. Indeed, it's a regression in just about every aspect, even if you don't much like pixel-based graphics in your RPG.
Sadly, if you want to play Secret of Mana properly, your best other choice is the version on the SNES Mini , and that's limited to just two players thanks to the lack of multi-tap support on Nintendo's tiny console. Either that, or pay the hefty prices for an original console, a cart and a multi-tap, or learn enough Japanese to opt for the Switch Mana collection.
We reviewed Secret of Mana on PlayStation 4 with a copy provided by the publisher.
Secret of Mana
5.5 AVERAGE
What we liked...
It's based on Secret of Mana, an easy 10/10 game in its own right
No need for a multi-tap, just three controllers
What we didn't like...
Cheap animation
Bland voice acting
Shift to 3D makes combat harder than it should be
Weak remixed tunes
Terrible companion AI
VERDICT
The remake of Secret of Mana somehow takes a can't-miss prospect for a remake, and misses, quite badly. The essential germ of the classic game is still present and playable, but remakes should improve on the originals, not actively make them worse.
Available for PS4 PC
For more information on how finder scores games, check our review guidelines.
---
More guides on Finder