Sea of Thieves review: That ol' sinking feeling
There's plenty of fun to be had with friends but procedurally generated missions become tedious and repetitive.
We're reader-supported and may be paid when you visit links to partner sites. We don't compare all products in the market, but we're working on it!
The fun-factor in Sea of Thieves can be as changeable as the sea. I've had online conditions that were perfect – myself and three virtual shipmates became the scourge of this open-water world with plunder runs lasting for hours. I've also had the worst of times – forced to run solo in a sandbox bereft of other players (due to server issues) and the exclamation point to that boredom was being booted off the server right before I could secure the treasure chest I'd spent 20 mins sailing back home for.
That said, far and away my best experience started out as my worst. Stepping out of my comfort zone, I decided to dabble in some public matchmaking, even though (at the time) voice chat for Sea of Thieves was acting up. In no time I was paired with a group of three random pirates led by a buccaneer named "Fuco", which I suppose was my first clue as to how this was going to go.
---
---
To my credit, I was very friendly (upon joining I emoted a wave and even danced a little jig). More importantly, I demonstrated a willingness to muck in on the hard work of running our galleon – the larger vessels require all four shipmates to haul anchors, trim sails, repair leaks and bucket out water after attacks. Despite my impeccable teamwork, all three of my shippies voted to throw me downstairs into the ship's brig in a minute flat.
With no voice comms, I could only guess as to why I was unfairly clapped in irons. But I understood what they wanted to happen next: their plan was to keep me downstairs indefinitely until I lost patience and left their party of my own accord. Unfortunately for them, I'm the most spiteful man on the seven seas. And so a battle of wills began.
40 minutes of pirating passed without me, though I could hear and understand what was going on outside our ship. These mutinous dogs did what is essentially the main course in Sea of Thieves – you decipher procedurally-generated treasure maps, navigate through rough seas to the marked X, fight some AI skeletons (or another mob of players), dig up the chest and bring it back on board.
Now if you're playing it safe, you'd make a beeline back to the main pirate port at this point. Delivering an ill-gotten chest over to a bookkeeper is the only way to bank it into your coffers permanently. Alternatively, it can also be efficient to increase your gains by undertaking consecutive treasure hunts out at sea and then bringing back a crap ton of chests in one fell swoop to earn more. It's an intoxicating risk-reward mechanic that's easily the coolest facet of this game.
My "pals" were very much of the risk-taking sort. I know this because they would deliberately lug any treasure chests they'd collected down two flights of stairs to plonk right in front of my cage. Then, these showoffs would try to unload their muskets into me (impossible, no friendly fire enabled) or they'd slice at the bars menacingly with their cutlasses. In response, I'd spam my little dance-a-jig emote until they'd leave. These bastards lacked the means to banish me completely. And I knew being a man short would be hurting their chances of survival.
Why? Because life out on these utterly gorgeous seas is as cutthroat as you'd imagine. In a fight with marauding players you might be killed outright by sniper or cannon fire before your ships slam into one another. If you don't have superior numbers for phase 2 – boarding – that'll likely be the death of you instead. Sea of Thieves isn't the most technical first-person shooter, and may feel thrashy and chaotic in the early hours, but there are nifty tricks to learn with your cutlass, flintlock, blunderbuss and long rifle (you can carry two, maximum). Half of the battle is having expert hand-eye accuracy, but the day can also be won by a pirate who knows how to smartly use limited ammo and long reload times to their advantage.
Evidently, my crew were pretty good at murder. I could see from the news ticker that they were regularly killing enemy players as they completed quest after quest after quest. Those mouth-watering chests continued to pile up around my cage, too, as did the acts of hostilities towards my person. My only response to the belligerence – a happy little jig.
I should also point out that Sea of Thieves isn't all about snooping out treasure. Honestly, a lot of the early thrill centres on simply juggling the plates needed to keep a ship on course in an ocean that's as beautiful as it is temperamental. If booty calls aren't your bag, you can opt to ignore the Gold Hoarders guild and instead invest your time levelling up and earning coin via the Merchants Alliance (collect items and deliver them timely) or the Order of Souls guild (engage in survival-esque combat against forts filled with AI skeletons). Sounds fun on paper, but the reality is no matter which guild you work for, the fatigue of repetition sets in early. Mission variety is low and the coins you're accumulating are invariably spent on cosmetic upgrades to your sails. Oh, and if you go in expecting any sort of deep narrative, you're gonna want to walk yourself off a plank in 30 mins time.
At present – or at least until the next major content drops for this game – you can expect only small flashes of brilliance from Sea of Thieves, typically when you and your buddies manage to make your own fun in feats of swashbuckling bad-assery. That might come in the form of an epic player v player heist that sees your enemies at the bottom of the drink and you all drunk as skunks as you ride off into a storm or a kraken encounter.
It might also come in the form of my greatest experience. When three pain-in-the-arse players decided to adorn my cell-room with a dozen treasure chests (roughly two hours worth of work) and one barrel that the stupidest of their number brought downstairs as well. Perhaps he mistook it for loot. Maybe he thought it'd be a cool prop for their next threatening pantomime towards me.
All I know for sure is that I reminded my hosts that while we couldn't injure one another, kegs filled with black powder were fair game. End result: a four-person team kill. Ship sunk. A dozen chests lost to Poseidon forever. Better yet, as we all materialised as ghosts in the "ship of the damned" that serves as Sea of Thieves post-death lobby, my Xbox message box exploded with fury. My only response – I ambled right up to the good Captain Fuco and did him a little jig.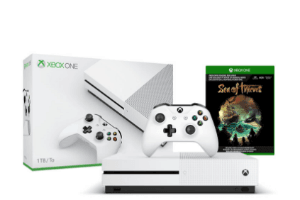 $399: Xbox One S Sea of Thieves Bundle (1TB)
from Microsoft Store
View details
I'll never forget that particular voyage so long as I live. That said, my dance card sure is empty when it comes to other truly memorable moments. Part of this situation can be blamed on the incredibly iffy servers for the first week or so after launch. But also, and much more often than not, the action on offer in
Sea of Thieves
is a series of unsatisfactory booty calls.
We reviewed Sea of Thieves on Xbox One with a copy provided by the publisher.
Sea of Thieves
6.0 GOOD
What we liked...
Top-notch sailing mechanics.
The most attractive open sea in gaming.
Offers great co-op with the right crew.
A nice ratio of seriousness and cartoony fun.
What we didn't like...
Servers were all over the place at launch (stabilised now).
Achievement and challenge are lacking.
Procedural missions are too samey.
VERDICT
Too often you'll have to make your own fun. Such a shame, too, as this is absolutely gorgeous to behold and the potential is phenomenal. That said, Rare should not have launched at full price with such little content and such unseaworthy servers.
For more information on how finder scores games, check our review guidelines.
---
| Product | Provider | Price |
| --- | --- | --- |
| Sea of Thieves (Xbox-One) | Microsoft Store | AU$99.95 |
| Sea of Thieves PC | Microsoft Store | AU$99.95 |
| Sea of Thieves (Xbox-One) | Base | £44.85 |
| Sea of Thieves PC | Base | £39.99 |
| Sea of Thieves (Xbox-One) | OzGameShop | $69.99 |
| Sea of Thieves (Xbox-One) | Mighty Ape | $92.00 |
| Sea of Thieves (Xbox-One) | Play-Asia | US$59.99 |
| Sea of Thieves (Xbox-One) | JB hi-fi | $79.00 |
| Sea of Thieves (Xbox-One) | EB Games | $99.95 |
| Sea of Thieves (Xbox-One) | Gamesman | $88.00 |
More guides on Finder
Handypay Green Loan

A Green Loan from Handypay could help you make your home more energy-efficient. Handypay green loans are available up to $75,000 on terms of up to 10 years.