School holidays activities in Brisbane for July 2020
Our top picks for things to do during the school holidays in Brisbane to keep your kids busy.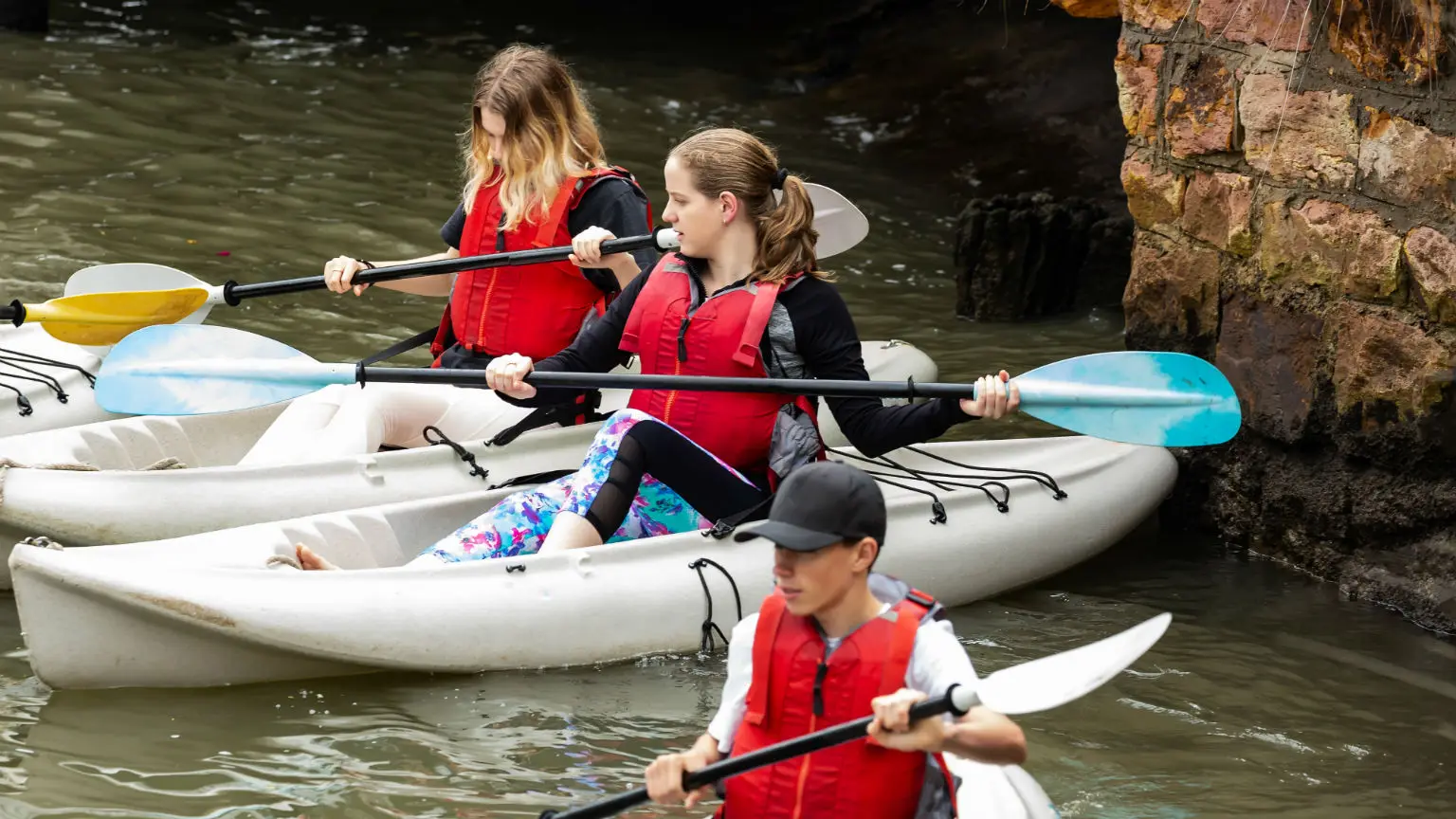 Looking for inspiration to keep your kids happy and occupied during the school holidays? We're here to help. See our top recommendations for indoor and outdoor activities to keep your little ones occupied.
If you're thinking of taking that long awaited day trip, we're picked the top spots worthy of a visit that aren't too far from home.
When planning activities over the school holidays in 2020, parents and caregivers are reminded to maintain good hygiene practices and social distancing to help stop the spread of coronavirus.
Top things to do during the July school holidays in Brisbane
Hang out with Australian animals at Lone Pine Koala Sanctuary
Head to the world's largest koala sanctuary to meet over 100 native Australian animals. Hand-feed kangaroos and watch live shows that will keep your children entertained for hours.
Experience an adrenaline rush with a go karting experience
If you're short on play date ideas, go karting is a great activity for your kids and their friends to battle it out on the racecourse to see who crosses the finish line first.
See Brisbane from new heights
Kids who have a sense of adventure will love seeing a spectacular birds eye view of Brisbane's skyline with the Story Bridge Climb.
Discover the spooky side of Brisbane
Forget scary bedtime stories. Take your children to Brisbane's haunted spots and hear about the history of the city. A ghost tour is the perfect combination of entertainment and education for school holiday fun.
Explore the great outdoors
Brisbane is home to a variety of outdoor activities that make for great school holiday adventures. Whether you want to make it a family day out or invite your children's friends along for a play date, it's sure to be a hit.
Head out to sea on a whale watching adventure
Hop on board for a day full of hanging out with enchanting marine life frolicking and splashing around only metres away from you. Not only is this an exciting adventure for children, it's a great learning opportunity with live commentary on board to add to the experience.
Experience the ultimate adrenaline rush with a flight simulator experience
Have you ever wondered what it feels like to be in control of a plane? Jump into the pilot's seats and choose from thousands of airports for your flight simulator adventure.
Zoom around Brisbane City
Looking for a unique way to get your kids outdoors during the school holidays? Make your way around Brisbane City in style with a Segway tour. Choose your route and difficulty level for gliding and spinning around the best scenic spots in Brisbane.
Experience the feeling of free falling at iFly
A visit to iFly is the next best thing to free falling from a plane during a skydiving experience. Indoor skydiving creates the sensation of free falling by using an upwards airflow in a glass, vertical tunnel that keeps you floating mid-air. If you've got a thrillseeker to entertain, you'll earn major brownie points by taking them to iFly.
Join a virtual class
Avoid having restless kids at home during the school holidays by signing them up for a virtual online class. Choose from individualised private lessons or join a group class for a more interactive social experience.
Take a trip to the park
Keeping your kids active during the school holidays helps ensure they're on the go and away from their screens. Planning a play date with your children's friends? A small gathering at a park is a great option. Whether you have a park close by or you want to venture out to find a new favourite, bringing a bike, scooter or skateboard along will keep your kids happy and occupied for hours.
Entertain the kids with a craft session
The school holidays are the perfect time to try something new. Take a break from Netflix and set up a space in your house for your kids to delve into a creative project.
Grab the popcorn and settle in for a movie marathon
If you're stumped for what to do on a cold and rainy day, you want to set up a cosy movie night with the family or your child is a movie buff, streaming services including Disney+, Netflix and BINGE give you bang for your buck with unlimited shows and movies for your children to pick from. You can even set up parental controls on Netflix or set up a Netflix Kids profile to monitor what shows and movies your children can access.
Set up jigsaw puzzles, board games and card games
It's not uncommon to experience a few cold and rainy days during the July school holidays. Completing jigsaw puzzles, board games and card games keeps your children entertained and their minds active.
Get creative in the kitchen
Kids love hands-on activities. Not only is it fun, they also learn a new skill out of it. Purchasing a children's baking kit is a great place to start if your little ones are cooking for the first time. If your kids have had some cooking experience, there are plenty of kids' cookbooks available so your mini chefs can take the reins in the kitchen.
Play video games
If you have a gamer on your hands, it's likely they'll want to spend some time gaming with their friends during the school holiday break. Whether their console of choice is a Nintendo Switch, Xbox or Playstation, there's plenty of classic and exciting new games for your kids to get their hands on. Just remember, it's important to take frequent breaks to give your eyes a rest from staring at a screen for long periods of time.
Day trips you can take from Brisbane during the school holidays
Bribie Island
Distance from Brisbane: 1 hour and 40 minutes.
If you're looking for a change of scenery, a day trip to Bribie Island is hard to resist.
Tamborine Mountain
Distance from Brisbane: 1 hour and 10 minutes.
Thrillseekers and nature lovers aren't short for choice when it comes to outdoor activities available at Tamborine Mountain.
Free activities in Brisbane for the July school holidays
Take lunch outside by setting up a teepee in the backyard and having a picnic
Create a cooking class in your own kitchen for the little ones (who doesn't love tacos?)
Set up some canvas and paintbrushes outside so the kids' creativity can run wild
Transform the lounge room into a fortress – throw in some snacks and you've got a winner
See the latest Brisbane school holiday activities deals
Related Posts