Everything you need to know about Sand & Sky's Enzyme Powder Polish

The latest addition to the Emu Apple Range will have you glowing in no time.
Having only just dropped the Australian Pink Clay Smoothing Body Sand back in February, coveted A-Beauty brand Sand & Sky has now revealed yet another new product.
The latest addition to the label's popular Emu Apple range, the Enzyme Powder Polish landed this morning on the Sand & Sky. Packed full of native Aussie ingredients, the polish is touted as an irritation-free exfoliant that aims to brighten the skin. So, how exactly does it work?
Similar to the rest of the line, the Enzyme Polish features a mixture of Australian Emu Apple, Riberry, Pepperberry and Kakadu Plum to help fight the signs of ageing, reduce pigmentation and boost hydration.
It also sees papaya enzymes used as a natural exfoliant, while Australian Quandong and Davidson Plum have been included for their anti-inflammatory properties. Aloe vera, jojoba and macadamia oil have then been added to help nourish the skin.
The powder is activated with water, meaning that mixing the two together will give you a lightweight foam that you can then massage into your skin. Just like the Australian Pink Clay Mask too, it comes in a very Instagram-friendly pink hue.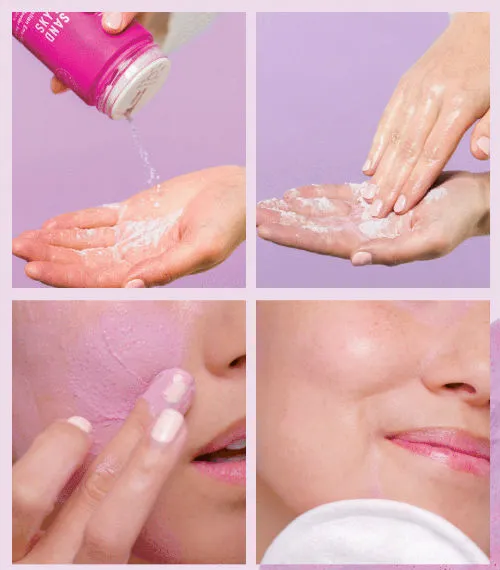 If you want to step things up a notch, Sand & Sky also recommends using its Dreamy Glow Drops in place of water.
Somewhere in between a serum and a face oil, the Glow Drops are packed full of hyaluronic acid and hemi-squalane oil. We're hoping this means that, when used in tandem with the polish, it will combat any dryness or tightness that sometimes comes with exfoliating your skin.
If you are looking to get your hands on the new product, we recommend doing so as soon as possible. Sand & Sky co-founder Sarah Hamilton told Finder that the waitlist for the new product had already amassed over 10,000 people a week before its release. Yep, that's before the brand had even announced exactly what the product was.
The amount of hype around the product is hardly surprising though, with the brand's signature Australian Pink Clay Mask having sold over 1 million tubs since its launch in 2017. Since then, Sand & Sky has become one of the brands helping to put A-Beauty on the map with its unique ingredients and clean formulas.
The Enzyme Powder Polish is currently exclusive to the Sand & Sky site and retails for $72.90. You can also shop it together with the Dreamy Glow Drops in the Mega Glow Kit for $118.20.
The polish is also set to join usual stockists like Adore Beauty and Myer at a later date.
Images: Supplied