Samsung T5 SSD review: Speed redefined
Quick Verdict
Samsung's latest solid state drive is an attractive option if you need a small and fast mobile storage solution with in-built encryption.
Strengths
Small, robust design

Very fast throughput
USB C and USB A cables included
256-AES onboard
Could be better
Still more expensive than a mechanical drive
No iOS app to access the drive if it's encrypted
No choice of colour
---
If you need fast, portable storage, Samsung's T5 SSD offers it in spades, with plenty of connection flexibility along the way.
When the first external SSD drives hit the market, they were marked by prices that were way above the comparable pricing for a mechanical drive, which left them in the province of folks who needed storage and speed and didn't fuss much over price. Over time, however, SSD technology has dropped markedly in price while improving in overall speed and reliability. Samsung's latest entry into the SSD space is the T5 Series of external SSD drives, which offer the promise of a smaller overall body and faster speeds. So how well do these drives measure up to that aim?
Design
One of the realities of SSD drives is that ultimately, they're just an array of chips on a board, which means that there are no moving parts or, for that matter, the need for a particularly large enclosure. Samsung (and other external SSD providers) has generally taken advantage of this fact to produce compact external SSD drives, and the T5 definitely fits that category.
Measuring in at 74x57.3x10.5mm with a weight of just 51g, your first impression of the T5 SSD is that you've been handed an empty mock-up drive. That was certainly my first thought, because this isn't a drive that will weigh you down in any way.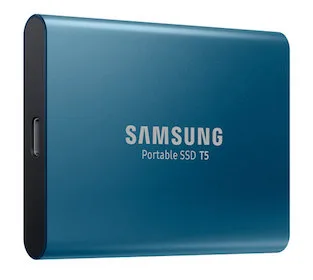 Samsung T5 Portable SSD - 250GB
from Amazon US site
Samsung's latest solid state drive is an attractive option if you need a small and fast mobile storage solution with in-built encryption.
View details
For the T5, Samsung has opted for a brushed metal unibody case in either "Alluring Blue" or "Deep Black" finishes, but you don't actually get a choice as to the finish of your drive, which is determined by its capacity. The smaller 250GB and 500GB drives are the blue ones, and the higher capacity 1TB and 2TB drives only come in black. Sure, the colour of the drive doesn't really make a difference, but it would be nice to have the choice.
Speaking of choice, however, one very welcome inclusion with the T5 SSD is the choice of cables provided with the drive. The primary connection point to the T5 itself is USB C, but Samsung includes both USB C to USB C and USB C to USB A cables in the box. This means that you should be able to connect the drive to just about any standard desktop or laptop and most newer Android phones without having to pick up additional cables or adaptors.
Performance
SSD drives usually sell on speed, and Samsung's claims for the T5 SSD suggest that it should be the fastest in the consumer market right now, with a claimed maximum transfer rate of 540Mbps.
Now, that's a figure that does have a couple of caveats attached to it, some of which could well have a serious impact on the T5 SSD's performance. Firstly, as always, you've got to treat maximum "up to" figures with a grain of salt, because they're an indication of range, not of sustained throughput. You'll only see those speeds when connecting to devices that support USB 3.1 Gen 2, which isn't surprising in any real way. Yes, the T5 SSD will talk to older devices using older USB standards, but you'll be moving in the slow lane when you do.
Then there's the question of the types of files you're transferring and the overhead that your operating system of choice puts on it. Many operating systems treat single large files differently to the same data capacity made up of many smaller files.
Using BlackMagic's Disk Speed test, the T5 SSD returned an average write speed of 482.7Mbps, with (to be expected) slightly higher read speeds of 513.5Mbps when connected via USB C to a 2016 MacBook Pro. That's markedly slower than the same machine's internal drive, but again, that's to do with the overhead more than anything else. As with so many SSD-based notebooks, there isn't a way to easily expand the internal storage on a MacBook Pro, but the T5 SSD could provide a very solid method for most cases where internal storage is running low.
In more anecdotal testing, copying a 63.86GB file from the same MacBook connected over USB C to the T5 SSD took 124 seconds, with a rough write speed of 515Mbps, slightly above the BlackMagic benchmark and within fighting distance of that 540Mbps claim. Transferring a folder with 1,803 music files totalling 12.8GB took 46 seconds and predictably slowed transfers down to a more sedate 278Mbps. Again, that's to be expected given the number of individual files in this instance.
Samsung also provides a utility for drive management, compatible with Windows (Windows 7 or newer) and Mac (Mac OS X 10.9 Mavericks or better), as well as an Android app (Android 4.4 or better). The app itself is relatively simple, allowing you to set a password for access to the drive's files. Set that password and the drive's inbuilt AES 256-bit hardware encryption kicks into gear, locking the files down unless the password is entered. Samsung will also use the app to deliver firmware updates, if any, to the drive over its lifespan. The one caveat here is that there's no iOS app, with Apple being rather twitchy around the whole issue of iOS external storage. If you do lock the drive down, there will be no way to access those files at launch on an iOS system.
Verdict
The market for SSDs used to be speed freaks with deep wallets, but Samsung's pricing for the T5 SSD puts it more solidly within the reach of everyday consumers, at least partially.
Realistically, if all you want is storage and plenty of it, you can easily score any number of 1TB external drives for under $100, and you can get 2TB options for less than $150 without too much fuss. The Samsung T5 SSD doesn't compete with these options because the lowest-cost 250GB model sells outright for $199. The 500GB model ups the ante, costing $329, while the 1TB option costs $649. Finally, still in deep pockets territory, a 2TB T5 will set you back $1,249.
Clearly, you'll still need to pay a premium for that sweet SSD speed, but the price gap is closing in for drives with lower capacities. If you want a robust and fast drive that's easy to drop into a bag or your pocket, the Samsung T5 SSD delivers the goods.
Specifications
Product Name

Samsung T5 SSD
Capacity

250GB/500GB/1TB/2TB
Interface

USB 3.1 (Gen 2, 10Gbps) backwards compatibility with USB 2.0
Transfer speed

Up to 540Mbps
Encryption

AES 256-bit hardware data encryption (optional)
Dimensions

74x57.3x10.5mm
Weight

51g
Pricing

$199/$329/$649/$1,249
Latest technology reviews
---
Follow us for all the latest technology news and deals
---