Samsung Gear VR 3rd Generation review: Simple inexpensive VR

VR is shaping up to be one of the biggest technology trends of 2016, with Oculus VR recently having opened up pre-orders for the Oculus Rift, HTC and Valve positioning the similarly PC-powered Vive and Sony waiting in the wings with the Playstation VR.
If you want a taste of what VR can do for you right now, Samsung has the Samsung Gear VR, now in its 3rd iteration. The Samsung Gear VR uses a small range of the company's premium 2015 handsets as the display screen behind a solid plastic virtual reality headset.
Specifically, the Gear VR 3rd Generation will work with the Samsung Galaxy S6, Samsung Galaxy S6 Edge, Samsung Galaxy Note 5 and Samsung Galaxy S6 Edge+.
The setup for the Gear VR 3rd Edition is quite simple, involving downloading the Oculus VR client to your handset, and then slotting it into the front of the Gear VR body. There are two positions controlled by a switch to accommodate the smaller Galaxy S6/Edge bodies and Note 5/Edge+ bodies respectively. If the phone is unlocked and the app is present, it will automatically launch the Oculus VR experience from there.
Upsides: Why you'd want the Samsung Gear VR
It's incredibly immersive: Pop on the Samsung Gear VR and some headphones and you are quite literally cut off from the outside world -- although it's possible to engage the phone's camera within the app to peek out into the real world from time to time.
Some great games experiences: Developers are really still just dipping their toes into what's possible with VR, but if you're keen on games, VR gaming can be a blast, whether it's the simple casual action of Temple Run, the puzzling of Land's End or the bleak horror of Dreadhalls.
Good cinema experience: The Gear VR might just be the best bit of carry-on luggage for your next trip, because even as a simple video player it is very engaging, even though you really just sit in an eerily isolated cinema to do your video watching.
It's very private: Look, we're not going to judge what you want to do on your own smartphone, but other people might. With the Gear VR and headphones on, you and you alone know what's happening onscreen.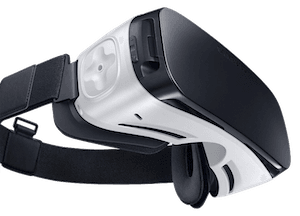 Samsung Gear VR 3
from Samsung
Play games, watch movies and look at photos all in glorious virtual reality with the latest Samsung Gear VR.
View details
Downsides: Why you might not want the Samsung Gear VR
It may make you dizzy: We hit some issues with maintaining focus in-game and while watching video clips through the Gear VR, as well as a small amount of motion imbalance. That will vary from person to person, but it's not something that many will want to do for long stretches of time.
Some experiences are gimmicky: Samsung provides a beta web browser, which works, but provides no benefit you couldn't get more easily by simply using your phone as a browser.
Only technically "cheap": At $159 outright, the Gear VR might seem like a bargain next to the US$649 (plus PC) cost of the Oculus Rift, or whatever the Vive and Playstation VR end up costing. It does nothing, however, without the inclusion of a phone that will set you back at least $800, and possibly up to $1,299.
Less content available for Australians: Samsung runs its own VR video service, MilkVR, but it's not available in the Australian version of the Oculus store -- although you can sideload it by using a VPN if you're keen.
A gamepad is a must: The touchpanel on the side of the Gear VR works acceptably well for video experiences, but for gaming you need controls, and some games mandate them. That's an added expense to bear.
VR is a battery hog: Thankfully Samsung's 2015 phones all have decent battery life, because the Gear VR demands it. Expect your phone to heat up quickly and chew up battery rapidly along the way.
Who is it best suited for? What are my other options?
If you've already got a Samsung Galaxy S6, Samsung Galaxy S6 Edge, Samsung Galaxy Note 5 or Samsung Galaxy S6 Edge+ the Gear VR is a fairly easy recommendation, because it offers a relatively inexpensive way to experience what VR can and can't do at this point in time with better overall quality than you would get out of the very simple and cheap Google Cardboard VR experience.
If you're more broadly keen on VR, however, the full Oculus Rift is likely to deliver more complex and engaging experiences over the long term, simply because of its use of a high-end PC (at a high-end cost) to render content to you. The same is true of HTC's Vive and Sony's Playstation VR, although pricing is yet to be announced for either of those products.
Where can I get it?
The Samsung Gear VR is currently available only through Samsung Australia's online store and its Samsung Experience stores, although it has announced plans for wider retailer availability in 2016.