Samsung Gear VR 2017 review: The best way to dip your toes into VR
Quick Verdict
The Samsung Gear VR 2017 is greatly improved with the new Gear VR controller showing what can be done with even a relatively inexpensive VR headset.
Strengths
Deep immersive experiences
Gear VR controller makes a big difference
Lighter weight
Backwards compatible
Could be better
Can get quite warm
Offline Netflix doesn't work
Samsung Galaxy phones only
Still a lower-end VR compared to Vive or Oculus Rift
---
Samsung's updated Gear VR shows a lot of promise if your VR expectations are relatively simple.
Samsung has been in the virtual reality space for a number of years now with its Gear VR headsets designed exclusively for the company's high-end Galaxy S and Galaxy Note series. There's been huge hype around virtual reality in the last 12 months with the arrivals of the final consumer units of the HTC Vive, Oculus Rift and Sony's very popular PlayStation VR.
Against that market sits low-cost options for phone-based VR experiences such as Google's Daydream VR, the LG G5's disastrously bad VR headset, Google Cardboard or the Kaiser Baas VR-X headset. This is the market that Samsung's Gear VR 2017 competes with, both price-wise and tech-wise.

Samsung Gear VR 2017: Design
Aside from a colour change from white to black, there's not a great deal that has externally changed for the Gear VR since the last time we tested it in the form of the third-generation headset. The front cover clasp now covers less of the eyepieces and it's marginally lighter than previous iterations, but you would have to wear each version side-by-side to particularly notice that.
It's still a lightweight plastic headset with small foam inserts around the eyes and nose to make it relatively comfortable to place over your face. Your choice of Samsung phone slots into the front, although you may have to swap the adaptor to make it fit. Specifically, the 2017 version comes with a USB C type adaptor, suitable for the Galaxy S8, the Galaxy S8+ and, we suspect, the Note7, although if you've still got a Note7 you're being very foolish indeed.
Samsung does provide an adaptor, which you can use to retrofit the new Gear VR for the previous microUSB generation, giving it compatibility with the Galaxy S7, the S7 Edge, the Note5, the Galaxy S6, the S6 Edge and the S6 Edge+ handsets. We tested the headset with a Galaxy S8 for the purposes of this review.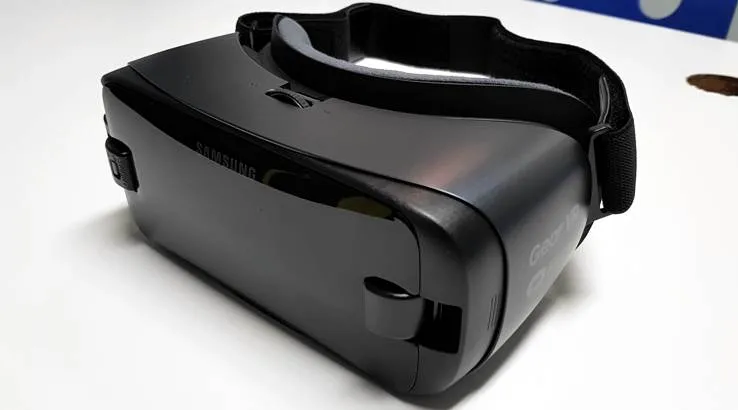 While much of the Gear VR's basic outline remains the same, the one key new factor is the default inclusion of a small motion remote, broadly similar to the remote that you get with Google's Daydream VR headset. The Gear VR Controller provides in-app selection and in-game/experience control of what you're seeing, relative to whatever the developer has written with in-game controls in mind.
While previous Gear VR headsets could work with external game controllers, they weren't the default inbox experience, which rather limited the appeal of many apps. The Gear VR Controller operates off two AAA batteries, which are supplied in the box, and it connects over Bluetooth to your Galaxy smartphone.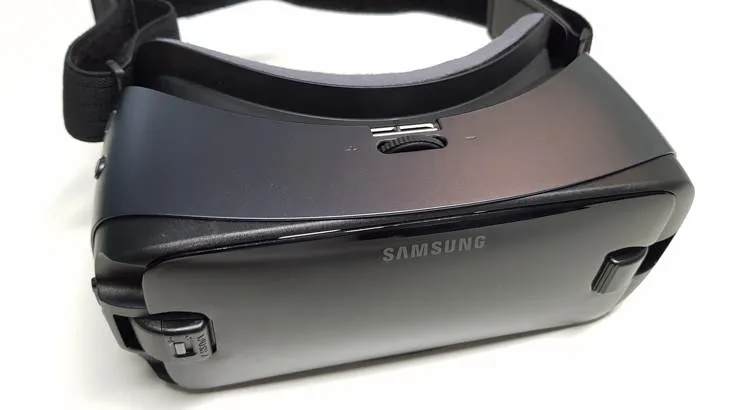 Samsung Gear VR (2017): Why you'd want one
Deep immersive experiences: One factor that Samsung got right out of the gate was in making the actual Gear VR headset fully immersive. For the complete experience you will need some headphones, and while you can plug them through the side of your headset, a bluetooth pair will be a more comfortable and less cable-tangled approach. The inclusion of the Gear VR Controller means that there's a strong focus on gaming at launch, but there's plenty more that the motion remote could be used for in future apps, and even simple functions like web browsing are easier with a pointer for entering URLs.
Makes a great personal cinema: Getting your own content (beyond anything you might have shot using your phone's camera) onto the Oculus Cinema app is a bit of a chore, but with onboard Netflix support, it's a great way to privately catch up on TV shows or movies as long as you've got an internet connection handy.
The price is right: If you were an early Galaxy S8/Galaxy S8+ adopter, you may have scored a Gear VR for absolutely nothing, which is a hard price point to argue with, but even at its standard $199 asking price is quite decent for what's on offer.

Samsung Gear VR (2017): Why you might not want one
Doesn't like glasses: We don't recall seeing a warning not to wear glasses when using the Gear VR in previous iterations, but it's in the instruction manual for this variant. We did anyway with few problematic effects beyond those we usually associate with VR experiences, but your usage and nausea tolerances may vary.
It's getting hot in here: Putting a large smartphone screen right next to your eyes and then getting it to run programmatically complex software is a recipe for the whole system to run warm. Enclosing it in a confined plastic structure means that there's only one way for the heat to radiate, and that's on to your face. Extended wear of the Gear VR, presuming the battery lasts, can get somewhat hot and uncomfortable.
Not that many controller-based apps: The Gear VR has the benefit of a couple of year's worth of general app development, and if you've used previous generations of the headset then your Oculus account will still have the same apps available. The extent to which those or newer apps take advantage of the controller is, at launch, rather limited. There's plenty of potential here if Oculus/Samsung can get developers on board, but right now there's only slim pickings on offer.
Doesn't support Netflix offline: There's a dedicated Netflix client for Gear VR that puts you in a comfy (virtual) chair to watch your favourite streaming shows. This is excellent in theory, except that Netflix hasn't updated its client app to support offline downloads, either within the app or even if you've already downloaded them to the main Android Netflix app. Given the Gear VR works fairly well as an in-flight movie viewing experience, not being able to use it with Netflix offline is a real pain. Maybe we'll just have to catch Qantas inflight Wi-Fi planes from now on.
Only works with Samsung phones: To be fair, Google hasn't exactly seen a rush of phone makers trampling over each other to produce Daydream-compatible devices, but the Gear VR is a headset that works only with Galaxy S and Note phones, period. If you're a happy camper in Samsung's device ecosystem this isn't an issue at all, but it's worth bearing in mind that if you switch to other manufacturers in the future, your Gear VR just becomes so much plastic junk.
You're cut off from the world The Gear VR does a great job of cutting off the outside world to you, but this means that anything can happen around you, from co-workers putting hilarious "kick me" signs on you to the point where you take them off on a plane and almost everyone is staring at you curiously. You really do stand out wearing the Gear VR if anyone else is around, and that won't suit all tastes.
Not high-end VR: The Gear VR is easily the best of the phone-based VR solutions, but then that's a market with very few entrants that aren't either horribly simplistic or incredibly bad, and often both. What it doesn't do is a lot of the VR tracking that more advanced headsets including the PlayStation VR and especially the Oculus Rift and HTC Vive can manage. You can walk all around a room while wearing the Gear VR, but it won't track you in any way when you do, or for that matter warn you when you're about to smack into a wall.

Who is it best suited for? What are my other alternatives?
Consumer VR is in an unusual space right now, because while there are plenty of competitors to the Gear VR, they're all in the same position of being essentially closed systems. The nearest competitor to the Gear VR would be Google's Daydream VR, but that's a system that for now only works with the Google Pixel and Google Pixel XL. There are cheaper alternatives like a build-it-yourself Google Cardboard headset or the Kaiser Baas XL, but they're significantly more limited.
Stepping up the price brackets, you could opt for the more flexible and powerful Sony PlayStation VR, but you'll need to spend more and already have a PlayStation 4 to take advantage of it. Likewise, the resolution and experiences available on headsets such as the Oculus Rift or HTC Vive put anything that the Gear VR can muster to shame, but they're considerably more expensive outright, and then require high-powered PCs in order to operate in the first place.
As such, the Gear VR still represents a very definite sweet spot for dipping your toes into the world of VR without considerable outlay as long as you already have or were planning to acquire the accompanying smartphone device. We doubt that you'd use the Gear VR every single day, but it's a great way to easily play around in simple virtual worlds.

Where can I get it?
The Gear VR 2017 was an early promotional freebie if you pre-ordered the Galaxy S8 or Galaxy S8+ handsets, but if you missed out on that deal, it can still be purchased from Samsung Australia's web site for an outright price of $199.
Latest mobile phones headlines
---
Follow us for all the latest mobile phone news and deals
---