Samsung Gear Sport review: One for the fitness fanatics
Summary
The Samsung Gear Sport is comfortable and quick at the smartphone basics, and it's rugged as well, but the underlying Tizen OS still runs third against Android Wear or watchOS in the app stakes.
The Good
Great rotating bezel
Water resistance
Smaller than the Gear S3
Good battery life
The Bad
Weak library of third party apps
S Voice assistant is hit and miss, mostly miss
Samsung Pay support is NFC only
Smartwatches are no longer a new and curiosity-driven category, which means that any new smartwatch is likely to build on what its predecessors have already done. That's undeniably the case with the Samsung Gear Sport, a smartwatch that may as well be the love child of the already existing Samsung Gear S3 and Samsung Gear S2 watches.
Design
Very similar design to the Samsung Gear S2
Selection wheel and button combination works well
---
Performance
Highly responsive in basic operations
Limited number of available apps is a little disappointing
Competent all-day battery life
---
Features
Supports both Wi-Fi and Bluetooth pairing for quick set-up
Samsung Gear app is mandatory, though it's intuitive enough
---
Verdict
I'm very torn with regards to the Samsung Gear Sport. On the one hand (or wrist, in this case), I like the smaller form factor, and the rotating bezel is hands-down much easier to use than Apple's digital crown or the hit-and-miss touchscreen-only approaches of some competing smartwatches. At the basics, and for fitness purposes, the Gear Sport is fine, verging on great as long as you're happy with Samsung's Health app.
Still, the Gear Sport feels rather like Samsung heading off Fitbit at the pass, given the latter's recent push into more smartwatch-centric spaces for its own fitness tracking products. If that's what you're after in a smartwatch and you're already in the Samsung ecosystem, it's a fine enough smartwatch for that purpose, but far from your only choice.
While its outer bezel does rotate for selection purposes, it's hardly what you could genuinely call revolutionary, but simply an evolution of the existing Smartwatch space. If what you're after is a genuinely new smartwatch with some level of "killer app" this isn't likely to satisfy you, but then nobody's yet cracked a smartwatch with much beyond notifications just yet anyway.
---
Alternatives
Smartwatches launched with a lot of hype back in the early days of the Apple Watch with brands such as Pebble, Motorola and others offering up options for wrist-based computing.
However, in recent times it's a category that has slowed markedly. If you wanted to keep things on-brand with Samsung, the larger Gear S3 is still available for purchase. On the Android Wear space in terms of current devices, there are options such as the Huawei Watch 2. If you're more on the fitness side of the fence, consider Fitbit's Iconic.
If you're an iPhone user, you could naturally also consider the Apple Watch, but that's a platform that will only work with Apple's own phones, so Android users need not apply.
---
What the other reviewers say
| Site | Comment | Score |
| --- | --- | --- |
| Gizmodo | "It feels like Samsung and the new Gear Sport could be inching its way towards a critical mass." | N/A |
| The Verge | "Samsung's latest smartwatch is good at the basics, but lacks excitement." | 6.5/10 |
| PC Mag | "The Samsung Gear Sport is a Tizen-based smartwatch with a fitness focus that gives Android Wear a run for its money." | N/A |
| Engadget | "A true jack-of-all-trades in the health-centric smartwatch world." | N/A |
---
Pricing and availability
The Samsung Gear Sport sells in Australia for $449 outright in either black or blue finishes.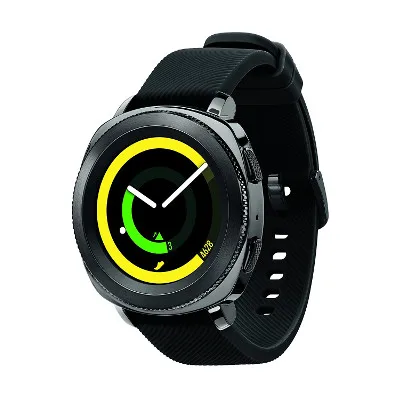 Buy the Samsung Gear Sport smart watch
from Amazon
Buy the new Samsung Gear Sport smart watch with inbuilt sport and health tracking features, plus notifications and exceptional style.
View details
---
Specifications
---
---
---
Alex Finder
Senior editor
You are about to post a question on finder.com.au:
Do not enter personal information (eg. surname, phone number, bank details) as your question will be made public

finder.com.au

is a financial comparison and information service, not a bank or product provider
We cannot provide you with personal advice or recommendations
Your answer might already be waiting – check previous questions below to see if yours has already been asked
Accept and continue