Samsung Galaxy S10+ vs Huawei Mate 20 Pro
What happens when you put Samsung's new flagship Galaxy S10+ up against Huawei's impressive Huawei Mate 20 Pro?
---
| | | |
| --- | --- | --- |
| Product Name | Samsung Galaxy S10+ | Huawei Mate 20 Pro |
| Display size | 6.4 | 6.39 |
| Operating system | Android 9 | Android 9 |
| Height (mm) | 157.6 | 157.8 |
| Width (mm) | 74.1 | 72.3 |
| Depth (mm) | 7.8 | 8.6 |
| Weight (g) | 175 | 189 |
| Battery size (mAh) | 4,100 | 4,200 |
| Front camera (1) megapixels | 10 | 24 |
| Rear camera (1) megapixels | 12 | 40 |
| Rear camera (2) megapixels | 12 | 20 |
| Water Resistance | IP68 | IP68 |
| Wi-Fi connectivity | 802.11 a/b/g/n/ac | 802.11 a/b/g/n/ac |
| Network Category Speed | Category 20 | Category 21 |
| | | |
Samsung Galaxy S10+ vs Huawei Mate 20 Pro: What to look for
Samsung is in the position of having the world's most popular premium Android phone brand in the Galaxy S series. The new Samsung Galaxy S10+ is its new flagship device, packed with the best that Samsung can do.
However, it's not alone in the Android space. Huawei has been on a slow burn to excellence in the past couple of years, and in 2018, its Huawei Mate 20 Pro unseated the exceptionally fine Galaxy S9+ at the top of our mobile phone rankings.
So if you're keen on premium Android phones, what should you look for?
Samsung Galaxy S10+ vs Huawei Mate 20 Pro: Power

For most Android phones, the comparison between premium handsets doesn't relate that much on pure power. That's because the core processors used by most Android flagships comes from Qualcomm. In 2019, that's the Qualcomm Snapdragon 855.
Samsung has its own way of looking at that equation, offering up either the Snapdragon 855 or the Exynos 8920 at the heart of the Galaxy S10+, with the Exynos variants typically offering slightly less processing power but typically slightly more battery life.
Huawei, though, completely subverts those expectations by using its own Kirin processor family for its flagship phones. The Kirin 980 processor used by the Huawei Mate 20 Pro outpaced the Snapdragon 845 by a fair margin in most benchmarks last year, and it's an absolute flagship performer. However, we're yet to pit it head to head against the Snapdragon 855 or Exynos 8920.
The Samsung Galaxy S10+ comes with a variety of storage options, up to an impressive 1TB variant, and if that's not enough for your taste, you can supplement it with microSD storage.
The Huawei Mate 20 Pro ships with 128GB of onboard storage, and while it does support storage expansion, it's with Huawei's own nano memory cards. They're a custom physical size, akin to a nano SIM card, but because they're quite new and specific to Huawei at this stage, they're also more expensive than their microSD equivalents.
Samsung Galaxy S10+ vs Huawei Mate 20 Pro: Camera

Huawei showed its triple camera aspirations off early in 2018 with the excellent Huawei P20 Pro, and it refined that formula in the Huawei Mate 20 Pro. Its combination of a high-megapixel lens, telephoto and ultrawide lens gives it a huge advantage over just about every smartphone camera out there. Its low light performance is still the best we've seen on any camera, and Huawei's camera app encourages experimentation with your camera shots.
In the Galaxy S10+, Huawei may have met its match. Samsung's only released one triple lens camera previously, in the form of the 2018 Galaxy A7, but the Galaxy S10+ is a far more premium play than that. Its combination of 12MP wide angle, a 12MP telephoto and a 16MP ultra-wide lens gives it a different camera play to that of Huawei, but one with plenty of potential. The Galaxy S9+ is an amazing camera phone, and we'd expect nothing less from the Galaxy S10+.
Samsung Galaxy S10+ vs Huawei Mate 20 Pro: Battery
Last year, there was the battery life of the Galaxy S9+, and nothing came close in the premium space. Then Samsung released the Galaxy Note9, and battery life expectations for premium Android flagships went up as Samsung continued its dominance of the battery space. It was a huge turnaround for Samsung, given its well-known battery issues around the ill-fated Galaxy Note7.
That dominance continued right up to the point where Huawei released the Huawei Mate 20 Pro. It ticked every single battery life box, with the longest battery endurance of any flagship phone we've tested to date, fast wired and wireless charging and even the first "reverse" wireless charing feature, so you could charge other Qi-compatible devices with it. Yes, it's a gimmick, but it's also a sign of how seriously Huawei takes battery life considerations.
The Samsung Galaxy S10+ battery capacity on paper, at 4,000mAh, is a touch lower than that of the Huawei Mate 20 Pro. That gives it a challenge if it wants to be the battery life king, but the practical reality in any case is that it should easily have all-day battery life anyway.
Samsung Galaxy S10+ vs Huawei Mate 20 Pro: Pricing
Huawei phones historically had highly affordable prices, even within the premium space, often offering sub-$1,000 price points where Samsung phones sat some hundreds of dollars higher. With the Huawei Mate 20 Pro, it shifted subtly upwards, with a list price of $1,599. It's even higher if you opted for the fancy Porsche Design variant.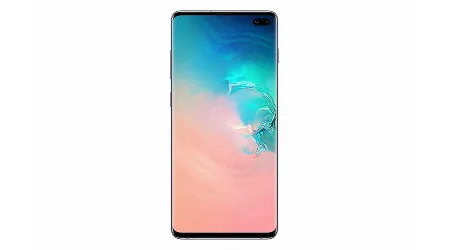 Buy the Samsung Galaxy S10+ 128GB
from Amazon
The Samsung Galaxy S10+ packs a massive 6.4-inch screen with support for HDR10+ and an ultrasonic fingerprint sensor concealed beneath the display. Grab yours now from Amazon Australia.
View details
The Samsung Galaxy S10+ pricing starts at $1,499 for the 128GB model, which is cheaper than the Huawei Mate 20 Pro, but any other storage variant will cost you quite a bit more. The 512GB model has a list price of $1,849, while the 1TB model will set you back an equal-parts-impressive-and-scary $2,399 to acquire.
This is what telcos are charging for the Samsung Galaxy S10+ on contract:
The Huawei Mate 20 Pro is only available through either Vodafone or Optus on contract terms. Here's what you'll currently pay for one on contract:
---