Samsung Galaxy S10 vs Apple iPhone XS
How does Samsung's brand-new Galaxy S10 compare to the popular Apple iPhone XS?
---
| | | |
| --- | --- | --- |
| Product Name | Samsung Galaxy S10+ | Apple iPhone XS |
| Display size | 6.4 | 5.8 |
| Operating system | Android 9 | iOS 12 |
| Height (mm) | 157.6 | 143.6 |
| Width (mm) | 74.1 | 70.9 |
| Depth (mm) | 7.8 | 7.7 |
| Weight (g) | 175 | 177 |
| Battery size (mAh) | 4,100 | 2,659 |
| Front camera (1) megapixels | 10 | 7 |
| Rear camera (1) megapixels | 12 | 12 |
| Rear camera (2) megapixels | 12 | 12 |
| Water Resistance | IP68 | IP68 |
| Wi-Fi connectivity | 802.11 a/b/g/n/ac | 802.11 a/b/g/n/ac |
| Network Category Speed | Category 20 | Category 16 |
| | | |
Samsung Galaxy S10 vs Apple iPhone XS: What to look for
The Galaxy S10 has the middle-ground position in the Galaxy S family for 2019, with a wider feature set than the Galaxy S10e, but a smaller display and less camera power than the Galaxy S10+.
That puts it squarely in the frame of the Apple iPhone XS, because it sits in that same middle ground position relative to the Apple iPhone XS Max and Apple iPhone XR.
Samsung Galaxy S10 vs Apple iPhone XS: Power
Samsung will produce the Galaxy S10 with either the Snapdragon 855 or Exynos 9820 on board. You don't get to choose. Here in Australia we'll see the Exynos 9820 variant in stores and from carriers, although you could end up with the Snapdragon 855 if you import one, or use a "grey market" importer to do so for you.
While we've not had the opportunity to benchmark either processor as yet, early benchmarks of the Snapdragon 855 suggest that it's the near-equal of the Apple A12 Bionic that powers the Apple iPhone XS. That's still the very top of the benchmark tree in most relevant comparisons, which would give the iPhone XS a potential edge.
It's not quite a like-for-like comparison though, because Apple can optimise iOS heavily around a small sample of architectures, while the Android OS has to cope with a myriad of processor, memory, screen size and battery choices. Samsung's approach to Android has softened in recent years, with its new "OneUI" platform delivering very good performance compared to its older TouchWiz launcher.
However, on the subject of power Samsung does have one distinct edge, and that's in storage flexibility. Every single iPhone ever has had fixed storage, and while we've seen storage sizes creep up over the years for iPhone choices, that means that the storage you buy is all you'll ever have.
The Samsung Galaxy S10 supports microSD expansion, which makes it quite trivial to add additional storage. Not every Android app will neatly support it, but it's at least a flexible step if you do find yourself running out of storage capacity.
Samsung Galaxy S10 vs Apple iPhone XS: Camera
Apple knows its bread and butter camera users are everyday consumers, which is why it structures its camera app to be very simple to use. Combine that with a top-quality dual lens array and a bevy of neat features, and you've got a very powerful camera array. At the front it's both a fine selfie camera and the basis of Apple's "FaceID" biometric unlocking system.
Not that the Galaxy S10 is a slouch in the camera department, with telephoto, wide and ultrawide lenses at the rear giving it a lot of flexibility when it comes time to capture your best photos. There's an appeal here too for the more "pro" shooter, with more easily available manual controls if that's to your taste.
Samsung Galaxy S10 vs Apple iPhone XS: Battery
Battery life is often a sore talking point for iPhone users, because historically it's been a big problem. By premium flagship phone standards, the iPhone XS battery capacity of 2,659mAh is at best mediocre. It does support wireless charging, but then that's been a feature of Samsung's Galaxy S phones for years now.
Conversely, while the 3,400mAh battery in the Samsung Galaxy S10 isn't Samsung's largest (that's the 4,100mAh power pack in the Samsung Galaxy S10+), Samsung's track record in delivering top-end battery life is essentially peerless.
We'll have to wait until we've had the chance to put the Galaxy S10 through its paces to be certain, but there's certainly scope here for some top-notch battery life.
Samsung Galaxy S10 vs Apple iPhone XS: Pricing
The iPhone XS isn't Apple's most expensive phone – again, that's the iPhone XS Max – but nobody in their right mind would call it "cheap", and we're sure Apple wouldn't much like that label either. With pricing from $1,629 (64GB) up to $2,199 (512GB) it's a premium affair any way you look at it.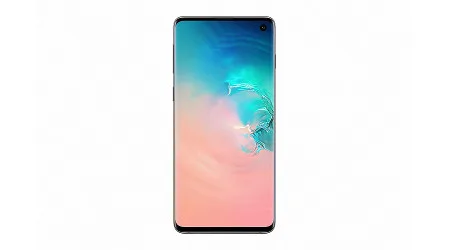 Buy the Samsung Galaxy S10 128GB
from Amazon
Samsung's Galaxy S10 features an in-screen ultrasonic fingerprint sensor and a pin-hole selfie camera, providing more room for its 6.1-inch screen to shine. Get yours now from Amazon Australia.
View details
That puts the Samsung Galaxy S10 in a sweet spot for comparative purposes. The lowest cost Samsung Galaxy S10 with 128GB of storage costs just $1,349 outright. The higher capacity 512GB model is $1,699, meaning that it's fully $500 cheaper than the same storage capacity on the Apple iPhone XS.
Samsung Galaxy S10 vs Apple iPhone XS: Plans
Samsung's Galaxy S phones and Apple's iPhones are both widely ranged by the nation's leading carriers, so one way you could split out that cost would be to get one on a plan through Telstra, Vodafone or Optus. Your plan pricing will vary by model and especially storage, with higher capacities requiring higher handset repayments.
Here's what you'll pay for the Samsung Galaxy S10 on contract:
And here's the current pricing you'll pay for an Apple iPhone XS on contract:
---