Samsung Galaxy Note10+ Review: Samsung's productive flagship
The Samsung Galaxy Note10+ brings a range of quite useful productivity features to Samsung's flagship phone, but battery life is still a concern.
The good
Distinct style
Great display
Great camera for most shooting situations
S-Pen has good new features
Plenty of processing power
The bad
Where's my headphone jack?
Air actions aren't all that accurate
DeX on Mac is messy if you use other Android phones as well
Battery life falls below other Android flagships
5G model is overpriced
---
Has it really been 10 years since the first Galaxy Note phone came to market?
No, it hasn't. Despite the name, and the fact that they're mostly annual upgrades, the very first 5.3-inch Galaxy Note was released back in 2011. The Galaxy Note10+ still keeps to Samsung's mantra of being a "productivity" phone thanks to the inclusion of the S-Pen and an extra-large display, although over the years, that's a distinction that's become increasingly blurred.
That's especially true in 2019, a year in which Samsung has released four Galaxy S10 models and has the Galaxy Fold waiting in the wings. The pressure on the Galaxy Note10+ to be more than just an iterative release is pretty intense.
Thankfully, for the most part, it delivers a great experience for the money, and jumps mostly over the S10 series if what you're after is a flagship productivity device.
Samsung Galaxy Note10+: Design
Gorgeous 6.8-inch Dynamic AMOLED display
Single hole-punch camera at the front
Upside: No Bixby button!
Downside: No headphone jack
The Galaxy Note 10+ (and Galaxy Note10+ 5G, which is the same phone with a little more storage and a 5G modem within) follows Samsung's general 2019 design philosophy. It's grounded in presenting as few onscreen distracting elements as possible, and for Samsung that's through the use of "hole punch" style front cameras.
Samsung can't quite decide where they should go or what shape they should be, however. The Galaxy S10+ and S10 5G have oval "infinity O" camera holes on the right-hand side, but the Galaxy Note10+ opts for a single circular hole punch in the top centre of the 6.3-inch display.
Whether that's more or less distracting is a matter of personal taste, but as with the S10 phones, the behaviour of Android apps around it varies. Some apps wrap around it, while others create a virtual bezel at the top of the screen anyway.
The Galaxy Note10+ display is one of Samsung's excellent Dynamic AMOLED displays, with a 3040x1440/498 ppi. Given we're not seeing Sony's slightly ludicrous Xperia 1 here in Australia, this is going to be the best display on a phone you'll see at retail, quite possibly the best all year. It's HDR certified for your Netflix binges, although that's an example of an app that blocks off the camera hole during playback.
I'm not a fan of Samsung's decision to include the Bixby button to launch its virtual assistant on most of its phones, so I was overjoyed to realise that the Note10+ doesn't have a dedicated Bixby button at all. Instead, the power button can be configured to launch Bixby if you use it.
There's one slight catch here because Samsung has shifted the controls for volume and power to the left-hand side of the phone body. After so many years of phones with power buttons on the right, switching sides was quite jarring to my muscle memory.
So Samsung gave by removing the dedicated Bixby button, and then it took away by making the Galaxy Note10+ its first handset to omit a 3.5mm headphone jack. Early pre-orders did score a set of AKG headphones – I wasn't able to test those – but it's undeniably disappointing to see the industry's biggest Android seller going down the no-headphones route.
All you get at the base now is a single speaker hole, USB C for charging (or the inevitable USB C headphone adaptor) and the socket for the S-Pen stylus.
Samsung sells the Galaxy Note10+ in Australia in two finishes. If you're the more conservative type, there's Aura Black, and for the exhibitionists, there's the Aura Glow finish, which is the model I reviewed. It's a glossy mirror finish with a pearl rainbow reflection effect that's quite eye catching.
Rather predictably for a glass-backed phone, it collects fingerprint smudges like crazy. My review sample didn't seem to have any kind of case protector in the box to limit smudging. It's not entirely clear if actual Australian retail stock will come with a simple case or not. Buying a case for a phone this expensive is a sensible move anyway.
With a 6.8-inch display, the Galaxy Note 10 isn't a small phone to hold at 162.3x77.2x7.9mm and with a carrying weight of 196 grams. The 5G variant is the same size, but the extra storage and 5G modem add 2 grams to the story. For the first time, Samsung's offering up a "small" Note in the Galaxy Note10, which has a 6.3-inch display, but that's not what I've reviewed here.
Back to top
Samsung Galaxy Note10+: Camera
Quad camera array can deliver great images
Samsung's best low-light camera to date, but not the best you can buy
Excellent for video shooting
AR Doodles are this year's gimmick
Flagship phones – even those that are ostensibly all about "productivity" – need to justify their price points with top-notch camera performance.
On that score, Samsung has been out-pointed by its rivals of late, most notably Huawei with the hugely impressive Huawei P30 Pro. The Galaxy Note10+ camera isn't quite its equal for stills in all circumstances, but it's astonishingly close and far better if what you want to capture is video.
At the rear, it features an ultra-wide 123-degree 16MP f/2.2 lens, a wide-angle variable aperture 12MP f1.5 & 2.4 lens and finally a 12MP f/2.1 telephoto lens. There's also a depth-sensing time-of-flight lens for more accurately measuring distance and aiding in the creation of more realistic bokeh style effects on your photos.
Triple lenses of this type give you a lot of flexibility when it comes to shot framing, which can be a huge aid to your creativity. As an example, here's a shot from the ultra-wide lens:
The same scene through the regular wide lens:
And finally the telephoto shot (which frankly I would have reframed higher if I wasn't going from a fixed position, but that's a style choice).
At the front, there's a single 10MP f/2.2 lens, which is a step down from the dual lens you'll find on the Galaxy S10+ or Galaxy S10 5G. You can still opt for a "wide" selfie on the Galaxy Note10+, but it appears to be managing this via a simple cropping trick rather than a properly wide secondary lens.
That being said, the Samsung Note10+ managed a better job than most in creating good bokeh around my head. A lack of hair is often a quick route to blended skull elements in the background, but this didn't faze the Galaxy Note10+:
The Galaxy Note10+ has a number of unique features in its camera array, with many focusing more around its video capabilities than just stills. It can manage live focus on a subject while shooting video, which is a neat effect when it works. It's not always 100% on point for keeping an entire object in focus, which can lead to some slightly off-looking blur in certain circumstances.
You can also use its directional microphones to "zoom in" on a subject to capture cleaner audio. Again, this is quite contextual in terms of its overall efficiency, but generally there's a lot to like about the Galaxy Note10+ for video shooting.
The same is mostly true for stills as well. Samsung's image processing delivers crisp and cleanly exposed shots in most good-lighting situations, whether you're someone who's going to dip into the pro shooting settings or just leave it on automatic and let it sort out the variables.
Of course, that should be expected for a flagship phone handset. Where there's increasing differentiation is in low-light performance. Again, the Huawei P30 Pro lurks large, but so too does the Google Pixel 3. To give some context to how the Note 10+ performs, I took it to a local park for some very dim shooting, along with the Huawei P30 Pro, Samsung Galaxy S10 5G, Google Pixel 3a and Apple iPhone XS Max.
It wasn't a shock that the iPhone XS Max hit the worst shot in very dark circumstances. This is pretty much what my eyes could see, mind you, so to a certain degree it's quite an "accurate" shot.
Here's how the Galaxy S10 5G managed the same shot:
The Galaxy Note10+ did outshoot the S10 5G in terms of picking up smaller detail and delivering just a little less noise than its predecessor:
But it was outclassed by the Pixel 3a, which is notable considering how much cheaper that phone is:
And the king of the hill remains Huawei's P30 Pro:
The Galaxy Note10+ camera doesn't quite equal the Huawei in absolute low light, but I do rate it very close for most photographic purposes. Samsung's camera app is a little easier to use, and its video prowess is way ahead of the wobbly video you get out of the P30 Pro in every single instance.
The Galaxy Note10+ comes with an updated S-Pen stylus. Like the Note9, you can use its button as a remote shutter, but you can also use it to enable "AR Doodle" mode. This allows you to scribble on the screen and have it place elements in real space for still or video shooting. Whatever you place will move realistically around the camera's movement, so you can add silly hats or moustaches to your friends, or create a video with glowing trails around your subjects that receded into the background as you move along.
AR Doodles do have some creative potential, but for many, they're going to be like Samsung's previous AR Emoji – a gimmick that you play with once and then don't go back to.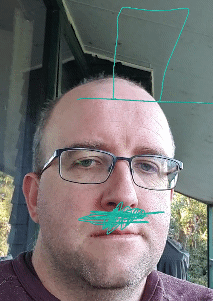 I mean, that's a sweet hat, but I'm not so sold on the moustache.
Samsung Galaxy Note10+ sample photos
Back to top
Samsung Galaxy Note10+: Performance
Exynos 9825 plus 12GB of RAM equals power
DeX can provide a productivity boost
S-Pen handwriting recognition is astonishingly good
Air Actions are a gimmick
Samsung only sells a single storage variant for the Galaxy Note10+, with 256GB of onboard storage (expandable via microSD) tied to an Exynos 9825 with a hefty 12GB of RAM.
That gives the Galaxy Note10+ plenty of power to run apps, although it's not a terribly dissimilar build to the rest of its 2019 S10 family. As such, in benchmarks, it compares pretty much identically to those phones. Here's how it compares using Geekbench 4's CPU test:
And here's how it stacks up against other flagships using 3DMark's Slingshot Extreme test:
The extra RAM on the Galaxy Note10+ does give it plenty of headway for running multiple applications at once or intensive games or video processing applications for that matter.
The Samsung Galaxy Note10+ is also compatible with Samsung's DeX desktop environment, but in a subtly new way than previous Samsung phone generations. Where once DeX was tied to a dock that plugged into a keyboard and mouse, it now relies on just a USB C cable connection to a PC or Mac.
There's a dedicated DeX client you have to install on your computer first, but from there, you can easily access the entire contents of your phone, or slide files, photos, music and more to and fro with ease... mostly.
I hit one issue with the Mac version of DeX, although it's a really niche case that might not mean all that much to you. DeX effectively "replaces" the existing Android File Transfer app in terms of functionality, but the two don't play well together on the same computer. DeX only works with the Note10+, and not older Samsung phones.
As such, if you also use Android File Transfer – say, you're a phone reviewer who uses it a lot to get photos off phones and the like – you'll find that it stops working altogether if DeX is installed. Hopefully that's just a minor software blip pre-launch that can get ironed out.
If you have invested in the DeX ecosystem and already have a dock, keyboard and mouse, those do work, although the Note10+ doesn't fit all that elegantly on the flatter DeX dock.
The other side of the Note10+ story is the S-Pen. Samsung's really only competing with itself in the stylus space for smartphones, and this year it brings two new S-Pen features into play.
First, there's improved note taking with handwriting recognition and the ability to export directly to Microsoft Word. This I was very keen to see working because I have terrible handwriting – the kind of handwriting that makes doctors run in sheer quivering terror.
As such, I didn't expect much from the Note10+ when it came to deciphering my scribbles. However, Samsung's presumably got Merlin working on staff because the Note10+'s ability to unravel my handwriting can only be described as magic:
There are limitations to its spell book, however. You can only do a single page worth of notes at a time, so it's best for those quick notes rather than the next great Australian novel.
I can't ascribe quite the same wizardry to the S-Pen's other 2019 trick, Air Actions. The idea here is very similar to the "Air Motion" feature found on the LG G8s ThinQ, by untethering actual contact with the screen to what you want to do. The idea is that you pop the S-Pen out and waggle it in front of the screen to select different onscreen actions, whether it's flipping from the front to rear cameras or adjusting media playback volume.
There are two problems that quickly become apparent with Air Actions. First, they don't always take immediately where an actual onscreen tap would have worked just fine. That means they're slower than just touching your phone in many cases.
Equally, it's not as though they're replacing actions that were difficult in the first place. If they were 100% rock solid reliable, there's an obvious story here for folks with movement difficulties to interact with phones that shouldn't be ignored, but that's simply not the case.
Back to top
Samsung Galaxy Note10+: Battery life
4,300mAh battery, but less stamina than other flagships
Super-fast charging, but you'll have to pay extra for it
Wireless PowerShare remains a gimmick
The Samsung Galaxy Note10+ has plenty of space for a bigger battery, thanks to the loss of the headphone jack, with a 4,300mAh battery sealed within. That's a solid number on paper, although it does mean that it's packing 200mAh less than the Galaxy S10 5G.
2019 hasn't been a great year for Samsung's phone stamina compared to its Chinese rivals. Now, it's true that the likes of Oppo and Huawei use quite aggressive, sometimes overly aggressive, app management to get the last few electrons worth of power out of their phones, but so far what I've seen out of Samsung's efforts have largely reverted to single-day performance.
Sadly, that's still the story for the Galaxy Note10+, at least based on both benchmarks and just under a week's day-to-day testing.
Here's how the Samsung Galaxy Note10+ compared using Geekbench 4's battery test:
In more anecdotal testing, I regularly dipped down to under 20% on busy days before the end of the work day. If I was heading home that would probably be fine, but less so if my intent was a night on the town. Investing in a spare charger or battery pack might be a wise step if you don't want to get stranded and unable to hail an Uber when the night is over.
Samsung advertises that the Galaxy Note10+ is capable of getting a full day's charge in just 30 minutes, and this might be true. I have to say "might" because that's using a 45W charger, and that's not what you'll get in the box. Instead, you'll have to pay extra if you want the very fastest charging the Galaxy Note10+ can manage.
Like its predecessors, the Galaxy Note10+ can also recharge wirelessly from any Qi compatible charger, although that will be slower again. It also has the "wireless PowerShare" feature where you can dole out its 4,300mAh power to other Qi devices.
It feels vaguely perverse about topping up an iPhone XS Max from the Galaxy Note10+, but it does work if you're utterly desperate. You'd need to be, because it's extremely slow and involves losing a lot more power from the Note10+ than you'll get on the iPhone XS Max (or any other receiving device).
The best use case I've seen for this kind of technology is charging smaller Qi gadgets, such as Samsung's own Galaxy Buds. I didn't have a pair handy to test with, but I can confirm they work quite well with the wirelessly charging Apple AirPods.
Back to top
Samsung Galaxy Note10+: Should you buy it?
Samsung's best phone this year, but not without challengers
In a year where Samsung's dropping so many flagships into the market, it could have coasted along with the Note10+, selling it just on a big screen and the existing S-Pen stylus.
I don't think it's done that, and that's to Samsung's credit. The case for everyone needing a premium flagship phone is more slender than ever because the mid-range (including phones like Samsung's own Galaxy A70, for example) covers most of what you really need rather well.
Still, in the upper tier, the Samsung Galaxy Note10+ compares very favourably against other flagships everywhere but (predictably) in battery life. Samsung's refined its vision of what a "productivity" phone could be with very pleasing results.
That's for the Galaxy Note10+, mind you. It also produces the Note10+ 5G, and that's a more expensive phone that simply adds 5G and extra storage to the mix. It's the most expensive Note10 phone this year, and that's a rather harder sell.
Back to top
Samsung Galaxy Note10+: Pricing and availability
The Samsung Galaxy Note10+ sells outright for $1,699 or on contract through Telstra, Vodafone, Optus or Woolworths Mobile:
Samsung Galaxy Note10+: Alternatives
Within the Samsung Note10 family, you've got two alternative options. The Galaxy Note10+ 5G is the exact same phone as the Galaxy Note10+, but with 512GB and onboard 5G capability. However, at $1,999 outright, it's a pricey upgrade just for 5G.
You could save a few bucks and opt for the smaller 6.3-inch Samsung Galaxy Note10. While it has much of the same feature set, you're getting an even smaller battery, less storage and no microSD card expansion, making it a tough recommendation in the lower end of the premium scale.
If you're after flagship camera performance, the phone to buy right now is the Huawei P30 Pro. The display isn't as large or sharp as the Note10+, and there's no stylus, but it truly stands alone for camera capabilities.
Specifications
| | |
| --- | --- |
| Display size | 6.8 inches |
| Resolution | 1440 x 3040 |
| Pixels per inch (PPI) | 498 |
| | |
| --- | --- |
| Rear camera megapixels | 16MP + 12MP + 12MP |
| Rear camera aperture size | f/2.2 + f/1.5 + f/2.1 |
| Video recording | 4K |
| Front camera megapixels | 10MP |
| Front camera aperture size | f/2.2 |
| | |
| --- | --- |
| Dimensions | 162.3mm x 77.2mm x 7.9mm |
| Weight | 196g |
| | |
| --- | --- |
| NFC | Yes |
| Wi-Fi | 802.11 a/b/g/n/ac |
| Network category speed | Category 20 |
Processor
2.7GHz Octa-core
RAM
12GB
Operating system
Android 9
Internal storage

256GB

512GB

External storage support
Up to 2TB
Battery capacity
4,300mAh
Headphone jack
No
Fingerprint sensor
Yes
Water resistance
N/A
Wireless charging
Qi
PMA

Back to top
---
---