RUINER review: Good puppy
Grab your trenchcoat and wire up your wetware; it's time to get cyber.
We're reader-supported and may be paid when you visit links to partner sites. We don't compare all products in the market, but we're working on it!
Style is more than just a sharp look. It's an attitude, an ethos that goes deeper than mere aesthetics. It manifests from the very core of a thing, expressing itself through actions as much as appearance.
RUINER understands this. Not only does the frenetic twin-stick shooter sport a fantastically slick cel-shaded look torn from the pages of a Blade Runner comic, it moves smoother than one of Michael Jackson's music videos. Dashing through enemy fire, decapitating armoured cyborgs, shotgunning a hired assassin into the grinding gears of industrial machinery – it all feels as spectacular as it looks, balancing style and substance without compromising either one. In RUINER, you don't just look like a total bad-arse – you are one.
The secret to
RUINER's
style lies in one key manoeuvre: the dash. As one of the first moves you learn, the dash is the only thing that'll keep you alive through the cyberpunk hellscape of
RUINER's
oppressive world. Unlike the many recent
Souls
-inspired games and their stamina-choked dash moves,
RUINER's
dash recharges in a heartbeat, and you can chain it multiple times to dart around like a pinball in a spring factory. Better yet, you can hold down the dash button to slow down time, buying you a crucial moment of respite to plan your next move.
Slowing time isn't just for catching your breath, either. While holding dash, you can place a chain of waypoints throughout the surrounding area, and when you let go of dash, you'll zip through them in sequence.
At first, this seems antithetical to the game's frantic pace, but as you encounter tougher enemies and more complicated boss fights, you'll realise that plotting out specific dash moves is crucial to staying alive. You see, you're not the only one who can dash around like The Flash on steroids; your enemies are just as capable of bending space and time to their will and only by thinking multiple dashes ahead can you hope to survive.
As much of an adrenaline rush dashing around the battlefield can be, it won't take care of the minigun-wielding soldiers and armour-clad cyborgs infesting RUINER's world. For that, you'll need to learn the game's death-dealing dance of melee and ranged combat.
Most twin-stick games of RUINER's ilk tend to focus on just ranged or just melee combat, with the other ending up functional but unremarkable. Not RUINER. Both close-quarters combat and precision shooting feel as brutally satisfying as each other, and different enemies and boss phases will force you to switch between the two on-the-fly.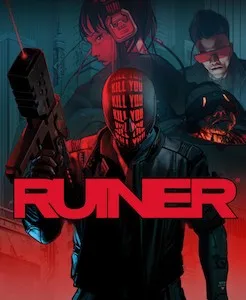 RUINER for PC
from Green Man Gaming
RUINER is a brutal action shooter set in the year 2091 in the cyber metropolis Rengkok.
View details
Fortunately, this is effortless. You've always got a base melee weapon with unlimited durability and a semi-automatic pistol dubbed "The Ruiner" with infinite ammo at your side. Switching between the two is instantaneous, allowing for flashy combos as you unleash a volley of bullets at your foe, dash around behind them and smash them upside the head with a metal pipe.
Weapon variety lends even more spectacle to the combat. Enemies drop their weapons after you take them down, giving you a chance to turn their devastating arsenal against them. Flamethrowers, ice beams, katanas, sonic-wave launchers, fiery maces, thumping shotguns – each feels appropriately punchy, demanding its own tactical approach to make best use of its range, its wind-up and its limited ammo or durability.
Thanks to the versatile dash, the interplay of melee combat and twin-stick shooting in RUINER feels completely seamless. Time slows down whenever you take down an enemy or pick up a weapon, giving you a moment not just to plan your next move, but to soak in the glorious chaos unfolding around you. As bodies and blood fly through the air, it's hard not to see a macabre sort of beauty to the violent ballet and the thin membrane separating you from a grizzly death.
This blood-stained beauty extends beyond RUINER's exhilarating combat, too. In an unusual move for such an intense twin-stick shooter, each main arc of the campaign is book-ended by a leisurely stroll around the small open-world city of Rengkok, or "the bottom of the bottom" as the locals like to call it.
Drenched in neon and filled with an eclectic menagerie of human and not-so-human citizens, Rengkok provides the narrative glue that connects the action-heavy levels, lending them a sense of place and adding weight to the chaos you're unleashing. This is especially true in the myriad ambient conversations you can eavesdrop on. People on the streets discuss the impact of the death and destruction you've wrought, reacting differently to your presence as the game goes on. Comments are subtle, hinting at grander issues adjacent to your mission. These morsels of organic exposition do a marvellous job of making Rengkok feel alive, and my only wish was that they had been voice-acted instead of delivered as simple text bubbles.
The world of RUINER gets even more intriguing inside its action stages. Concepts of commodified karma, mandatory population control and organically fuelled virtual reality construct a fascinating universe from subtle comments and environmental design rather than heavy lore dumps. In fact, peeling back the layers of this mysterious sci-fi world provides as much reason to fight on as the enthralling combat itself. Unfortunately, though, the game's main plot doesn't take advantage of the rich universe as well as it could, instead delivering an admittedly trippy tale of revenge and double-crosses that, while competent, takes a backseat to the deft world-building.
Despite its furious pace and its demanding difficulty, RUINER's five-hour campaign rarely left me frustrated. Aside from a couple of boss fights that were a little too cheap, I remained fully absorbed in its cyberpunk world even when I was dying again and again. Battles are so short and restarts from death so quick that I never felt punished for failing, and in a game as intense as RUINER, that's essential.
We reviewed RUINER on PC with a copy provided by the publisher.
RUINER
9.0 EXCEPTIONAL
What we liked...
Dashing looks and feels spectacular
Deft balance of ranged and melee combat
Slick and stylish without sacrificing its substance
What we didn't like...
Level designs get a bit samey
A couple of boss fights are too cheap for their own good
VERDICT
Twin-stick shooters are a dime a dozen these days, but RUINER outclasses them all without even breaking a sweat. It's got the looks, it's got the moves and most importantly, it's got style. Flex those fingers, cyberpunks; this is one dystopia you don't want to miss.
For more information on how finder scores games, check our review guidelines.
---
More guides on Finder
Handypay Green Loan

A Green Loan from Handypay could help you make your home more energy-efficient. Handypay green loans are available up to $75,000 on terms of up to 10 years.