11 ideas for romantic getaways in Tasmania that will sweep you off your feet
From glass cabins that overlook forests to luxurious seaside escapes, these Tasmanian getaways offer the perfect romantic adventure.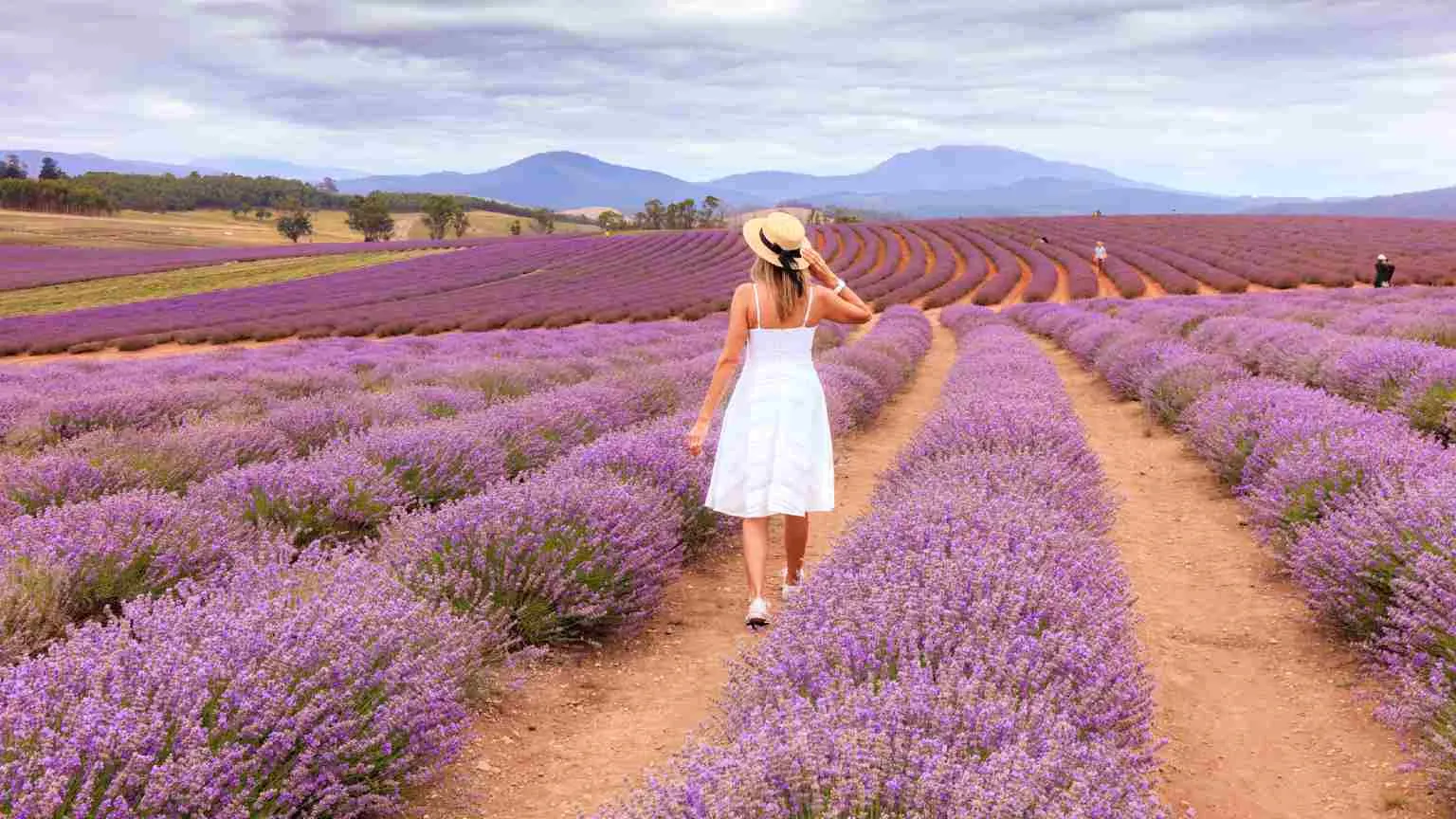 We're reader-supported and may be paid when you visit links to partner sites. We don't compare all products in the market, but we're working on it!
Trying to find the perfect escape for you and your special someone? You're in luck because Tasmania is filled with romantic destinations and cosy accommodation that will have you going back for more. Keep reading to find out exactly where you should book in for picturesque views of Cradle Mountain and private waterfront villas.
Our favourite romantic Tasmanian getaways
Where is it? Howden, 20 minutes from Hobart
Wake up to an exquisitely decorated villa and enjoy a full breakfast on your own private terrace that offers pristine views of North West Bay. Continue your day with a walk through the gardens or a dip in the beautifully heated pool.
Star rating: 4.5 stars.
Romantic features: Full breakfast for two, private balcony, open fireplace, champagne and french-styled rooms.
Why do we love it? Your suite looks directly over North West Bay and the perfectly manicured lavender gardens below.
---
2. Eagles Nest Luxury Farmstay
Where is it? West Kentish, 75 minutes from Launceston
West Kentish offers the perfect stay for you and your loved one. Relax with a glass of wine in the outdoor bath as you watch over the mountain range. As night falls, the outdoor amphitheatre awaits for an evening of dancing and stargazing.
Star rating: 5 stars.
Romantic features: Outdoor milk vat bath, two hammocks, a firepit and a hillside amphitheatre.
Why do we love it? All of the outdoor spaces offer incredible panoramic scenes of the mountains, and by night you'll get uninterrupted views of the star-filled sky.
---
Where is it? Cradle Mountain, two hours from Launceston
Pepper's is the ideal spot if you want to spend your days hiking through the Cradle Mountain region. After a long day of activities, come back to the lodge for a relaxing spa treatment with glass walls that look out onto the evergreen forests.
Star rating: 5 stars.
Romantic features: Sauna, jacuzzi, in-house spa, wine and bicycle rental.
Why do we love it? If the winter season brings snowfall, then you'll be met with incredible 360-degree views of snow-covered landscapes.
---
4. Saltwater Sunrise's 5 Luxurious Oceanfront Villas
Where is it? Falmouth, 2 hours from Launceston
This Mediterranean-inspired villa sits atop the seaside hill on Falmouth's coast. Spend your day by the beach before cooking lunch on one of the villa's personal barbeques, which can then be enjoyed in the outdoor dining areas.
Star rating: 5 stars.
Romantic features: Ocean views from your bed, indoor baths and complimentary chocolate upon arrival.
Why do we love it? Large windows throughout the villa mean you'll have views of the sea from almost every room.
---
5. Bruny Island Hideaway
Where is it? Alonnah on Bruny Island, 90 minutes from Hobart
Nestled among 99 hectares of Alonnah conservation forest, this tiny home offers a sustainable escape away from civilisation. This natural getaway features an outdoor bath with picturesque views of the woodlands.
Star rating: 5 stars.
Romantic features: Indoor fireplace, outdoor bathtub and cozy living spaces.
Why do we love it? It was awarded winner of the best new and sustainable Tasmanian home in 2018.
---
Where is it? Prospect Vale, 15 minutes from Launceston
Situated in the heart of Launceston, the Country Club Tasmania is the perfect escape if you're after leisure and fitness. With tennis courts, squash courts and a full golf course, you won't be stuck for things to do.
Star rating: 4.5 stars.
Romantic features: A jacuzzi, a sauna and daily breakfast at the Terrace Restaurant.
Why do we love it? There are plenty of sporting opportunities if you're looking for an active retreat.
---
7. The Container
Where is it? Lilydale, 25 minutes from Launceston
This luxurious and eco-friendly stay features an outdoor clawed bathtub and views of the valley. Take your pick of the wines from the minibar or go straight to the source with the finest vineyards just minutes away by car. You'll also be in close proximity to the Lavender Farm and Barnbougle Dunes.
Star rating: 5 stars.
Romantic features: King-sized bed, organic breakfast basket upon arrival, a record player, meals included and a fireplace.
Why do we love it? This home was a finalist in the 2016 Tasmanian Tourism Awards.
---
8. Hazards Rim
Where is it? Coles Bay, 2 hours from Launceston or 2.5 hours from Hobart
Hazards Rim offers a combination of woodlands, mountain views and coastal proximity. The house is ideally located in Coles Bay, and just moments from a secluded beach and Freycinet National Park. If you plan on going on a hike or two, the Wineglass Bay trails are just around the corner.
Star rating: 4.5 stars.
Romantic features: Outstanding views of the forest from the sundeck and a large queen-sized bed.
Why do we love it? You're just moments away from a private beach and there are large windows that encase the property for optimal views.
---
9. Luxurious Waterfront
Where is it? Clarence Point, 50 minutes from Launceston
Get lost in the romance of a barn-style home in Clarence Point, which just so happens to border the wine region of Tamar Valley. With an on-site orchard of apples, apricots and blueberries, you can cook a delicious post-dinner dessert. Too tired to cook? Order a chef to come to your home for the evening.
Star rating: 5 stars.
Romantic features: Two-person movie theatre, fruit picking in the orchard, a king-sized bed, wine, water views, patio lounges and cheese and fruit upon arrival.
Why do we love it? It has a private beach and is located in the wine region.
---
10. Aerie Retreat
Where is it? Tinderbox, 40 minutes from Hobart
Pour yourself a glass of wine, fire up the hot tub and watch the ripples of the River Derwent melt into the sunset. The Nature Reserve is in close proximity and you'll be surrounded by that beautiful Tasmanian flora. The carefully crafted cabin also features a plethora of handmade furnishings.
Star rating: 5 stars.
Romantic features: Outdoor hot tub, sauna and sea views.
Why do we love it? Not only do you have a wood-fired hot tub that overlooks the water, but there's also a full sauna for you and your partner.
---
11. Island View Spa Cottage
Where is it? Smithton, 2.5 hours from Launceston
With a breakfast nook and an outdoor lounge area, you'll forget what it's like to be inside. Oh, and did we mention the spa? This little slice of cottage life is located in Smithton which is just a stone's throw from the beach. Before you know it, you'll be relaxing to the views of Bass Strait and Duck Bay.
Star rating: 5 stars.
Romantic features: Outdoor patio that overlooks the water, wine, fireplace and spa.
Why do we love it? The outdoor breakfast bar makes getting up early that much easier.
Our favourite short tours of Tasmania
Up your game and make a longer trip of it with a tour Tasmania's highlights. Here are our picks for romantic breaks on the island state:
Where does it visit? Bridestowe, St Helens, Bicheno, Freycinet National Park, Eagle Neck, Port Arthur and Richmond.
Bask in the best of the Tasmanian east coast from St Helens all the way down to Port Arthur over five days. Though honestly it might feel like a lifetime. Foodies will love the stopoff at Bridestowe for lavender ice cream while sunshine revellers can hail the good stuff in Freycinet National Park.
Departure/Return point: Launceston to Hobart.
Accommodation: Best Western Plus Launceston, Beachfront at Bicheno and Wrest Point in Hobart.
Romantic experiences: Penguin spotting at Bicheno (seasonal), walking through lavender fields in Bridestowe and catching stellar views of The Hazards from Freycinet National Park.
Why do we love it? It's a relaxing trip with a little bit of everything in it - from craggy seaside landscapes to historic sites such as Port Arthur and the Ledgerwood Carved Memorial Trees.
---
Where does it visit? Sheffield, Devonport, Penguin, Stanley, Smithton, Cradle Mountain, Tullah, Rosebery, Queensland, Strahan and Russell Falls.
If your idea of romance is lacing up your hiking boots and reconnecting with nature then this romantic escape is right in your wheelhouse. It explores the rugged wilderness of Tasmania's west, taking you through Smithtown, up Cradle Mountain, to the historic township of Strahan and down to Russell Falls for a cool-off before your return to the 9-5.
Departure/Return point: Launceston to Hobart.
Accommodation: Wrest Point, Honart, Strahan Village, Cradle Mountain Hotel, Tall Timbers and Best Western Plus Launceston.
Romantic experiences: Cruising along the Gordon River, gushing over Russell Falls, hiking around Cradle Mountain's Dove Lake and taking the scenic chairlift at Cataract Gorge in Launceston.
Why do we love it? This tour is adventurous and active, taking in the incredible inner beauty of Tasmania that tourists don't often see.
---
Where should I stay in Tasmania?
Seclusion, scenery and stunning accommodation were factored into our decisions for some of our favourite destinations in Tasmania for romantic getaways.
Coles Bay, eastern coast: If you're after some time with the sun and sand, Coles Bay has you covered with a selection of beaches and coastal attractions. We recommend putting Freycinet National Park, Wineglass Bay and Honeymoon Bay on the itinerary.
Strahan, western coast: Hike your heart out with endless lookouts and walking trails. A couple that are worth mentioning include the Franklin-Gordon Wild Rivers National Park and Hogarth Falls.
Cradle Mountain, north-west region: There's beauty in all seasons when it comes to Cradle Mountain. The summer months boast lush green landscapes and winter promises snow-capped mountains.
Lilydale, north-east region: Great for waterfalls and wineries. Lilydale hosts a plethora of vineyards that include The Ridge North Lilydale, Leaning Church and Providence vineyards.
Hobart, eastern coast: Perfect for city escapes and checking out the surrounding reserves. You'll find Wellington Park, North West Bay and Bruny Island all close enough for a day trip.
Bruny Island, south-eastern coast: Find a plethora of outdoor recreation options when visiting Bruny Island. We suggest taking the time to check out South Bruny National Park, the Neck Lookout, Cloudy Bay and Fluted Cape Walk.
Still looking for the right room for your romantic getaway? Browse for more:
Latest deals for romantic getaways in Tasmania
More guides on Finder