Robot vacuum cleaner Finder: How to find the right model for your floors
Learn how to choose a robot vacuum cleaner that can get rid of dust and pet hair without you having to lift a finger.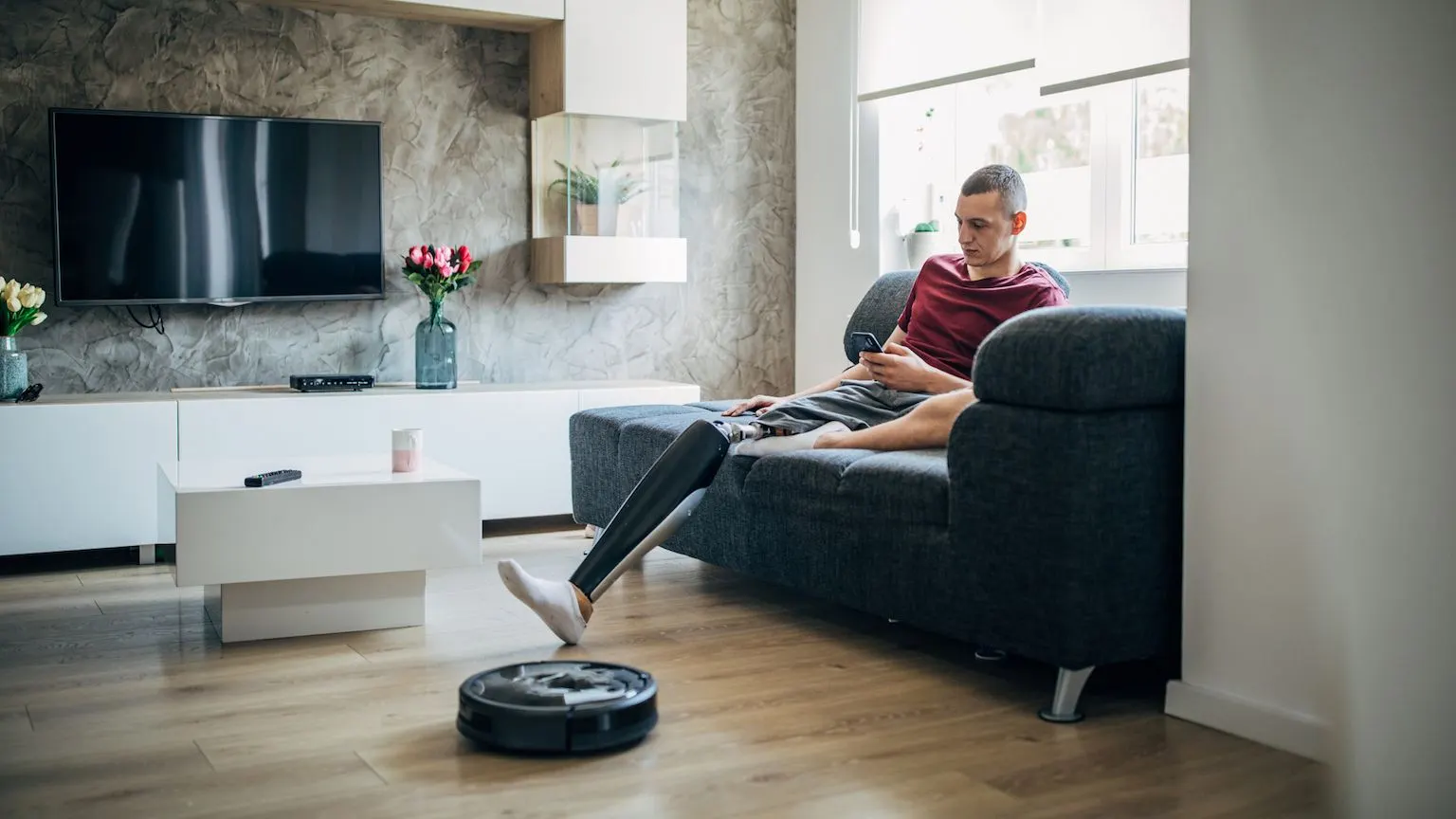 We're reader-supported and may be paid when you visit links to partner sites. We don't compare all products in the market, but we're working on it!
Best Rated Robot Vacuum Cleaner Brand: Samsung
Samsung robot vacuum cleaners scored well across the board, making this product an excellent all-rounder.
Quick facts about robot vacuums
Robot vacuums might not be able to replace your traditional vacuum entirely, but they can help with light, daily cleaning and maintenance.
They are more effective on hard floors than they are on carpet.
Prices range from around $200 to $2,000 depending on the brand, make and model.
Compare robot vacuum cleaners
What is a robot vacuum cleaner?
Robot vacuums are autonomous vacuums that can clean your floors without the effort required with a traditional vac.
Generally, a robot vacuum cleaner is suitable for cleaning homes that have mainly hard floors. For those with pets, a robot vacuum cleaner can help prevent a buildup of fluff and pet hair. However, while robot vacuum cleaner can come with high tech features, they're actually not as good as traditional vacuums at picking up dirt, especially on carpet.
Robot vacuums can push dirt deeper into the pile of a carpet and eventually damage the carpet. If you have carpet but still want the convenience of a robot vacuum, it's worth investing in a model specifically designed to handle the challenges of carpet.
If you have hard floors, robot vacuums still struggle to clean corners and along edges so you'll need to have a backup vacuum for those hard to reach areas.
How to compare robot vacuum cleaners
Before deciding which robot vacuum cleaner to purchase, there are several factors you should consider. If you're having trouble choosing, check out our list of the best robot vacuums of this year.
Home size
Some models are especially tailored for small spaces, while others are ideal for larger environments up to 185 square metres (roughly equivalent to a two- or three-storey house). For those living in tight spaces, you'll want to work out if your robot vacuum can fit under your bed or drawers.
Cleaning performance
Consider how well your chosen robot vacuum cleaner picks up dirt from hard floors and removes dirt from carpets. It's also important to weigh up how effectively the robot vac is at cleaning in corners and along edges.
Pet hair
If you have pets, look for a model designed to pick up pet hair and fur balls. It can be particularly difficult for a robot vac to thoroughly remove pet hairs from carpeted floors without pushing dirt further into the pile.
Noise
While robot vacuums are usually quieter than regular vacuums, check if your chosen model produces any high-pitched whistle or grinding sound which could be loud enough to disturb neighbours or frighten pets.
Battery life
Battery life can range from around 20 to 140 minutes. Think about how large your home is and whether it's likely your vacuum will get through a full clean without needing a charge.
Auto docking
When your battery charge is low, auto docking allows your robot vacuum to make its own way back to the charger and dock by itself.
Filter type
For those with allergies or intolerances, consider investing in a robot vacuum cleaner that comes with an in-built HEPA filter.
Wi-Fi and app connectivity
Most robot vacuums are smart home enabled so that you can customise your robot vacuum cleaning schedule via your mobile app. You'll be able to turn your robot vac on and off from your phone, pause a cleaning cycle and set your preferred cleaning frequency and times.
Bin size
To avoid frequently emptying the dustbin, opt for a model with a bin size bigger than 600ml. Otherwise, you may find that your dustbin has filled up quickly after a clean or two.
Additional features
The following features can make a robot vacuum easier and more convenient to use.
Webcam. For those who want extra security, some higher-end robot vacuums can also act as an advanced security camera, letting you monitor your home or pets through a mobile app.
Programmable times. You could set your robot vacuum to run only when you're out and pick the times of the day or week which are ideal for your household.
Stair detection. Most robot vacuum models come with stair detection capabilities. The sensor lets the robot detect when it's approaching a ledge or step, so it can stop or turn around to prevent damaging itself.
Virtual walls. Some models come with an accessory allowing you to program an invisible barrier that prevents your robot vacuum from entering parts of the home you don't want it in and blocks it from open doorways and exits.
Remote control. A robot vacuum cleaner will usually come with a remote control, which is handy for changing settings or directing your device around the home.
Warranty. The standard warranty period for a robot vacuum cleaner is typically one to two years.
Best rated robot vacuum cleaner brand award breakdown
| | Total Score | Overall rating | Value for Money | Battery Life | Cleaning performance | Quietness |
| --- | --- | --- | --- | --- | --- | --- |
| Samsung | 7.88 | 4.33 | 4.10 | 4.22 | 4.29 | 4.10 |
| Xiaomi | 7.88 | 4.35 | 4.27 | 4.21 | 4.42 | 4.10 |
| Other | 7.82 | 4.40 | 3.93 | 4.27 | 4.33 | 3.67 |
| Hoover | 7.78 | 4.26 | 4.20 | 4.22 | 4.34 | 4.04 |
| LG | 7.76 | 4.24 | 4.20 | 4.34 | 4.16 | 4.10 |
| Ecovacs | 7.70 | 4.17 | 4.26 | 4.32 | 4.15 | 4.09 |
| Electrolux | 7.36 | 4.06 | 3.76 | 3.84 | 3.94 | 3.88 |
| Stirling (Aldi) | 7.24 | 4.00 | 3.94 | 3.94 | 4.09 | 4.24 |
| Kogan | 7.18 | 3.98 | 3.94 | 3.80 | 3.92 | 3.98 |
| iRobot | 7.17 | 4.04 | 3.58 | 3.78 | 3.86 | 3.76 |
Data: Finder Retail Brand Survey, 2020, Kantar. Metric out of 5 stars unless indicated. Methodology and more info.
Previous Retail Awards
More guides on Finder