Ring Stick Up Cam Review: Simple security anywhere you want it
You can place the Ring Stick Up Cam just about anywhere, but ongoing subscription costs are still an issue.
Quick Verdict
If you've already got a Ring doorbell or other security products, the Ring Stick Up Cam provides a simple way to expand your coverage either indoors or outdoors – as long as you're happy with Ring's cloud storage prices.
The good
Weatherproof but also capable of indoor usage
App warns you when the battery is low
Good motion detection
Easy installation
Rechargeable batteries
The bad
Cloud storage costs extra
Tough to hide such a large camera
No Google Assistant integration
---
Ring's best known product is the security-conscious doorbell that gives the whole company its name, but over the years it has expanded into other areas of Internet-connected home security products. Its latest sounds rather alarming, to be honest. Will the Ring Stick Up Cam, as the name suggests, actually hold up your home or business premises, burglar style?
The answer there is no. The naming is because it's Ring's take on a place-anywhere security camera, whether that's indoors or outdoors. You can, you see, stick it up just about anywhere you'd like to monitor.


Ring Stick Up Cam: Design
Flexible design
Battery model doesn't support wired charging
The Ring Stick Up Cam is a small white cylinder device with a flexible base that you can adjust to a variety of angles, with the core idea being that you can install it anywhere. For regular indoor use on a flat surface, the base simply acts as a stand that lets you slightly angle the camera to suit your needs.
If you want to affix it more permanently, screws are provided in the packaging for both simple and hardier indoor or outdoor locations. The model as tested was the Stick Up Cam Battery, which, as the name implies, comes with a rechargeable battery, but Ring also sells a Stick Up Cam Wired that comes with a Power over Ethernet (PoE) charger.
If you do buy the battery version, you're getting a lot more freedom of placement, but you do give up the option to charge it in place if it's near a power point. Recharging the Ring Stick Up Cam involves the same process as the Ring Video Doorbell or Ring Spotlight Cam because you've got to pull the whole battery out in order to add power to it.
The larger design of the Ring Stick Up Cam no doubt gives it a better degree of weather resistance, but it also makes it stand out quite a lot. If you're of the mindset that you want the burglars to see the cameras and avoid your place, that might be a plus, but equally, it does make it more obvious where it is and how you might try to avoid it, break it or even potentially steal it. Ring will replace stolen Ring Cameras, which is a nice inclusion, although possibly you may have larger problems if that does ensue.
Back to top
Ring Stick Up Cam: Installation
Very easy to install
Plenty of smart guidance for just about any installation scenario
Configuring what is essentially an IP-based camera onto the Internet in a secure way probably sounds like a nightmare mashup of technical jargon to you. One factor I love about Ring's approach to the installation of its products is that it simplifies matters with really easy instructions as well as the inclusion of everything you need to get up and running in the box.
This means that there's a big friendly section in the packaging labelled "Installation tools" that includes a screwdriver, a drill bit, screws and a charging cable. You may not need all of those pieces, especially for an indoor installation, but it's great that they're present if you do.
Setting up the Ring Stick Up Cam is no different to any other Ring product. Its own Ring app for iOS or Android devices makes it very simple to add the Ring Stick Up Cam to an existing Ring installation or to simply run it as its own standalone device if it's your first foray into Ring's product catalogue.
Back to top
Ring Stick Up Cam: Performance
Good video and audio quality
Needs at least 2Mbps upload
Cloud storage costs extra
Smart home integration, but only with Alexa
The whole point of having an Internet-connected video camera on your property is security, and here the Ring Stick Up Cam delivers a mixed experience. Actual video quality when it detects motion is quite good, with up to 1080p video and a 115 degree field of vision to play with. You don't get full fancy HDR-style video, but for recognising motion and even people in most lighting situations, it's sufficient.
Where the Ring Stick Up Cam is a little less compelling than its competitors is in how it stores those video recordings. When you first set up a Ring account, you get a month's free access to its cloud-based Ring Protect service, which shuffles all recordings up to a secure online account, so you can review them later.
However, after that month, you'll have to pay $4/month for the privilege, and that's just for one camera. If you've got multiple devices, there's also a "plus" package at $15/month, although its core selling point, professional alarm monitoring isn't actually available in Australia at the time of writing. Recordings are stored for 60 days, but there's no listed limit on the number you can have stored.
Here's the problem. Ring's competitors tend to offer at least a simple "free" tier with limited cloud based backup, so if there is an incident that you can't watch in real time, you can at least check it later that day. Without a Ring Protect account, the Ring Stick Up Cam will send you an alert, but unless you switch to the live stream then and there, it won't store anything at all.
There's also an obvious catch here for those thinking of placing the Ring outdoors because it'll only work as long as it has a reasonably solid connection to your Wi-Fi network. You've also got to keep in mind that for live video streaming, you need a minimum 2Mpbs upload speed. Folks on slower NBN connections, especially non-fixed types may encounter problems with quickly accessing video content when a motion alert sounds.
For what it's worth, I tested using a Telstra HFC (non-NBN) connection with a typical 100/5 connection, and had relatively few issues with the Ring Stick Up Cam. It may have even been a little quicker to alert me via the app than a Ring Video Doorbell sitting on the same connection.
The Ring Stick Up Cam can be accessed with a smart home speaker, but only if you're using a speaker that runs Amazon's Alexa assistant. That's not surprising when you realise that Ring was purchased in its entirety by Amazon some time ago, but it's a nuisance if you're in a Google Home or Apple HomePod powered domicile. On the plus side, if you've got an Amazon Echo Spot or Amazon Echo Show, you can pipe the video feed from the Ring Stick Up Cam direct to their screens.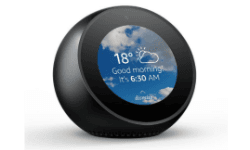 Click to buy Amazon Echo Spot - Black
from Amazon
View details
Back to top
Ring Stick Up Cam: Battery life
Wired, battery or solar options available
Battery life warnings well before battery is exhausted
The Ring Stick Up Cam Battery comes with a removable 6040mAh battery and a microUSB-based charging cable in bright orange. Your actual battery life will vary depending on how busy you keep it, with Ring suggesting it could last for anything up to a year depending on usage.
My own usage hasn't made a huge dent in its battery life for the most part, although I did initially install it without first topping up the battery. That let me see what it does when the battery gets low, and it's a pleasing affair. You get emailed reminders to charge up its battery, along with links to tutorials reminding you how to do this once it's on the way to getting flat. Obviously if you opted for the wired or solar options, you might never see these warnings at all.
Back to top
Ring Stick Up Cam: Subscription costs
Ring sells two different Ring Protect plans in Australia, called Protect Basic and Protect Plus. Protect Basic covers one camera-enabled device for up to 60 days of recording at $4 per month. Pop for an annual subscription and you'll save a little, at just $40 per year.
Then there's the Ring Protect Plus plan. That's pricier at $15 per month, but it covers an unlimited number of cameras, adds additional warranty support and that same 60-day recording zone. While there's mention of professional alarm monitoring services as part of Ring Protect Plus, those are only offered "within the U.S. (excluding American Samoa, Guam, Northern Mariana Islands, Puerto Rico, and the U.S. Virgin Islands) and Canada (excluding Quebec)" according to Ring's fine print. As with Ring Basic, if you pay for a year upfront you save a little, at $150 for the year.
Back to top
Ring Stick Up Cam: Verdict
Good security if you've already got Ring devices
A pity there's no baseline cloud storage
The Ring Stick Up Cam complements the existing Ring range quite well, and that's without a doubt the smartest way to think about picking it up. If you've already got a Ring Video Doorbell, for example, it's easy to add a Ring Stick Up Cam to your system and expand its security capabilities.
However, that expansion comes at a price. For a doorbell, it's maybe less critical to have a recording of everything it sees, but that's exactly the point of a standalone security camera with no other function. It would be nice to see Ring extend an olive branch and perhaps offer just a few hours of cloud storage, like rival Netgear does with its Arlo range. Any consideration of adding a Ring camera has to bear in mind the $4 per month you'll have to pay to make it truly functional.Back to top
Ring Stick Up Cam: Pricing and availability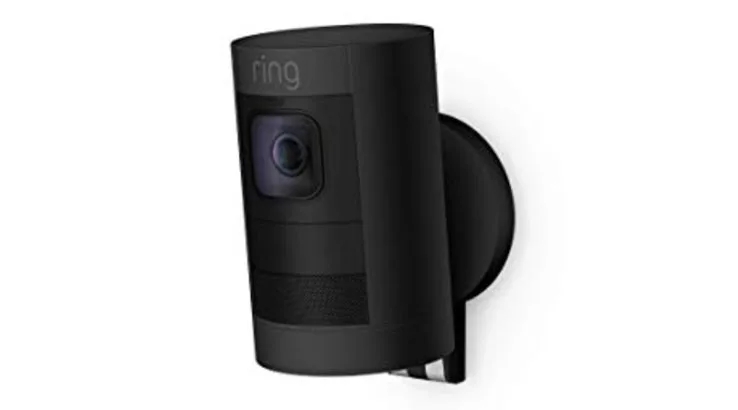 Ring Stick Up Cam Battery
from Amazon
Ring's latest security camera is equally at home on a shelf or in the garden, keeping you secure with long-lasting battery life and 1080p video recording.
View details
The Ring Stick Up Cam I tested with was the Ring Stick Up Cam Battery, which sells in Australia for $319 as a single camera, $589 in a 2-pack, $839 for a 3-pack or $1079 for a 4-pack. That's the same price range you'll pay if you opt for the wired variant, but the solar-powered model sells for $399, $739, $1,049 and $1349 respectively.
Back to top
Specifications
Product Name

Ring Stick Up Cam
Resolution

1080p
Audio

Two-way audio with noise cancellation
Battery

6040mAh rechargeable, solar panel option
Size

9.7x5.9x5.9cm
Weight

335g
RRP

From $319
Back to top
---