Rime review: Rhyme and reason
Something big swims beneath the surface of Tequila Works' adorable adventure game.
We're reader-supported and may be paid when you visit links to partner sites. We don't compare all products in the market, but we're working on it!
It's been a long road to Rime. In its five-year journey, its custodian changed from Microsoft to Sony before being acquired once again by its developers Tequila Works. It started life as a tower defence RPG before maturing into a more traditional adventure game with puzzles, climbing and a narrative to support it all. While its life before release was a turbulent one to be sure, I couldn't be happier that Rime was given the time and care it needed to become the unforgettable indie it has.
When you reflect on this journey to release, its success becomes all the more special: A heartfelt indie title tossed around by the big wigs that eventually found its way home.
The Rime we have today begins like so many adventure games do. A shipwreck strands a young child on a mysterious island that's littered with puzzles and mysteries to solve.
Where Rime defines itself in these opening moments is with its entrancing art direction. The island's Mediterranean influence shines through in the rolling whitewash over deep blue seas and the off-white sandstone ruins. The breathtaking visuals will catch your eye every corner turned, but certain progression moments trigger the camera to zoom out and truly let you guzzle up the island's sumptuous vistas. Admittedly, the frame rate labours in these moments on the PS4 version I tested with. A small mark against this otherwise visually flawless game but one that happened enough to become frustrating.
The island is only the first of many beautiful and sometimes daunting locations, but each is as cleverly designed as the next and evocative of a certain theme that becomes obvious in the game's closing moments.
Exploring these locales comes easy thanks to Rime's intuitive gameplay. Tequila Works has done away with HUDs and almost all on-screen prompts. There are a few simple button prompts when faced with a new kind of puzzle.
Instead, Rime guides you along using unique in-world prompts. The most common and useful example of this is your fox companion. While there's no mini-map or objective marker, your little fennec buddy will stand and yap in the direction you should be heading to progress the story forward.
If you take your time exploring the area, there's plenty of collectibles to be found, but no way to backtrack once you move on to a new area. We recommend hunting for them your first time round as there's a minor payoff at the story's end.
Rime does an excellent job of naturally introducing you to its various puzzles and rarely uses the same idea twice. While the puzzles won't have you pulling your hair out like The Witness, there's still a few head-scratchers that make you feel like a little genius when the solution clicks. This is all conducive to Rime's calming, spiritual vibe. Rime is a game to be enjoyed. An atmospheric journey that's constantly pushing you forward, dangling the island's mysteries in front of you like a carrot on a stick. It doesn't set out to stress you out and the majority of puzzles can be solved simply by using the character's voice. Shouting at certain relics will draw a wisp that then floats to another statue, opening doors, raising platforms and so on.
While the journey there is a zen saunter through an adorable world, the answer to Rime's mysteries will hit you like a truck. We can't really go into specifics about the game's revelatory crescendo without going into spoiler territory. I will say that I've never personally dealt with issues presented by Rime on a personal level, at least not at this magnitude. But Tequila Works handles it so tenderly that I can't imagine it being anything but cathartic to those that have.
I'm not made of stone but it's not often a game rocks me the way
Rime
did. The most recent memory I have of anything coming close was UbiArt's magnificent
Valiant Hearts: The Great War
and that was a real tearjerker.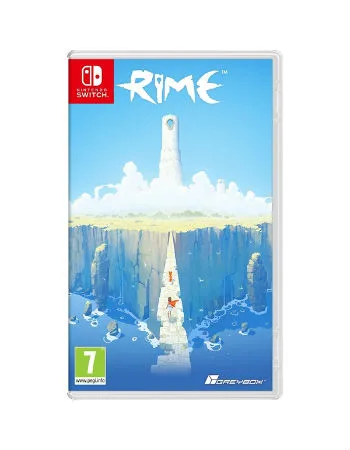 Click to buy Rime nintendo switch game
from ozgameshop.com
Get Rime nintendo switch game from Ozgameshop now!
View details
Rime's classified as PG in Australia thanks to it's "mild themes and violence", which is a bit generous. Rime deals with some seriously weighty issues. That said, it handles them in a way that's reminiscent of Pixar's heavier outings like Up and Inside Out. In fact, the Pixar comparison is a fair one. Rime has been compared a lot to thatgamecompany's Journey. While there's definitely some shared visual motifs and themes around companionship, Journey delivers a much more abstract story whereas Rime has fleshed out characters and more traditional story beats. Think of it like this: If Journey is the artsy, experimental Pixar short, Rime is the feature-length film.
We're not sure what's next for Tequila Works. Though after such a long battle breathing life into Rime, I would imagine there's going to be a whole lot of R&R. Whether it takes 5 years or 10 years, I'll be eagerly awaiting Tequila Works' next project.
We reviewed WipEout Omega Collection review on PlayStation 4 with a copy provided by the publisher.
RiME review
9.0 AMAZING
What we liked...
Stunning cel-shaded locales with coastal Mediterranean vibes
Intuitive adventuring and puzzle solving
Brimming with emotion
Worth the wait
What we didn't like...
The odd framerate dip in cutscenes
VERDICT
I can't recommend Rime enough. The journey through its world is full of gorgeous eye candy and surprises at every turn and the ending will play on your mind for days. The game may struggle a bit in more intensive cutscenes (on PS4), but it was never enough of a problem to distract from the game's engaging narrative. I'm looking forward to my second playthrough on Switch.
Available for
For more information on how finder scores games, check our review guidelines.
More guides on Finder