RIGS: Mechanised Combat League Review: Peerless in PSVR
Fair warning: this game is rigged.
We're reader-supported and may be paid when you visit links to partner sites. We don't compare all products in the market, but we're working on it!
Here's the raw truth about PSVR: First-person shooter controls, married to 1:1 head tracking, is the best way to lose your lunch in record time. Take it from a guy who has sampled every single one of the launch titles on Sony's new tech (and has played the FPS genre since Wolfenstein 3D). Knowing this, RIGS: Mechanised Combat League -- a fast-paced arena shooter with a high degree of verticality -- should be an unholy disaster. Vomitorium: The Video Game. Imagine my surprise when it turned out to be Sony's one shining hope for sweet, spew-free shooting.
---
---
The grim reality is you should expect virtually no story from RIGS; it's essentially a simulator of a sport that doesn't exist, but totally should. After many tutorials, you'll be strapped into a mech, then a career mode, and after that all long-term value will come from the real main event of this package, online multiplayer. In single-player, you've got to scratch about with your paltry starter funds, and slowly earn access to a better selection of RIGS (all of which fall into roles/classes with model-specific super abilities). From here you'll have to rise through the leaderboards and destroy all-comers in a series of AI-controlled 3 v 3 gladiator engagements. It's fun, but not memorable.
Swapping lead, tactically boosting behind cover, and strategically selecting where to respawn is the main bread and butter of any engagement. You'll also need to wrap your head around three mech-states that can be hot-swapped via the face buttons. It's essential to enhance your health, speed or health recovery when you need it the most. Lastly, some dizzying multi-level arenas, and a series of rotating objectives modes (Team Takedown, Powerslam, Endzone) also keep things interesting.
RIGS is available to purchase now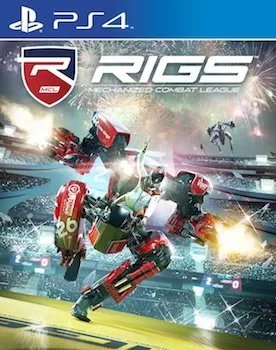 RIGS: Mechanized Combat League (PS4 PSVR)
from base.com
Can be yours today. Order now from base.com
View details
The first type of shenanigan is essentially a deathmatch where you explode fools and rack up points. Simple, but fun. Powerslam asks you to get into Overdrive mode (collect nearby tokens to build up a bar, or just murder enemies in quick succession) and then you'll need to make like a human-robot basketball by hurling yourself through a hoop structure. Finally, Endzone is rugby; both teams sprint to secure a ball, then do their damnedest to zip it across the playing field and into the N-zone.
Enlist the right team of mates, and RIGS is one hell of a great time, despite looking like a very simplistic undertaking to anybody not "in the moment" with a PSVR headset. But that's just from the outside looking in; give it a few hours and you'll be a robophile who can deduce the capabilities of your foes purely from their distant outlines. You'll also be communicating effectively and executing more fancy pincer movements than a crab in mating season. Reach that level, and RIGS suddenly opens up to become an incredibly rich adversarial experience where no one match ever plays out like the last.
Developer Guerilla Games is to be commended for using a bunch of smart techniques to make these lightning fast engagements easy to stomach. As far as PSVR titles go, RIGS is basically peerless at the moment. Want to test out what that new (painfully expensive) headset of yours can really do? Deploy RIGS into the disc drive and let it mech your day.
We reviewed RIGS: Mechanised Combat League on PlayStation 4 with a copy provided by the publisher.
---
---