Rick and Morty Virtual Rick-ality Review: Show Me What You Got (in VR)
Only the most dedicated Rick and Morty fan could see this as a must-buy proposition for PlayStation VR.
We're reader-supported and may be paid when you visit links to partner sites. We don't compare all products in the market, but we're working on it!
This PSVR companion to the Rick and Morty TV series is a lot like a plumbus, that all-purpose phallic home device first seen in S02E08. It's embarrassingly short and limp (to the point where you'll find yourself wondering what use it even has). It's also about as un-user-friendly as it looks and feels overpriced for 6 ½ brapples. All that said, you'll probably forgive these faults if you're one of the cultish Rick and Morty faithful.
The good news is that Dan Harmon and Justin Roiland commissioned the experts of VR buffoonery for their game: Owlchemy Labs, creators of Job Simulator. The M.O. hasn't really changed much from that title, to be perfectly honest. You're still doing pointless but hilarious menial labour, and with each mini puzzle solved your access to more objects and emergent mayhem expands. As a dispensable clone, Rick's weird and demeaning wishes are pretty much your command. Screw it up and you'll get a laser hole through the head.
Hell, sometimes that'll be your reward for success, too. Rick can be a dick like that.
---
---
This black-as-pitch humour won't come as a surprise to the fans who'll happily buy this and be inundated with in-jokes. You might be digging through Rick's stuff only to find the replacement penis brochure for Jerry, or a business card good for one free assassination, courtesy of Krombopulos Michael. Personally, I spent way too much time munging down on delicious eyeholes as I perused a Ball Fondlers comic. You can also expect your progress through the Smith house thwarted by a series of real fake doors, too.
Pro tip: picking up the beer bottle during your infancy...yeah, not the best start
There's also a game within a game here: Troy, a hilaribad home version of the Blips 'n' Chits arcade game called Roy (which effectively simulated a life). In this budget version, every person in your alternate reality is a shitty cardboard cutout, plus voice-over. The objects you pick up serve as multiple choice decisions which shape the next stage of your life. Pro tip: picking up the beer bottle during your infancy...yeah, not the best start.
You'll also find yourself snagged on a number of science-y doodads that litter Rick's garage. There's a clone machine of sorts that allows you to get your The Fly on and mix two objects into one bizarre new form. Owlchemy must have spent ages figuring out all of the permutations – it's pretty impressive and, like Troy, will keep you amused for hours.
---
There's also some fun to be had from playing with yourself. Sorry, phrasing. You can clone yourself around the environment using throwable Mr Meeseeks pods (called Youseeks). They're virtual puppets that 1:1 mimic your own hand movements and are used in interesting ways in a few puzzles.
Expect lots of quality voice lines from Rick and Jerry
It's a good thing the distractions are many because the campaign itself is a paltry hour and a half. Essentially, Rick gives you an order and you teleport between three set waypoints in the garage to manipulate objects as per his instructions. You also have a phone watch that works as a hint system to put you in quick contact with Rick (or Mr Poopybutthole). You'll need it. Simple chores, like charging a battery, or fixing Rick's porn-infested computer become trials of dexterity and lateral thinking.
You can expect lots of quality voice lines from Rick and Jerry when a portal system opens the play space into a handful of new areas. The script-writing is just as on-point as the show, with one memorable moment being trapped in a bathroom as Jerry gives an awkward pep-talk about masturbation. He caps it off by asking you to please slide his butt cream under the door.
Later still you'll get to fix Rick's smart-ass hovercar and there's a bit of a shooting gallery in the middle. It's a nice palate cleanser, but nothing to write home about (nor is the inevitable boss battle). Put a bow on all that and you're set free to explore all areas and find 13 hidden cassette tapes for fun.
Length isn't the only area in which Virtual Rick-ality disappoints. This game was originally produced for true room-size-capable VR tech, like the HTC Vive. What we have here has been hastily shoehorned down into Sony's more limited PSVR unit.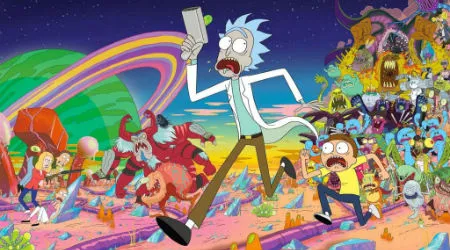 Click to purchase Rick and Morty: Virtual Rick-ality
from Amazon
View details
Basically, Owlchemy doesn't take your personal space as seriously as Phillip Jacobs (the guy with his own inter-dimensional cable show). No matter how you set up your PSVR and camera, it feels like you have to fight to get the range of movement needed to bodily lean into a portal, grab things dropped on the floor, or snatch an item off an overhead shelf. A solution is offered in the form of holding "T" and a face button to artificially raise or lower your eye-line in the world. It works but is quite an inelegant solution.
This iffy optimisation, coupled with the short runtime and the AU$60 price of entry, is an unattractive offering for PSVR enthusiasts. It's such a shame, too, because the content that is here feels anything but half-arsed – this is a spin-off well worthy of canon.
We reviewed Rick and Morty: VR on PSVR with a copy provided by the publisher.
Rick and Morty: VR
6.0 GOOD
What we liked...
Feels universe-authentic, darkly humorous
Heaps of DIY fun opportunities
Insane amount of in-jokes
Troy
What we didn't like...
Shorter than Mr Poopybutthole
Tracking issues
Expensive for what it is
VERDICT
Only the most dedicated Rick and Morty fan could see this as a must-buy proposition in the same vein as, say, Two Brothers, or a Ball Fondlers movie.
Available for PSVR
For more information on how finder scores games, check our review guidelines.
---