Rice cooker buying guide: How to find the best appliance
What you need to know to choose the best rice cooker for your kitchen.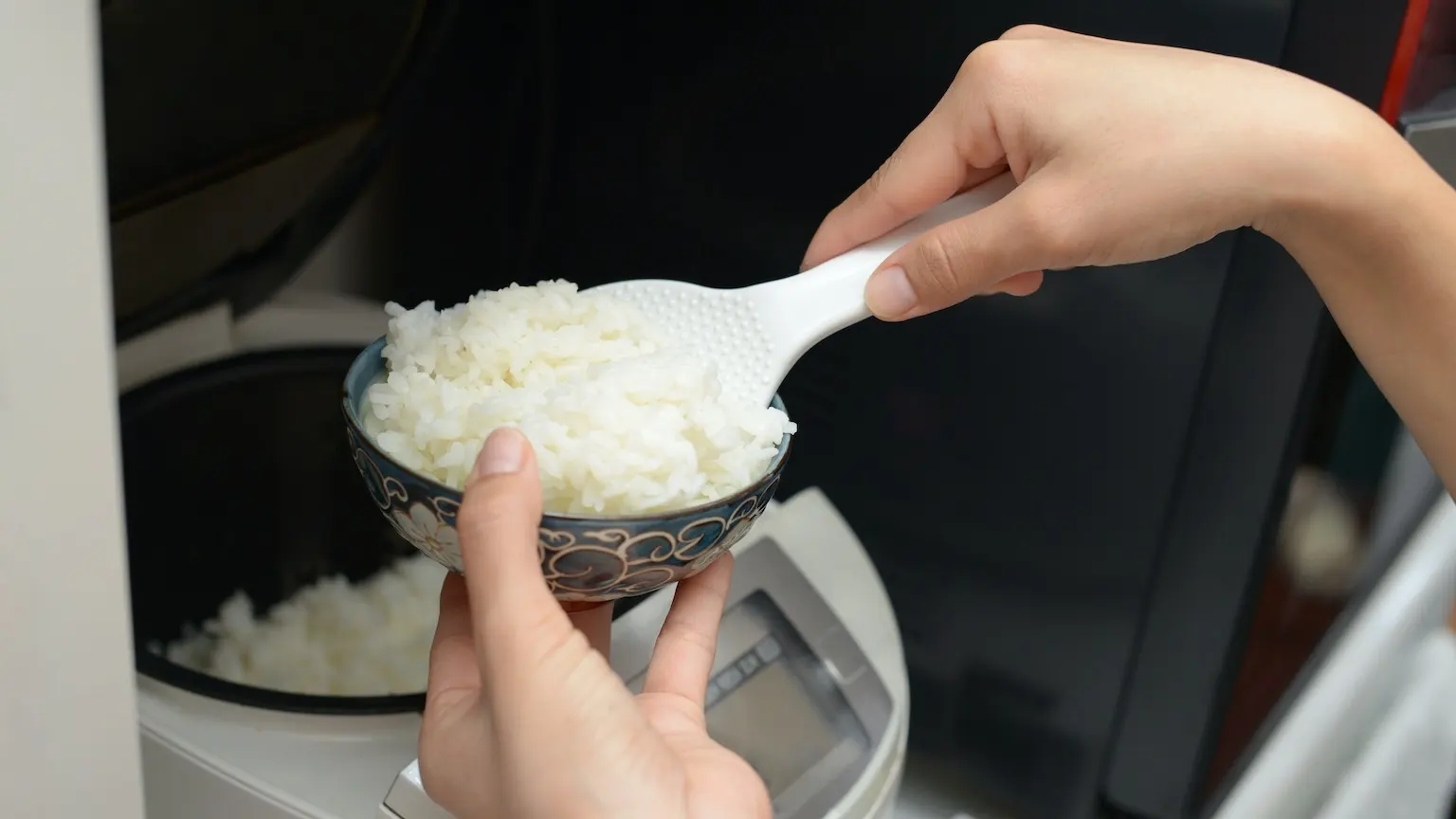 We're committed to our readers and editorial independence. We don't compare all products in the market and may receive compensation when we refer you to our partners, but this does not influence our opinions or reviews. Learn more about Finder.
Key facts about rice cooker:
Rice cooker prices range from $20 up to $300.
They automate the cooking process so you get soft, fluffy rice every time.
Prices depend on the brand and range of features.
Compare some of the best rice cookers
Data obtained November 2018. Prices are subject to change and should be used only as a general guide.
What is a rice cooker?
A rice cooker is an appliance designed to automatically cook rice. It usually features a heating element, a bowl and a thermostat. To use a rice cooker, all you have to do is pour a specific ratio of water and uncooked rice into the bowl, turn it on and let the rice cooker do the rest.
These appliances then heat the rice and water to boiling point. Once the rice has been cooked, the cooker switches to "keep warm" mode to ensure that your rice is ready to serve whenever you're ready to eat.
Why should I consider a rice cooker?
Why bother buying a rice cooker when you can do the same job using nothing more than a humble saucepan? Rice cookers offer a few key advantages:
Why shouldn't I get a rice cooker?
If you're a whiz in the kitchen and you don't have any trouble cooking perfect rice the old-fashioned way, you may decide that you don't need a rice cooker. Similarly, if you and your family simply don't cook rice all that often, a rice cooker may be a poor investment.
Another issue to be aware of is the fact that some models can be quite large in size. If you have limited bench or cupboard space in your kitchen, you may be better off sticking with cooking rice in a pot.
If you're looking for a different cooking appliance for your kitchen, check out our guides to the best slow cookers and the best pressure cookers.
What types are available?
There are a couple of different ways to distinguish between the different types of rice cookers available, and the first is to consider whether the product has a sealed or unsealed lid.
Unsealed lid. Models with an unsealed lid are typically cheaper and extremely straightforward to use. They're easy to clean and make it easy to monitor the progress of your rice if needed, but they can tend to rattle and even spit water onto your bench.
Sealed lid. Sealed-lid rice cookers remove the risk of any rattling or water spatter, but they're usually more expensive and can be a hassle to clean.
The second factor you can consider when comparing types of rice cookers is to look at the cooking settings they offer. Basic, cheaper models tend to feature just two cooking modes – "cook" and "keep warm". However, advanced models towards the top end of the price range use fuzzy logic technology and include multiple settings, not only for cooking rice but also for cooking a variety of other dishes.
Recent years have also seen the emergence of induction rice cookers, which create heat using a magnetic field. They're theoretically designed to cook rice more evenly than conventional rice cookers, but their high price point means they're a little excessive for most buyers.
How to compare rice cookers
If you're buying a rice cooker, you'll need to compare several models and consider their capacity, cooking modes, cooking time and cost to find one that's right for your needs. Make sure you take the following into account:
Which rice cooker is best for me?
The best rice cooker for you will depend on how much money you have to spend and how you plan on using this handy kitchen appliance.
You'll need to compare the price and features of a range of rice cookers to determine which one is the best fit for your needs. To help make this process easier, compare the pros and cons of five popular rice cookers in the table below:
The good
The bad
Breville Rice Box BRC460

10-cup capacity
Multiple cooking settings

Some reliability problems
Some users report issues with the non-stick layer coming off

Kambrook KRC410BSS

Lacks advanced settings and features
Water spitting problems

Panasonic SR-ZE185WSTM

10-cup capacity
10 menu settings
Fuzzy logic technology

Expensive
A little slow to cook

Sunbeam RC5600 Rice Perfect Deluxe 7 and Steamer

Locking lid
Includes a steam tray for fish, poultry and vegetables

Some negative reviews
Problems with rice sticking to bowl

Philips Grain Master HD4514/72

Multiple cooking settings
Fuzzy logic technology

Not the cheapest
Hard to clean
More guides on Finder