REVIEW | Testing out the highly-anticipated Tarte Shape Tape Setting Powder
The powder promises Double Duty Beauty, but does it deliver?
We're reader-supported and may be paid when you visit links to partner sites. We don't compare all products in the market, but we're working on it!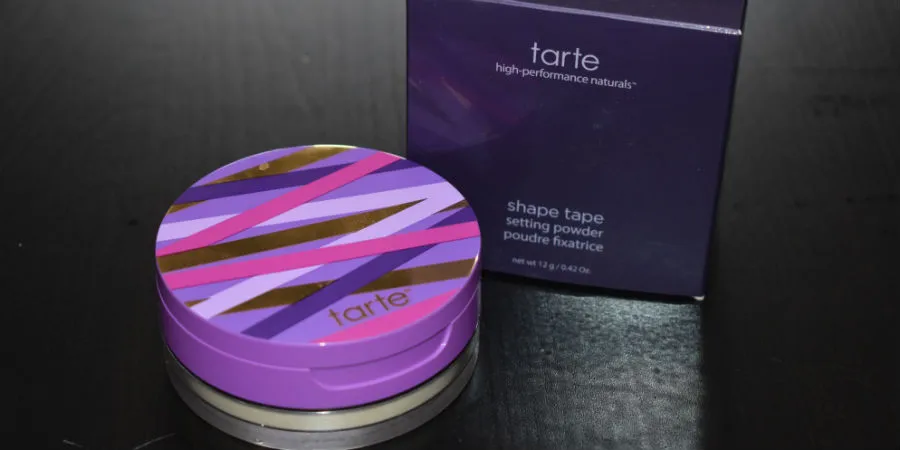 Image: Lauren Chaplin
Tarte's Shape Tape line has become something of a cult-favourite among beauty lovers. According to the brand, one Shape Tape Concealer sells every 12 seconds in America, which is honestly very impressive. So when Tarte announced that they were adding a setting powder to the Shape Tape line, I had pretty high expectations.
Knowing how great the Shape Tape foundation is, I was pretty keen to see what the setting powder could do. However, I am quite wary of powders as they have a tendency to dry out my skin very quickly and leave me with horrible, flaky patches. Would the Shape Tape Powder do the same? Only time would tell. I put it to the test to see if the claims that it would help my makeup stay all day while adjusting to my complexion's needs were true or just wishful thinking.
The quick verdict
Does it do what it says? Yes.
Is it easy to use? Yes.
Is it worth your money? There may be better setting powders on the market, but this one is definitely more value for money.
Where to buy it? You can shop it from Tarte Cosmetics and Sephora.
What is it?
Tarte Double Duty Beauty Shape Tape Setting Powder is an ultra-fine powder that claims to blur, bake and set your makeup so that it lasts all day. The powder is available in two shades, translucent and translucent deep-tan, so you can use it no matter your skin tone. The setting powder is also light-diffusing, meaning that you won't get that awful white-cast look when you're snapping photos. Best of all, the formula is vegan, cruelty free and dermatologist tested, which are three very big thumbs up from me.
The container
One of my biggest pet hates when it comes to setting powders is that they often require you to tip the product into the lid of the packaging and it ends up getting absolutely everywhere. Needless to say, I was pretty stoked when I opened the Shape Tape powder to see a powder puff and netted sifter. Getting the perfect amount of product is actually fairly straightforward – just press the powder puff into the netting.
If you aren't a fan of the sifter or are running low on product, you can unscrew the top and dip the puff straight into the powder. The container also includes a mirror so you can top up your powder application on the go, which is something that I definitely appreciate.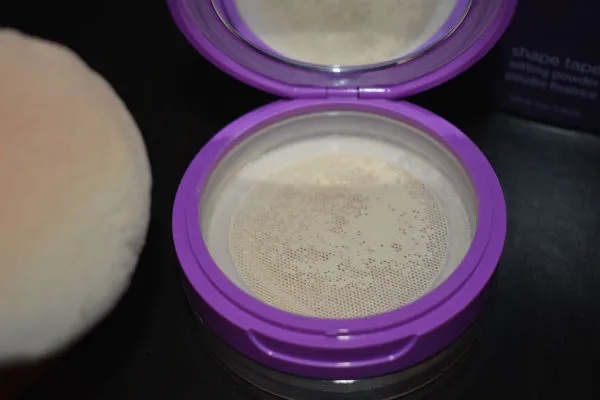 Powder application
Seeing as the Shape Tape Setting Powder claimed to be good for baking, I decided to do exactly that with it. For those unfamiliar with the baking process, the purpose is to use a lot of loose powder to create a poreless base that lasts all day. To achieve this with the Shape Tape Setting Powder, I first applied my concealer as normal. Next, I took the powder puff to pick up the powder and pressed it into my skin everywhere that I applied concealer. I then left my powder to "bake" for about ten minutes or so before lightly dusting the excess powder off with a fluffy brush. The powder is so translucent, I found it difficult to get it to show up in a photo even when it was caked on. So here's the end result- this concealer ain't going anywhere.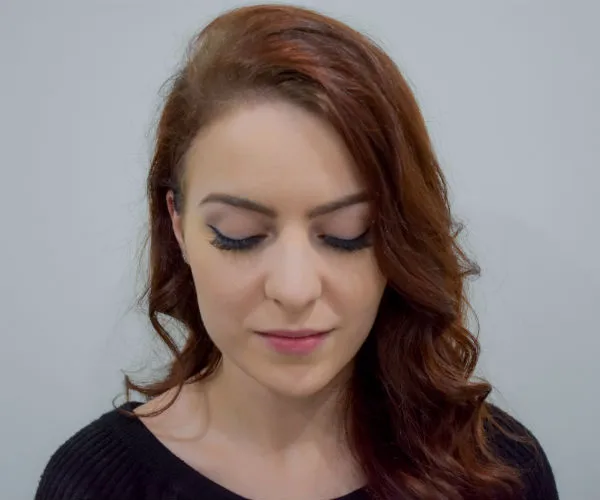 Powder finish
The first thing I noticed about applying the powder is that it has quite a silky texture to it that feels nice on the skin. A little also appears to go a long way, making the baking process easy to achieve. The product gives quite a diffused look straight away, so that's a definite tick next to that claim.
As with most setting powders, the consistency of the product is super-fine. I didn't feel as though it was heavy or cakey in any way, which is exactly what I wanted. My favourite part about the application, though, was that it didn't leave me with any dry patches. Like I've said earlier, I have a love-hate relationship with setting powder since it tends to dry my skin out. So, needless to say, the fact that the Shape Tape Powder left me patch-free really, really impressed me.
Any drawbacks?
To really test the Shape Tape Setting Powder's full potential, I also used it to simply set my makeup rather than bake it. In this instance, I found that it stayed on some areas of my face better than others. It set my under-eye area quite well, but I wasn't as impressed when it came to my T-zone.
I have combination skin, meaning that my skin isn't especially oily, but I still find it difficult to last the entire day without my foundation sliding off my nose. Because of this, setting powders really only stand out for me if they can help keep my makeup on for the entire day. Unfortunately, the Shape Tape Setting Powder didn't quite do this for me. Those with different skin types to mine might have better luck, though.
Final verdict:
Overall, the Shape Tape Setting Powder definitely lived up to its promises. The clay-powered formula stopped dry patches from appearing on application, it baked well and it gave a diffused look. However, using it just as a setting powder didn't keep the makeup on my T-zone in place for the entire day. Because of this, it didn't take out the Holy Grail status that I have reserved for the Makeup Forever Ultra HD Powder. (For context, I wore the MUFE powder to a music festival where I was in the sun all day sweating and dancing and my makeup did not move. At all.) Still, the Shape Tape Setting Powder is a product that I would definitely use again and will continue to use for baking my makeup before a night out.
How much is it and where can you buy it?
The Tarte Shape Tape setting powder currently retails for $48 for 12g of product. While that may seem pricey, the Makeup Forever Ultra HD Powder will set you back $61, making the Tarte powder better value for money.
As with all Tarte products, you can shop it straight from the Tarte Cosmetics site. However, it's no longer the only place that you can get your hands on it. Recently, Sephora announced that it was bringing the Shape Tape line to Australian shoppers, meaning that you can shop it both in stores and from the Sephora web store. Either way, don't forget to check out the latest Tarte promo codes and Sephora discounts before you shop.
Images: Lauren Chaplin
More guides on Finder