Free Resume Templates for Microsoft Word
Using a resume template lets you focus on what matters most: highlighting your experience and skills.
We're reader-supported and may be paid when you visit links to partner sites. We don't compare all products in the market, but we're working on it!
Writing a resume can be a challenging endeavour. We're talking about a document crucial in helping you land a new job, so you want to make sure that it showcases your unique abilities in style. That's why it's important to have a resume that's not only persuasive, but appealing from a design standpoint.
Luckily, there are plenty of striking resume templates you can quickly edit and format in Microsoft Word. This means you can save time on making your resume look good and focus on how to best package the content. Here are a few things you should know before you get started.
Download Microsoft Word resume templates for free
There are plenty of resume templates for Word available for free. You can open them directly through Word to save time. Choose File – New – Resumes and cover letters. See which one you like best and click on the Download button.
You can download additional designs for free from the Microsoft website. Or, you can browse online resume templates that are available until you find the one you like best.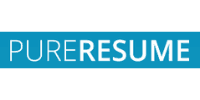 Pure Resume Offer
Get a professionally designed resume starting from $24.99.
What is a free resume template for Word?
A free resume template for Word is a pre-built document featuring design elements that fit a professional resume to a T. You load the template in Word and simply switch the sample text with your own information.
Templates include all the sections you would find in a resume, like work experience, education, accomplishments and so on. Great for when you don't have a lot of time to spend tweaking the appearance of the resume and want something simple yet professional.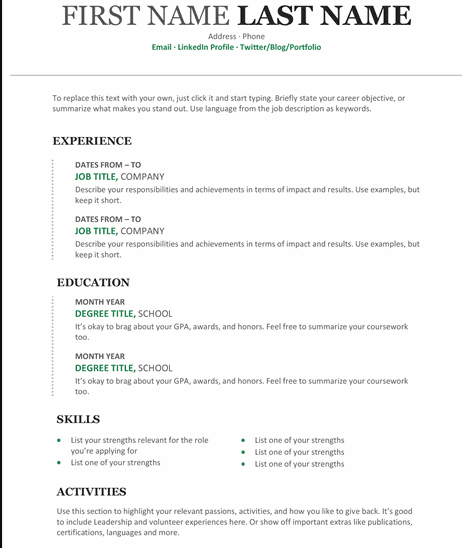 Download this resume template at Microsoft Office
What are the features of a free resume template for Word?
The best thing about using a Word resume template is that you don't have to design the layout yourself. Regardless of which template you land on, they all have some features in common:
Free. There is a wide selection of free resume templates for Word online, so you can definitely find something to suit your preferences without spending any money.
Easy to customise. All you need to do is open the template in Word and add your personal information, then save and submit.
Versatile. Each template comes with editable sections you can modify to best fit your professional strengths.
Clearly labelled. You can choose between basic resumes, career-specific resumes (recent graduate, student, entry-level etc.), or even job-specific resumes (e.g. computer programmer resume)
What is included in a free resume template for Word?
As you browse templates, you'll notice that some are listed as chronological resumes, while others as functional resumes. What's the difference?
A chronological resume kicks off by listing your work history in reverse chronological order, starting with the most recent position. Below that section you'll list education, skills and interests.
Meanwhile, a functional resume highlights your expertise, abilities and achievements rather than your job history. This comes in handy if you don't have a lot of work experience yet. There are also templates that offer a combination layout that puts the emphasis on both work history and skills.
Regardless of which format you choose, make sure that your resume includes these four sections:
Contact information
Work history
Education
Skills
From there on, you can incorporate special sections such as professional objectives, awards, interests that might be relevant to the employer, languages or something else that is relevant to the position.
Add this table after What should I include in a resume:
Get a resume template for Word to meet your needs
Pros and Cons of a free resume template for Word
Pros
Time-saving and efficient
Modern design
Cons
Some template designs are very simplistic
You need access to Microsoft Word
Bottom line
Building your resume with a free Word template ensures that you put your best professional foot forward with minimal hassle. You don't need extensive design skills to stand out from the crowd.
Frequently asked questions about Word Resume template
What file format should I use when saving my resume?
Once you're done tweaking your resume, you have the option of saving it in a variety of formats. Word documents are typically saved as .doc or .docx, but most employers prefer you send your resume as PDF when applying via email. To save your resume as PDF, go to File – Save As – PDF.
What can I do to make sure that my resume helps me make a good impression?
First off, make sure the resume is tailored to the job. That way, you show the employer that you're interested in the position and willing to go the extra mile. Identify keywords in the job ad (e.g. leadership abilities, Adobe Photoshop, three years of experience) and include them in your resume. Also, proofread! We can't stress this enough.
What if I don't have Microsoft Word?
Google Docs is a free alternative to Microsoft Word that comes with similar functionality. On the same note, there are free Google Docs resume templates you can take advantage of.
More guides on Finder