Restaurant and Hospitality Insurance
The many ways liability insurance can protect your restaurant or hospitality business.
We're reader-supported and may be paid when you visit links to partner sites. We don't compare all products in the market, but we're working on it!
You've always wanted to open your own restaurant, and now that dream is about to become reality. The right insurance policy can increase your chances of success by keeping small setbacks from turning into major problems.
Read on to find out what all the ways insurance can protect your business, your employees, and your customers.
Compare insurance options for restaurants
Get quotes online Speak to a broker
Key risks when managing a restaurant
Opening a restaurant can be a highly rewarding experience, but it's not without its challenges. It pays to be aware of the risks so that you can take the proper precautions. Here are some of the risks you might face.
Cooking Fires. A fire in the kitchen can cause significant loss of life and property. Make sure your kitchen is up to code, keep the exhaust ducts clean and have an evacuation plan in place for employees and customers.
Food poisoning. Food poisoning can lead to lawsuits and negative publicity for your restaurant. Minimise the chances of this occurring by storing food properly, using separate cutting boards for raw meat and thoroughly washing fruits and vegetables.
Identity theft. Restaurants can be a revolving door for employees. Rogue employees could wreak havoc if they got their hands on another employee's records or a customer's credit card details. Make sure you have a secure document management system in place.
Slips and falls. The hustle and bustle of a busy restaurant create the perfect atmosphere for slips and falls. Keep your floors well-maintained by mopping regularly and by promptly fixing leaks, cracks and loose tiles.
Cuts and burns. The kitchen environment lends itself to cuts and burns. Make sure you have a first-aid kit on hand and that you keep it regularly stocked. Protect employees by equipping them with the correct personal protective equipment.
Theft and vandalism. Small businesses are prime targets for thieves and vandals. You can protect your business by installing a security system and making it clear that you don't keep cash on your premises overnight.
Need a business loan? Compare options for restaurants
What types of insurance do restaurants and hospitality businesses need?
Because restaurants and other hospitality businesses have many moving parts, there is no one-size-fits-all insurance policy. In fact, there are dozens of overlapping policy inclusions to choose from.
It is important that you familiarise yourself with all of your options to ensure a small setback doesn't turn into a serious threat. However, there is no need to be overwhelmed; most insurers will work with you to customize a policy that meets your exact business needs. Just make sure they explain any exclusions and limitations that apply to your policy.
To get you started in your search, here is a list of the policy types you are likely to encounter in your search results. They can be categorized into those that are required by law, and those that are optional.
Insurance products that are required by law
Optional insurance products
Theft of contents and stock. Covers you for the theft of any contents or stock within your business. If you transport these goods, you'll need the optional "goods in transit" policy option.
Theft or damage to money. Covers you for any loss of cash due to theft or damage (such as a fire originating in the kitchen).
Building and contents insurance. Covers you for damage to fixtures, fittings contents and stock resulting from a number of unexpected situations including fire, explosion, water damage and vandalism.
Machinery breakdown. Covers you for unexpected equipment breakdown. If your freezer breaks down, it will cover the cost of the freezer's repair or replacement, but not for any spoiled food that results.
Management liability. Covers you and the company from liability due to business mismanagement.
Deterioration of stock. Covers you for the loss of any stock that has spoiled or deteriorated as a result of equipment malfunction.
Portable and valuable items. Covers loss or damage to valuable items that you carry with you.
Business interruption. Covers you for loss of revenue when your business is interrupted by an insured event.
Tax probe. Covers fees you incur if an official authority audits your business.
If you are ready to speak with a consultant about different business insurance options available, simply enter your details in the form. Keep reading if you want to learn more about the different types of cover available.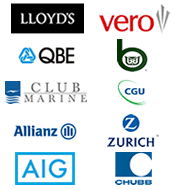 Receive quotes from these direct insurance brands
Note: If you are after an insurance quote for professional indemnity insurance, you'll need to either speak to a broker or use our online engine.
Picture: Luca Bravo - Unsplash
More guides on Finder