What you need to know about rental property repairs vs improvements
Make sure you're getting all the tax benefits of your investment property
We're reader-supported and may be paid when you visit links to partner sites. We don't compare all products in the market, but we're working on it!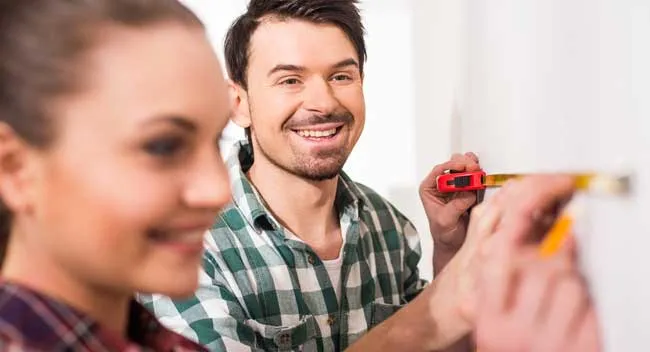 Investing in property carries numerous tax benefits. From negative gearing concessions to depreciation, there are many ways for you to offset your yearly tax bill. So when you or your accountant are preparing your taxes, you'll want to make certain you consider factors such as repairs or improvements you've made on your rental property.
What can I claim?
Generally speaking, the Australian Taxation Office (ATO) allows you to either claim or deduct the costs of three categories of upkeep on your property: repairs, maintenance and improvements.
Repairs
Repairs are any works you carry out on your property to restore something to its original state or function. To meet ATO standards for repairs, whatever work you carry out must rectify defects, damage or deterioration of the property, and must restore it to the state it was in before the damage took place. For instance, if a tree falls on your property and destroys a fence, you'd have to replace the fence using the same materials as the original in order to restore it to the same state it was in before it was damaged. If you decided to replace the damaged fence using a different type of fencing, this would be considered an improvement and would be handled differently.
Michael's stove squeeze

Michael owns a rental property in Marrickville, NSW. His tenants call him and explain their gas stove has stopped working. Michael rings a repairman, who visits the property and inspects the stove. He quotes Michael a price to repair the stove, but also says he can source a new stove at a wholesale price. If Michael asks the repairman to fix the current stove, this would be considered a repair and would be fully deductible. If he goes through the repairman to purchase and install a new stove, this would be considered an improvement and would not be deductible in the same tax year.
Maintenance
Maintenance is any work carried out to prevent deterioration or fix existing deterioration. This could include things such as painting, cleaning, maintaining the plumbing or gardening. Work carried out to prevent or fix deterioration that takes place as a direct result of the property being tenanted can be claimed for the tax year in which it occurred.
Property investor? Compare landlord insurance policies and protect your investment
What can't I claim?
In general, you cannot make a tax claim for improvements on your property in this way. The ATO handles such works differently, so you can still get a tax benefit from any improvements you make.
Improvements
While a repair restores the property to its original state, an improvement is considered anything that makes an aspect of the property better, more valuable or more desirable, or changes the character of the item on which works are being carried out.
Fiona's plumbing predicament

Fiona owns a rental property in Brisbane. Her property manager informs her that the tenants are having plumbing problems. A plumber assesses the situation and reports that the toilet is leaking around the base. Fiona chooses to replace the toilet with a newer, more water-efficient model. This is considered an improvement as it changes the character of the original item.
The ATO will not allow you to claim a deduction for the total cost of improvements in the year you carry them out. Improvements on a property can still have tax benefits, though. These are split into two categories: deductions for depreciation and capital works deductions.
Depreciation
Deductions for depreciation are applied to assets within the property that decline in value over time. These assets that are assumed to have a limited effective life, such as timber flooring, carpets, curtains, appliances and furniture.
Read our guide on property depreciation
Capital works deductions
Tax deductions for capital works include building construction costs, the cost of altering a building or the cost of capital improvements to the surrounding property. Some examples include major renovations to a room, adding a fence or retaining wall, building extensions such as garages or patios and adding structural improvements like a driveway or retaining wall. The rate of deduction for this is generally 2.5% per year for 40 years following construction.
Repairs before renting
Any repairs on defects that existed when you obtained the property are not deductible if they are carried out before the property is rented. This applies even if the repairs were carried out to make the property suitable for tenants.
Replacements
If you have to entirely replace an item, the ATO does not consider this a repair. You would not be able to deduct the entire replacement cost, but you might be able to claim the replacement as a capital works deduction or a depreciating asset.
How do I document it?
The ATO scrutinises rental property tax deductions, so in order to claim any of these deductions you'll need to have everything well documented. The ATO requires that you keep records for:
The property's rental income
The deductible expenses you pay
All costs of purchasing and acquiring the property
Conveyancing contracts
All loan documentation
With any tax matters, it's always best to seek out the help of an accountant or solicitor. It can also be helpful to enlist the services of a tax depreciation specialist.
Check out investment loans from across the market
More guides on Finder