Redeemer review: Brutally brilliant
Brawling makes me feel good.
We're reader-supported and may be paid when you visit links to partner sites. We don't compare all products in the market, but we're working on it!
I'm always wary when a game touts blood and brutality as its biggest selling points. Don't get me wrong, I enjoy slicing and dicing my way through hordes of virtual ne'er-do-wells as much as the next guy, but there's a fine line between the kind of over-the-top violence that plants a stupid grin on your face and the kind that leaves you in need of a strong shower.
So when I first saw Redeemer pitching itself as a cross between God of War and Hotline Miami, two of the most unabashedly gory games in recent history, I was worried. Did first-time developer Sobaka Studio really have the clout to deliver more than another mindless, blood-soaked beat 'em up?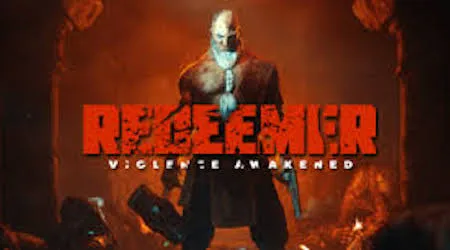 Purchase Redeemer for PC
from Green Man Gaming
REDEEMER is available for PC now.
View details
Thankfully, the answer is yes. While Redeemer has no shortage of blood geysers and dismembered limbs, they're not there to shock or disgust you; rather, violence is used to add weight to the game's satisfyingly meaty combat. This distinction is what elevates Redeemer above other brutal beat 'em ups, making it far more than the brainless brawler it first appears to be.
Here's how a typical encounter in Redeemer goes down: you, as the musclebound monk Vasily, rush into a room full of enemies armed with nothing but your two fists. A soldier comes at you with his stun baton and you parry it, dropping him with a swift right hook to the head. From the other side of the room, one of the soldier's pals starts popping shots at you with his assault rifle. No problem. You grab a nearby chair and hurl it at the sod, sending him crumpling into the wall.
Scooping up the fallen soldier's baton, you use it to stagger your final foe: a hulking brute of a man immune to your fists and feet. You dodge out of the way of his lethal shoulder charge and add the discarded assault rifle to your arsenal. Between the rifle and the baton, you bring the big man down with a satisfyingly heavy thump.
This seamless flow from bare-knuckle brawling to ranged gunplay to melee-weapon fighting makes each and every encounter in Redeemer feel like something out of a Hong Kong martial arts flick. Guns are firing, fists are flying, fire extinguishers are exploding--and yet, for as chaotic as it gets, you always feel like you're in control.
Much of that comes down to the game's meaty combat system. Despite consisting of just two attack buttons, a block and a roll, it delivers depth through the deliberately-paced animations that accompany every strike. Once you starting swinging, you're fully committed, and it's awfully easy to leave yourself vulnerable with a poorly-timed punch. Since just a few solid hits from even the weakest enemy can take you down, you'll want to leave your button-mashing tendencies at the door before setting foot in Redeemer's house.
To help you fend off the many ruthless enemies vying for Vasily's head, Redeemer features plenty of deadly weapons scattered around its diverse environments. Or you can just rip an enemy's weapon right out of their hands, it's your choice. Pipes, wrenches, axes and sledgehammers are all a thrill to wail on your foes with--until they break, that is, which rarely takes long. This forces you to keep moving, dodging and disarming enemies at a pace that leaves most beat 'em ups for dead. As a way of making you feel like the total bad-arse Vasily is depicted as, it well and truly succeeds.
Equally empowering is the way Redeemer handles health. Instead of hunting around for medkits or hunkering down behind cover, you'll need to press forward and execute enemies in gloriously over-the-top fashion to replenish your health. Environmental kills like slamming enemies face-first into fire pits, hurling them into spinning fans and piledriving them into tables all restore Vasily's vitality, as do a variety of brutal executions you can perform after smacking an enemy around for long enough. It's simple, sure, but by making offence your greatest form of defence, Redeemer's combat embodies the same momentum Vasily's quest for vengeance does.
That quest is one worth mentioning, too. Narrative isn't normally a high point for your average beat 'em up, but Redeemer's tale is surprisingly engaging. How and why Vasily became a monk pursued by an army of cybernetic soldiers entices you with intrigue from the get-go, and it doesn't hurt that Vasily himself is far more likeable than the typical murder-loving dudebro many violence-fuelled games star. The simple fact that he doesn't revel in killing probably shouldn't be so endearing, but that says more about society in general than anything else.
We reviewed Redeemer on PC with a copy provided by the publisher.
Redeemer
8.0 EXCEPTIONAL
What we liked...
Blows have a real physicality to them.
Executions add weight to the action without feeling excessive.
Versatile combat makes you feel like a bad-arse.
What we didn't like...
Inconsistent checkpoints.
A tad short.
VERDICT
Redeemer sets out to deliver brutal, satisfying brawling action, and it does exactly that. It doesn't attempt to revolutionise the beat 'em up genre but rather refine it, nailing the primal pleasure of punching the lights out of someone before they do the same to you. It's a tad short at around 4-5 hours, but the blows it lands in that time are more than worth it.
Available for PC
For more information on how finder scores games, check our review guidelines.
---