Red Faction: Guerrilla Re-Mars-tered review: Stop, hammer timer
Guerilla's destruction tech hasn't aged a day but the game still looks dustier than the Red Planet it's set on.
We're reader-supported and may be paid when you visit links to partner sites. We don't compare all products in the market, but we're working on it!
Way back in 2001, a PS2 FPS called Red Faction rocked our world (well, not our world, it was Mars). It would have been a completely forgettable experience had it lacked two things: antics clearly inspired by the Total Recall film and the fact that players could machine gun their way through walls.
Fast forward eight years and that mind-blowing "Geo-Mod" tech was used again in Red Faction: Guerrilla's third-person sandbox framework.
It's the remastered version of that title we're breaking down to the foundations today, the questionably spelled Red Faction: Guerilla Re-Mars-tered.
---
---
The year is 2150 and the saviours of the first game,the Earth Defense Force (EDF), have become a bunch of dicks. They rule the Martian landscape with an iron fist, press-ganging the populace into their mining operations, slaughtering innocents like atrocities earn them air miles, and hunting down the Red Faction. That's the resistance movement that you, Alec Mason, fall in step with. Skills-wise Mason's a demolitions mining expert who knows his way around plastique and a sledgehammer. I think you can see where this is going.
It's been a decade since Guerilla first debuted but destruction systems of its ilk have been few and far between. I think the best modern analogue to what we have here would be Just Cause 3. Mostly you'll wander between enemy compounds, trading lead where you have to with a bunch of chunky sci-fi gats and using a rudimentary cover system. However, Guerrilla is much more about how one man and his explosive ordinance can literally topple an evil empire onto a bunch of shrieking fleshy fascists. C4, it's the great leveller.
The structure shredding here hasn't aged badly at all. Mason perma-carries his sledge so you've always got the means to create your own solutions to very bad situations. If you're hemmed in you can belt out a new exit door in a concrete fence and make a tactical retreat into the harsh Martian landscape beyond. Conversely, you can wade in and deny your enemies cover by turning buildings into swiss cheese. At a certain point, gravity will do its job and the whole damn lot will keel over.
When that happens Guerrilla's bespoke collectible, salvage will pop out of the wreckage. Scoop up enough and you can swap it at a weapon smith at your local safehouse. Low-level upgrades include increasing the max amount of ammo you can lug about, or how many remote charges you can lob before detonating. Trust me, putting the tiger balm on a building with 10 chunks of synchronised C4 is incredibly satisfying.
Steadily progressing through your fight against tyranny will earn you access to greater boomsticks, too. Guerrilla has some doozies. You can disappear people with a Nano Rifle, chain-electrocute a small army with an Arc Welder, fling razor-sharp discs at high velocity with the Grinder, suck stuff into one explosive point in space with a Singularity Bomb, and there's a wide array of rocket launchers for the discerning death-dealer. (I rate the triple-barrel, myself.) You also have a slew of bullet-based weapons but they feel redundant in the face of the ka-boom-boom options.
Speaking of, just as your love affair with explosives starts to bloom you'll have your head turned by another. Mechs. Nothing punches through an EDF complex faster (or boots their vehicles further) than an exo-suit. Progress through missions and you'll earn more locales to explore and meatier vehicles. Some of these rides are mineral extractors repurposed by psychotic minds, others are full-blown military spec killing machines. They go through buildings like butter and turn any idiot underfoot into a pizza base.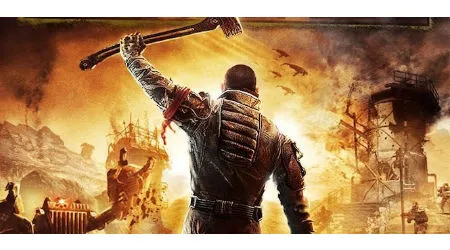 Click to buy Red Faction: Guerrilla Re-Mars-tered
from Amazon
View details
Aside from the odd primitive physics moment, Guerrilla's brand of wanton destruction is timelessly gratifying. It's not all good, though. Graphically, this isn't the gold standard of overhauls. Old folk will make allowances and appreciate seeing this in 4K, barrelling along at 60fps -- modern gamers used to better will wince at this low poly world. Both camps will likely agree on one thing though: even if you did put more lipstick on this pig, Mars is a pretty desolate and boring sandbox. The map insists there are different zones that are unique but you'll swear you're stuck in one big dreary dustbowl.
The plot will induce a bit of head-nodding as well. The grainy pre-rendered cutscenes look ancient, the acting isn't the best and the main twists can be seen coming a mile off. You're looking at a fifteen-hour slog that's endured simply to unlock better guns, more enemy outposts to smush, and a means to make more side missions populate on the map.
Some of the latter are pretty damn amusing, especially the demolition challenges that hand you some implements and put you on the clock to bring a house down. It's such a great concept the developers based a separate mode around it called Wrecking Crew. Think: an online-enabled Olympics where you'll compete to see who's the king of making shit go crash. I'm already stuck in a score-war with my mates. None of them are interested in the dedicated PvP multiplayer and I can't blame them (it's paint-by-numbers stuff with ghost town lobbies).
When you crunch this all down to the foundations, Red Faction: Guerrilla Re-Mars-tered is more hit than miss. Its destructive antics have aged incredibly well and serve to highlight a disappointing lack of GeoMod physics in modern titles.
Fair warning, though: this time capsule is a little rusty around the edges in terms of narrative and graphical spit-shine. That said, I think this rare breed of gratuitous destruction will shatter even the hardest modern gamer heart. Get your ass to Mars.
We reviewed Red Faction: Guerrilla Re-Mars-tered on PlayStation 4 with a copy provided by the publisher.
Red Faction: Guerrilla Re-Mars-tered
7.0 VERY GOOD
What we liked...
Levelling enemy outposts never gets old
Competent gunplay and sweet arsenal
Novelty side missions and mecha vehicles
What we didn't like...
Wasn't pretty then, still isn't today
Large swathes of sandbox emptiness
Forgettable story
VERDICT
Don't get too excited by the Re-Mars-tered part of the title. This is still dustier than the Martian deserts depicted. What hasn't aged a day: the sheer joy of GeoMod building destruction. How did this concept ever die out?
For more information on how finder.com.au scores games, check our review guidelines.
---