RBA cash rate target announcement – May 2015
RBA reduces the official cash rate to a new low of 2.00%.
We're reader-supported and may be paid when you visit links to partner sites. We don't compare all products in the market, but we're working on it!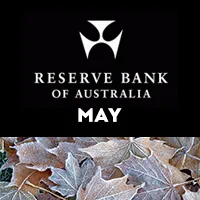 As Australia has recently experienced below trend growth and relatively high unemployment, the Reserve Bank of Australia decided to reduce the cash rate by 25 basis points at today's board meeting.
The finder.com.au Reserve Bank Survey found that 53 per cent of the 34 leading experts forecast the cash rate to hold today. Whereas 47 per cent of the survey participants accurately anticipated a cut, including industry specialists from the Commonwealth Bank and Westpac.
While just six of these industry experts are predicting a further cut to the cash rate later this year, 63 per cent believe interest rates will start rising from as early as February 2016.
What triggered the RBA to cut rates?
The Reserve Bank's decision to ease monetary policy was made with the objective of fostering sustainable growth in demand and maintaining inflation within target.
This lowering of the cash rate has been a result of below-trend growth, high national unemployment and weak domestic demand.
With a high Australian dollar, few inflationary pressures and plummeting commodity prices, the Reserve Bank opted to slash the official cash rate to 2.00%.
By lowering the official cost of borrowing, the Reserve Bank hopes to bolster consumer and business confidence. That is, lower rates will mean that households have lower mortgage repayments which they hope will bolster consumer spending.
Future Interest Rate Hikes
Despite today's decision, finder.com.au money expert Michelle Hutchison, says borrowers should start preparing for future interest rate hikes.
"While most borrowers who have a variable rate home loan will be rejoicing in saving about $47 per month for an average $300,000 home loan from today's rate cut announcement, it looks like the party is over for more rate drops."
"Interest rate hikes are right around the corner. If you're not preparing now for higher costs, you could end up in financial trouble from next year."
The finder.com.au Reserve Bank Survey found that the cash rate is forecast to rise to 4 per cent, meaning that variable home loan interest rates will average at around 7.10 per cent. This could have serious implications for mortgage repayments, with some borrowers paying up to $341 extra each month for an average $300 000 loan.
Mrs Hutchison wants borrowers to prepare for these future rate increases now by making more informed decisions and doing their due diligence: "There would be a lot of borrowers who are not factoring in this higher cost and will need to start preparing now to ensure they won't be under unnecessary pressure from next year by comparing home loans, asking their lender for a discount, switching to a cheaper deal and making fortnightly or weekly repayments rather than monthly."
How will the cut affect my finances?
When the Reserve Bank drops the official cash rate, this makes it more affordable for them to borrow money, meaning that they can lend out money at a cheaper rate. In effect, this means that you can borrow more, or spend less of your income on your home loan.
Home owners: If the rate cut is passed on by your lender, you may see your mortgage repayments fall. On a variable loan of $300 000 over 30 years, with a rate of 5.9% p.a., a 0.25% rate cut could see your repayments decrease by approximately $47 each month.
Home buyers: A rate cut can affect you in various ways if you're a home buyer. As rates are lower, the cost of a home loan when you find a property will be lower. However, a cut in the official rate can see a rise in demand as many choose to enter the property market as housing is more affordable. This can increase competition which can make it difficult for you to secure your property.
Savers: Interest rates are a major incentive to open a savings account as this contributes to the value of your savings over time. Unfortunately, reductions in the interest rate will decrease the amount you earn with term deposits and standard savings accounts.
Investors: Bondholders will be negatively affected by interest rate cuts as it means the value of their long term investment is less, which will reduce their return on investment.
Find out what you should do if the rate is decreased
How will the rate cut affect my mortgage repayments?
You can use our calculator to estimate how much your loan repayments may change after the official rate cut.
Simply enter the details of your loan, and you'll see how the rate cut will affect your monthly repayments.
More guides on Finder