Razer Seiren Elite microphone review
Quick Verdict
The Razer Seiren Elite delivers studio-calibre recording quality at a palatable price. If you're looking to take your streaming career to the next level, this is the microphone to get you there.
The Good
Superb audio clarity unsullied by distance or angle
Built-in high-pass filter and vocal limiter ensure audio remains clear and consistent even in hectic environments
USB connectivity eliminates the need for a separate audio interface
The Bad
The included stand isn't particularly stable
$300 is a sizeable investment, even if it's less than most studio-quality microphones
---
With high-profile streamers racking up millions of subscribers and millions more dollars these days, streaming has officially transcended its origins as a mere pastime and become a legitimate career path for those with personality, charisma and a desire to share both their successes and failures with the online world.
As streaming has grown in popularity, so has the industry surrounding it. Dedicated hardware like the Elgato Stream Deck and Razer's Kiyo webcam simplify the process of broadcasting video on the Internet, giving the average person the means to produce professional-grade streams from the comfort of their own home.
One of the latest additions to this maturing niche is the Razer Seiren Elite, a premium microphone built for streamers unwilling to compromise on audio quality. Featuring a built-in high-pass filter to cut out undesirable background noise and a digital/analogue limiter to minimise clipping even at high volumes, the Seiren Elite promises all the bells and whistles of the studio recording experience without the complexity or the exorbitant price tag. Does it deliver on this promise? Let's take a look.
Audio quality
Microphones live and die by the quality of their recorded audio, and with Razer pitching the Seiren Elite as a pro-grade "streamer-certified" device, you'd expect the sound quality to be pitch perfect. This is very much the case. Speech comes through crisp and clear, absent the slight tinniness and muffled distortion common to many USB microphones. This holds true across a wide range of volumes, too, with the Seiren Elite not only picking up my whispered attempts to thwart it but doing so with an impressive level of clarity.
The Seiren Elite handles loud speech with equal aplomb. Shouting into the microphone resulted in only minimal clipping thanks to the integrated vocal limiter, and while you probably wouldn't want to conduct an entire stream with your vocal cords cranked to 11, the occasional roar of triumph isn't going to leave your audience scrambling for the kill switch.
Just as critically, the Seiren Elite has no trouble capturing clear speech from multiple angles and distances. Regardless of whether I was leaning back from my desk, right up on the mic or shaking my head at another foolish Fortnite death, my voice remained balanced and clean. The automatic equalisation did a bang-up job, too, adjusting gain on the fly to maintain a stable volume no matter where my head was at. Given how important enthusiasm and energy are to a captivating stream, the Seiren Elite's consistency at different distances, angles and volumes gives it a big leg up on the competition.
A brief test of how the Seiren Elite handles the strum of an acoustic guitar
Another common issue for up-and-coming streamers is background noise. Traffic, roommates and even the fans on your gaming PC can sully your stream with ambient sound, but the Seiren Elite features a built-in defence for this. A high-pass filter detects low-frequency sounds like the rumble of passing cars and strips them out from the audio stream, leaving higher-frequency sounds like your voice intact.
To test this, I tried recording amidst a cacophony of heavy footfalls, revving cars and a running air conditioner, and each time the Seiren Elite managed to clean up the audio far better than I expected. Only in the case of the revving engine outside was the background noise still audible, but even then it was so quiet you couldn't hear it unless you actively tried.
Since the Seiren Elite was doing so well, I decided to step up my testing by thumping my fist on my desk, much as an enthused shoutcaster might during a particularly intense match. This had a far more noticeable impact than the ambient noise, with the Seiren Elite's filter muffling my voice as it attempted to compensate for each thump. While this didn't make for the most ideal listening experience, my banter was still discernible and the thumps were only mildly off-putting. As a countermeasure for the kind of violent actions you wouldn't want to be performing around your computer anyway, it's seriously impressive, and it makes the Seiren Elite a viable choice for streamers living in noisier households and neighbourhoods.
Set-up
Further to its aim of bringing studio-quality audio into the home, the Seiren Elite dramatically simplifies the set-up process typically associated with professional-grade microphones. Where traditional vocal microphones require a separate audio interface and expensive XLR cables to hook up to a standard PC, the Seiren Elite connects via a regular USB port. Better yet, it's all plug and play. Once you've connected the microphone, any modern operating system will automatically detect it and install the necessary drivers so you can start streaming immediately.
Additionally, the Seiren Elite features handy gain and volume knobs on the microphone itself, saving you the hassle of clicking through menus and fiddling with settings to adjust volume mid-stream. There's also a convenient mute button just below the knobs in case you need to stop for a bite to eat or to shout at your housemates to keep the racket down.
Design
The visual appeal of a microphone isn't normally of much concern – after all, your audience isn't going to see it. That said, Razer has taken care to make the Seiren Elite look every bit the premium device it is, furnishing the microphone with the same slick design it does all of its gaming hardware. Rounded edges and a sleek black finish embody the professional attitude the Seiren Elite is going for, while the microphone itself has a reassuring weight to it that further speaks to the quality of the components inside.
A microphone's design isn't all aesthetics, though. Size and stability can have a significant impact on usability, especially for the more energetic streamers out there. This is where the Seiren Elite takes a bit of a knock.
First and foremost, the Seiren Elite isn't the smallest microphone around. While it's no bigger than other studio-quality mics, it might be a little intimidating if you're upgrading from a headset microphone or something similar. Still, this is something you'll have to get used to if you're serious about stepping up your streaming career.
The bigger issue is stability. Out of the box, the Seiren Elite comes with a small stand that does its job well enough in calm, controlled circumstances. Should the excitement of a heated match or the frustration of an unfair loss overtake you, however, that small stand becomes a problem. Jostle your desk or swing your arms too wildly and the Seiren Elite will start to rock precariously to the point where one overzealous gesture could send the whole thing toppling over. No audience wants to hear that.
To be fair, Razer does recommend installing the Seiren Elite on a proper mic arm, solving both the size and stability issues in one fell swoop. That's an extra purchase, though, so factor that into your budget if you want to get the most out of the Seiren Elite.
Verdict
With the seemingly endless growth of Twitch, YouTube and other video platforms, streaming is only getting bigger and bigger by the day. No longer do you need a sound-proofed studio and thousands of dollars of audio equipment to beam your lovely voice out to the World Wide Web; thanks to devices like the Razer Seiren Elite, you can now produce high-quality streams from the comfort of your own home without going broke in the process.
That is, in a nutshell, what the Seiren Elite both promises and delivers. If you're an aspiring streamer ready to ditch your old headset mic and step up to the big leagues, it represents a smart balance of premium performance and reasonable pricing. At half the cost of a traditional studio microphone and without any of the complex set-up, the Razer Seiren Elite is a wise investment for any serious streamer.
Pricing and availability
The Razer Seiren Elite retails for $299.95 and can be purchased directly from Razer or from retailers like Amazon, Mighty Ape and Dick Smith Electronics.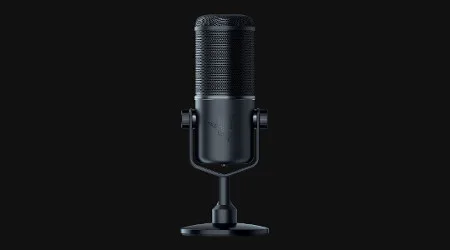 Buy Razer Seiren Elite
from Razer
Built for streamers, the Razer Seiren Elite USB microphone brings studio-quality recording capabilities into the home at an affordable price.
View details
---
Latest technology headlines