Razer Mamba + Firefly Hyperflux review: Is wireless really worth it?
Razer's ergonomic Mamba is as sound as ever but wireless power isn't worth the cost or hassle.
We're reader-supported and may be paid when you visit links to partner sites. We don't compare all products in the market, but we're working on it!
Quick Verdict
Hyperflux is a fun and flashy experiment that is moored by its unreasonable price tag.
The Good
(Almost) the same fantastic Mamba Tournament Edition.
Flexible mat with interchangeable cloth.
Customisations galore.
The Bad
Steep price tag
Mamba Hyperflux only works with the bundled Firefly Hyperflux mat.
---
Note: In our original review of the Razer Mamba Hyperflux, we experienced multiple disconnects a day. Since updating the Razer Synapse application we haven't experienced a single disconnect. So if you're having trouble yourself, consider that your first course of action.
---
Wherever you look, the tech and gaming world is freeing itself from the oppressive restraints required to charge our precious smartphones, peripherals and gadgets. The tech world is going wireless but is this small slice of convenience worth the admission fee or are we better off biting the bullet and giving in to our tangly overlords? That's a question I'm constantly wrestling with when it comes to Razer's latest whack at wireless, the Razer Mamba Hyperflux; a wirelessly powered RGB gaming mouse.
Design
The packaged mouse, the Razer Mamba, is more or less the same tried and true Mamba we already know and love bar some fancy chroma racing stripes down the side of the mouse and more notably, the Mamba's Adjustable Click Force mechanism; a feature that softened and hardened the amount of force needed to fully click on the right and left clicks. In that sense, it's closer to the Mamba Tournament Edition though even it has the RGB strips up the side.
Otherwise, the Mamba is still an ergomaniac's dream, with the same raised peak at the head of your metacarpals, and sloping rear for your palm to rest easy on. It also boasts the same silicon grips down each side that Razer has been using more and more with its mouse range. This is becoming something of a hallmark feature for Razer's mouse collection and is something I immediately miss when toying with other brands with smoother sides.
I don't personally miss the RGB-lit sides and Adjustable Click Force, but it's still important to note you are not getting the same Mamba in this package.
The glowing strip around the star of the show, the Firefly Hyperflux power mat, somewhat makes up for the Mamba's omitted RGBs anyway.
The wireless power mat itself is a nice piece of kit, too, if not entirely necessary. Its bendable 355mm x 282mm base plugs directly into your computer via a standard USB connection and features both hard and cloth options depending on the situation.
I won't waste too much time talking about the Mamba's performance here. Its 5G optical sensor with true 16,000 DPI offers the same flawless experience as its unbundled brethren, its sensitivity/DPI rockers offer a wonderful change of pace in the heat of battle and the proprietary software still offers an insane amount of customisation options. As I said above, some will miss the Mamba's Adjustable Click Force feature, particularly sniper mains, but that was quite a luxury anyway.
I found the Mamba as reliable as ever in PlayerUnknown's Battlegrounds. The DPI rockers are especially handy when switching from third-person out in the open, to close-quarters first-person or sniping from a distance.
Let's talk more about the feature that gives this bundle its intimidating price tag, the Firefly Hyperflux wireless power mat. When it works, the Firefly Hyperflux is a godsend. Wireless operation without a care or worry in the world about battery drainage is a comfort fit for a king. A molly-coddled king with more money than sense, but a king nonetheless.
However, the Mamba Hyperflux mouse only works with the Firefly Hyperflux and not as a standard wireless mouse. That's the price you pay for going wirelessly powered. There is a port for a micro USB, but it's guarded by two obstructive rails, forcing you to use Razer's proprietary micro USB plug. Incredibly inconvenient if you planned on stowing your mouse for a weekend getaway.
Mamba Hyperflux specs
Wireless Power
Adaptive Frequency Technology
Razer 5G optical sensor with true 16,000 DPI
Up to 450 inches per second (IPS) / 50 G acceleration
Nine independently programmable Hyperesponse buttons
Razer Mechanical Mouse Switches
Cable length: 2.1 m / 6.89 ft
Gaming-grade tactile scroll wheel
Razer Chroma™ lighting with 16.8 million customisable colour options
1000 Hz Ultrapolling
Razer Synapse 3 (Beta) enabled
Approximate size: 124.7 mm / 4.90 in (Length) X 70.1 mm / 2.75 in (Width) X 43.2 mm / 1.70 in (Height)
Approximate weight (excluding cable): 96 g / 0.211 lbs
---
Pricing and availability
The Razer Mamba Hyperflux + Firefly Hyperflux will set you back roughly $399 depending on where you purchase it from. Both Mwave and Scorptec will charge you just that and Razer's official Australian store doesn't seem to stock it just yet. Considering this is closer to the Mamba Tournament Edition, let's be generous and say the Mamba itself is worth $159.95. Couple that cost with the $89.00 Firefly Gaming Mat and you hit roughly $248.95. With that in mind, what you're paying for the Hyperflux wireless power component is about $150.
That's pretty steep and from my experience, not a cost that's totally justified. It's still a flashy set-up though so I can see how some might be tempted. For that crowd, I'd suggest settling for a Firefly gaming mat and a Razer Lancehead or Basilisk.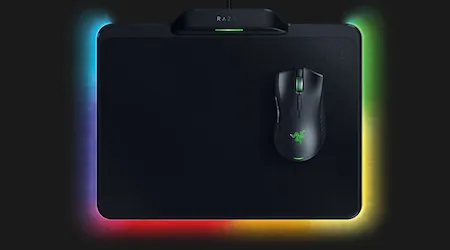 Razer Mamba HyperFlux Wireless Mouse + Firefly HyperFlux Charging Mouse Mat
from Amazon
The next generation of wireless gaming that offers indefinite wireless power without the need to recharge.
View details
Verdict
Battery-life is one the biggest criticisms of the original Mamba so the luxury life of wireless power and operation make a brilliant gaming mouse even better. However, the missing features in the Mamba Hyperflux, like Adjustable Click Force and the fact you can't use this mouse without the bundled Firefly Hyperflux have me questioning if the upgrade to wireless power is actually worth it.
More guides on Finder