Razer Kiyo vs Logitech C920 review
Ruminate while Razer illuminates more possibilities.
Up until now, the Logitech C920 has been a classic staple of streaming – the affordable unit that the Twitch crowd flocks to when it comes time to broadcast their mug to the world. Today, Logitech's unchallenged five-year reign has been upset by the Razer Kiyo, a worthy contender that offers an impressive features set, a comparable price and a selling point-of-difference that makes it more – as the kids say – lit.
Shedding light on key features
What sets the Kiyo apart from the C920 is a sexy circular housing that harbours a large ring light. It's a sad but true fact that playing in a dank cave is how most gamers enjoy their hobby, mostly because lights can reflect off one's screen, obscuring the action and getting you killed and/or teabagged. Having the adjustable ring of light on the Kiyo is a godsend in this regard as it fires out illumination exactly where you need it – onto your pretty face. This is a great solution for smaller streamers who are unlikely to have an expensive and finely-tuned illumination setup in their room. The Kiyo does most if not all of the legwork you'll need here, and it beats the hell out of a hastily rigged desk lamp or an overwhelming overhead light source.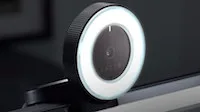 Razer Kiyo Ring Light Camera
from Amazon
Razer Kiyo is a desktop streaming camera with a powerful, multi-step ring light that you can dim or brighten on command.
View details
Better yet, this ring-delivered light isn't harsh nor does it look too focused on screen. Even at the medium or high settings, the illumination the Kiyo provides appears to be quite soft and indirect – almost like a professional softbox setup, but just in a smaller form. Couple that with the convenience factor of being able to physically adjust the light level to what you want in no time at all. No pausing the game and irritating your viewers by having to dig into menus, just reach out and twist the ring clockwise or counter-clockwise to dial it up or down. This versatility makes the Kiyo perfect for any streamer who has to share a common area with killjoys who want the main room lights off as night-time progresses.
Build quality of the unit
Aesthetically, I prefer the smooth circular lines of the Kiyo over the utilitarian look of the C920. At first look, the Kiyo's "lowercase h" clamp design seems odd and too wide to hang onto some of the thinner monitors out there. But, after manipulating the hinges and balancing the weight, I managed to comfortably fit it to a variety of test monitors and TVs. Once affixed, getting oneself in frame is a cinch as well, thanks to a lateral hinge that pivots the business end of the camera up and down.
The overall build quality is solid and has an acceptable weight to it, plus you get a 2m braided cord and a standard 1/4" thread underneath. This effectively lets you affix the Kiyo to pretty much any photographic tripod on the market (for the record, the C920 offers this as well). If you're an IRL streamer on the move, it should also be noted that the Kiyo travels better than the Logitech C920, thanks to the way it neatly folds in on itself to resemble a stack of three hockey pucks.
Camera quality
When it comes to resolution and frame rates, the C920 and Kiyo are at an impasse. Both offer 720p/60fps or 1080p/30fps modes, and there's honestly not a massive difference between either unit when it comes to sharpness and image quality, though I did notice that the Kiyo handled motion markedly better. In a side-by-side, the C920 did seem to pick up a tiny bit more detail, such as my five o'clock shadow and bloodshot eyes at three in the morning. (Honestly, I'm not sure if that can be seen as a plus for sleep-deprived streamers.)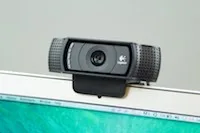 LOGITECH USB C920 HD Pro Webcam
from The Good Guys
Take your video communications to the next level.
View details
I also noticed a large difference in colour reproduction between the two units. After unboxing, I had to spend ten minutes or so tweaking the colour temperature of the Kiyo (in the straightforward and powerful Razer software suite) to remove a tinge to my pasty skin. It wasn't extreme – nothing approaching an unhealthy, Trump-esque orange glow – but definitely a shuffle towards jaundice.
That said, I found that the Kiyo's auto-focus was more reliable and it handled sudden exposure changes better. Should an unforeseen bright light event occur during your stream – perhaps from a thrown flashbang because you've been swatted by some idiot – the Kiyo will take that in its stride and adjust much quicker. Generally speaking, the Kiyo got slightly higher marks in all low-light conditions. The C920 looks to struggle a bit with motion in mid-to-low lighting conditions – wave a hand and the Logitech will spawn finger after-trails that the Kiyo won't. By and large, Razer's offering delivers a more stable frame rate in the dark, too, while also producing far less grain in the darker tones of any shot.
Verdict
Before the final comparison, I should probably mention that the best webcam solution for streamers is, in my humble opinion, an Elgato Cam Link hooked up to a decent SLR that allows HDMI out. That fact has not been altered today (though it is a very expensive option when compared to these two fine units). Mind you, if you're looking to keep the costs down and the output quality high enough, the Razer Kiyo and the Logitech C920 are both solid, cost-effective options.
Both units are so close in what they deliver, which way you go should be more determined by the environment you plan to stream in. If you are an existing streamer and C920 owner, hoping to appear more professional via a unit that offers sharper image and better quality – there's no need to switch brands. Despite the company name, Razer offers no massive edge here.
However, the benefits of the ring light should not be underestimated by anybody starting out. Lighting, particularly if you want to green screen yourself, can be a pain in the butt to setup correctly – especially if you don't have a dedicated space where your lighting rig(s) can be left undisturbed. In this regard, the Kiyo is not just an incredibly competitive webcam unit, but an extremely versatile and compact mini-studio of sorts. Basically, it's just more handy to have around and it now occupies the permanent monitor position once owned by a C920.
Latest technology headlines
---
For all the latest in TV and movie streaming, follow and subscribe below
---