Razer Hammerhead USB-C review: C the light
Go green with Razer's Hammerhead range.
We're reader-supported and may be paid when you visit links to partner sites. We don't compare all products in the market, but we're working on it!
Quick Verdict
The jump to USB-C comes at a pricey admission fee but the Hammerhead family, C or not, offers one of the cleanest (and tidiest) in-ear listening experiences I've experienced in a while. It also offers some heavy bass to boot.
The Good
Tidy anti-tangle cord
Bright green cord and illuminated buds make a statement and are easy to spot
Strong bass that makes mobile gaming a blast
The Bad
Pretty penny for USB-C upgrade
Limited support for smartphones
No adapter option
No Switch support
---
Razer's gaming headset range has made a name for being particularly bassy. While others focus on a balanced auditory experience across a range of frequencies, Razer is more concerned with making you feel that explosion or that thumping bass drum, and while Razer's in-ear Hammerhead's aren't necessarily made for console or PC gaming, they are no different.
Design
Generally, I steer clear of Razer's glowing green aesthetic. If I'm wearing something hanging out of my ears or around my neck, I want it to be somewhat stylish and, at the very least, subtle. The bright green anti-tangle cord of the Hammerhead USB-C doesn't necessarily tick either of those boxes, but somehow, I still find it incredibly appealing. The illuminated earbuds aren't subtle by any means, but their discrete size counters the radioactive-waste-coloured cord.
The anti-tangle cord is an absolute godsend too. The flat fettuccine-shaped cord's resolute resistance to tangling has not wavered in the few weeks I've spent with the Hammerhead USB-C. In fact, in some cases, the rigid cord can be almost too resistant as it often twists an earbud out of my ear if I turn my head. Weirdly, this was always the right ear, so the shape of my ear canal is probably partly to blame too.
The earbuds themselves are quite flashy too, with green Razer logos that illuminate when connected. They're made from some sturdy aluminium material and have a rough, textured ring that makes them easy to handle. They also snap together magnetically, which aside from being just plain cool, also helps avoid tangling.
It's important to remember that these are made with the Razer Phone in mind. This means that with the Razer Phone, and with a small list of compatible handsets (below), you can access calls, recordings and music. A shortlist of partially supported handsets will give you music playback but no calls or recording support.
For everything else, the Hammerhead USB-C exhibits some... strange behaviour. Without doing my research first, I instantly plugged the Hammerhead USB-C into my Samsung Galaxy S7 and found that, when receiving calls, the ringtone would play through the headphones but the call would flick to loudspeaker.
I've reached out to Razer for more information about future compatibility and will update this review the moment I hear something back, but for now, here is the list of phones that support Hammerhead USB-C.
---
Full Compatibility (calls/recording supported)
• OnePlus 5
• HTC U11
• Razer Phone
• Xiaomi Mi 6
• Xiaomi Mi Max 2
Limited Compatibility (Music playback only)
Huawei Mate 9
Huawei Nexus 6p
Moto Z
LG Nexus 5x
Google Pixel
---
Unfortunately, there's no option for a USB-C to 3.5mm audio jack adapter either. So unless your suite of devices has USB-C support, you may want to consider the Hammerhead V2 option (same headset, 3.5mm audio jack).
Audio
These discrete (in size, not colour) earbuds have a lot of oomph for a pair of $80 to $90 headphones, and its punchy bass can be almost a little too heavy in certain situations.
Personally, I'm a big fan of Razer's addiction to bass and I've found myself favouring the Hammerhead USB-Cs over some perfectly capable AKG in-ears for listening to music and watching video on my USB-C obsessed MacBook Pro.
Hammerhead USB-C Specs
USB-C connector
Custom-tuned DAC for clean, unprocessed audio
Flat cable/tangle-free
Bi-flange ear tips in three sizes
In-line microphone and volume control
I tested the Hammerhead USB-C headset over a few hours of PUBG on mobile (with the help of a friend's compatible HTC U11), and when the chips were down, I ended up having to fumble for the inline volume controls before I burst an eardrum. I should also admit I was subsequently robbed of a tasty chicken dinner.
Otherwise, the audio is crystal clear and the mic is outstanding for taking and making Skype calls.
Aside from the deep bass, the Hammerhead USB-C has a nice balance across mids and highs. Vocals come through without a hitch and the left-to-right spatial audio still works a treat when creeping around in-game or listening to a live show. The sheer clarity of player's footsteps and gunshots will give you the edge if you're playing on mobile (or on a PC if you've got an available USB-C port), even without the bells and whistles of virtual surround sound or Turtle Beach's Superhuman Hearing.
Razer likes to bang on about the Hammerhead's 10mm drivers (larger than your average headphone driver) but I'm not sure that's really making the biggest difference here. The big draw for audiophiles will probably be the custom-tuned digital-to-analogue (DAC) converter, which (Razer claims) offers a pure listening experience with uncompressed audio that leverages "digital audio output".
Price
The upgrade to USB-C is going to cost you. While the 3.5mm audio jack version comes in at $94.95, the jump to USB-C will cost you an extra $30, coming in at $124.95. That's a bit steep considering it's basically the same headset, but that's the price you pay for convenience.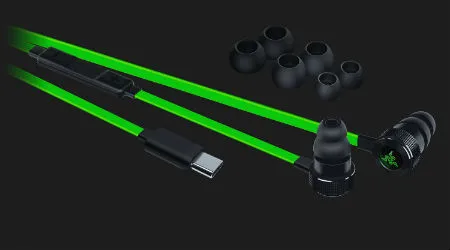 Verdict
While I'm not normally one for Razer's lairy neon-green flair, I'm all for it when it comes to these concealed buds. The strip of fluoro-green, anti-tangle cord is subtle enough to conceal without much worry and bright enough to make a bit of a statement. However, the anti-tangle cord works almost a little too well in some cases. I've found the right earbud, in particular, tends to twist out of place with the slightest of movements.
Still, the Hammerhead USB-C is an ace little pair of buds that would be a million times better if it was compatible with my Nintendo Switch.
Alternatively, you can opt for the Hammerhead V2, which comes with a traditional audio jack and is also $30 cheaper. Whether you're gaming on the go or just listening to some bassy tunes, I couldn't recommend the Hammerheads enough. As mentioned, they offer clean and clear mids and highs, with enough emphasis on lower frequencies to give you an edge in combat.
The real question is whether they're worth the asking price. Due to my own propensity for losing small, expensive objects, I try not to spend over $50 on in-ear headphones. With that said, the bright green colour anti-tangle cord, the magnetic buds and the included carry case make them hard to lose. Personally, I don't think the jump to USB-C warrants a $30 price hike, but if you own a fancy new smartphone that has done away with the jack, it might be your best option.