Razer Cynosa Chroma gaming keyboard review
The Cynosa Chroma offers one of the most customisable keyboard experiences currently available.
We're reader-supported and may be paid when you visit links to partner sites. We don't compare all products in the market, but we're working on it!
The premium keyboard market is almost completely dominated by mechanical switches these days, with few companies still manufacturing membrane keyboards in the $100+ range. However, luckily for those who prefer the soft and silent touch of membrane switches, Razer is keeping the high-end membrane keyboard alive with its latest programmable gaming keyboard, the Razer Cynosa Chroma.
A full-size board with 104 individually-backlit keys, the Cynosa Chroma is all about customisation. Using the accompanying Razer Synapse app on your computer, you can define unique lighting for each separate key from a palette of over 16.8 million colours, select from a variety of trippy lighting effects like spectrum cycling and pulsing patterns, or sync the board up with compatible games like Overwatch and Quake Champions for unique lighting patterns that trigger when you activate select abilities in-game.
The level of customisation possible with the Razer Synapse app borders on the absurd, and it gives the Cynosa Chroma a leg up on its less-malleable mechanical brethren. If you want to stand out from teammates, competitors or co-workers, this could well be the keyboard for you.
Razer Cynosa Chroma Specs
Size

457mm x 174mm x 32. 8mm
Weight

862g
Backlighting

16.8 million colours
Connectivity

USB 2.0
Switch type

Membrane
Price
Upsides: Why you'd want the Razer Cynosa Chroma
Tremendously customisable lighting options. With the ability to specify different colours for each of its 104 keys, program lighting patterns based on your input or the games you're playing and tweak everything from timing to colour gradient to the width of the shockwaves your key presses trigger, the Razer Cynosa Chroma offers an unparalleled level of personalisation. Whatever your lighting preference, the Cynosa Chroma will almost certainly facilitate it.
Plenty of functional configuration, too. Every single key on the Cynosa Chroma can be remapped to another key or even a mouse button, to the point where you could have the entire numpad bound to your favourite Overwatch character's ultimate ability to ensure you never hit the wrong key. You can also map keys to launch specific programs, which can be handy for booting up screenshot utilities or social media apps without needing to minimise the game or use the mouse.
Full macro support. The Razer Synapse app allows for unfettered macro creation, enabling you to record any combination of key presses and then bind it to a single key or keyboard shortcut. This can allow for quick and easy execution of long combo moves and common functions like switching between multiple audio devices.
Comprehensive keyboard stats and heatmaps. The Razer Synapse app can record all your keyboard input in compatible games and present it in the form of a heatmap, letting you see what keys you're hitting the most. For competitive gamers looking to optimise their response times, this can be a crucial tool for designing macros or highlighting areas of potential improvement.
Downsides: Why you might not want the Razer Cynosa Chroma
Membrane switches don't hold a candle to mechanical ones. This is somewhat a personal preference, but the predominance of mechanical keyboards in the premium keyboard space speaks to the general consensus that their firmer feedback is superior for enthusiast gamers and keyboard users alike.
Squeaky when pressing certain keys. It may be a one-off with our review unit, but certain keys on the Cynosa Chroma squeak when pressed, making the board feel decidedly cheap. Since the Cynosa Chroma is very much not cheap, this is a little troubling.
Takes up a lot of space. The Cynosa Chroma is a big keyboard, stretching nearly 46cm across and 17cm from top to bottom. Not only does this mean you'll need a decent chunk of desk space to set it up, it makes transporting it a challenge, too. Thankfully, it does only weigh 862g, so you won't have to bend double to lug it around, at least.
Where can I get it?
The Razer Cynosa Chroma retails for $99.95 and can be purchased directly from the Razer website using the link below.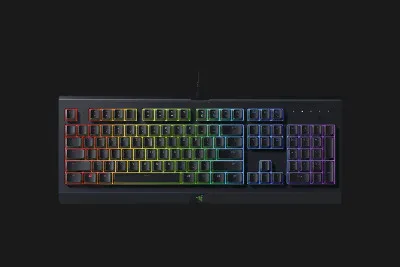 Buy Razer Cynosa Chroma gaming keyboard
from Razer
The Cynosa Chroma gaming keyboard features 104 individually backlit membrane switches and can be customised with a lighting palette of over 16.8 million colours.
View details
---
More guides on Finder