Razer Core X eGPU review: A cheaper way to super-size your laptop
Great gaming experiences in a small, affordable box.
We're reader-supported and may be paid when you visit links to partner sites. We don't compare all products in the market, but we're working on it!
Quick Verdict
The Core X is a solid follow-up for any price-minded gamer looking for a viable means to super-size their laptop.
The Good
Great form factor, if a little large
Whisper quiet and well ventilated
A considerable price drop on the V2
The Bad
Better integration with the Razer Synapse software would be nice
Did you really have to take all of our extra USB ports away?
---
Not too long ago I got acquainted with Razer's "Core" concept. In essence, the Core products are eGPUs, portable-ish boxes that can be fitted with your garden variety desktop graphics card. Via the power of a Thunderbolt 3 cable, you can then pipe all of that raw gaming power into a compatible Razer laptop. All of a sudden, your Clark Kent workhorse lappy becomes a Superman that laughs in the face of AAA games cranked to Ultra settings.
I was sceptical of the Core V2 with its "portable on the go, powerhouse at home" motto. I wound up being a believer in the end, though there was one major downside: the cost. Fortunately, Razer's done a rethink and now we have the Core X, an eGPU which says it'll do the same job as its older brother at almost half the price.
The Test
Much like my original review , my testbed revolved around the late-2017 "premium" version of the Razer Blade Stealth. She's packing an Intel Quad-Core i7 (8th Gen) 8550U / 1.8GHz and this can be feasibly bumped to up to 4GHz (but I kept things standard for the tests). Memory-wise, we have 16GB of LPDDR3 RAM @ 2133MHz, and there's a basic Intel UHD Graphics 620 handling the visuals when the Core X isn't hooked up. It runs Solitaire just fine but not much else.
That said, I'm going to focus on this Ultrabook in its faux-desktop transformation – hooked up via Thunderbolt 3 cabling to a Core X that's feeding off an Nvidia GeForce GTX 1080. On top of the price of the laptop, those two items will set you back an extra AUD$469.95 and AUD$549.95, respectively.
| Name | CPU Test | GPU Test | Single core | Multi-core | OpenCL |
| --- | --- | --- | --- | --- | --- |
| Geekbench (Razer Blade Stealth) | 4614 | 22744 | 4614 | 14483 | 22744 |
| Geekbench (Razer Blade Stealth + Core X) | 4572 | 172133 | 4572 | 14498 | 172133 |
| Cinebench R15 (Razer blade stealth) | 515cb | 47.62fps | - | - | 47.62fps |
| Cinebench R15 (Razer Blade Stealth + Core X) | 520cb | 96.14fps | - | - | 96.14fps |
| Razer Blade + Core X | Time Spy | Fire Strike Extreme | Fire Strike |
| --- | --- | --- | --- |
| 3DMark | 5116 | 9609 | 6159 |
Form Factor and Sexiness
Once again, I have to say that while the Blade Stealth isn't cutting edge (heh) as a gaming laptop on its own, it sure does look nice as a day-to-day solution. My inner-Goth was pleased to be able to test the black version (it also comes in "gunmetal" apparently) though it doesn't stay completely black for very long. This high-quality aluminium case is slim and sexy at 1.35kg, 13.8mm (height) x 321mm (width) x 206mm (depth), but its looks are easily marred by fingerprints. Just picking this up will introduce unsightly smudges, and it's the same story with either side of the trackpad.
Side by side, the looks of the Razer Blade Stealth complement the design of the Core X quite well. Rather than being a big rectangular chunk of black metal, this eGPU has had its corners shaped to mimic the curves of the Stealth. The Core X is a helluva lot less susceptible to fingerprints, too, which is a good thing because its considerable weight requires you to get very hands on with it. Technically speaking, there's a handle on the back of the unit, but don't be fooled – it's not for lugging so much as it is for sliding out the GPU cradle within.
The first thing you lose out on between the V2 and the X is footprint size. This beast is noticeably larger, measuring 23 x 16.5 x 37.5cm (HWD), compared with the V2's 21 x 10.5 x 34cm. It's basically a Mini-ITX case that only holds one single GPU and a 650-watt ATX power supply. Mind you, the graphics card you use can now be a three-slot-wide one (something the V2 was too small to house) and the V2 only had a 500-watter in it. So that's a plus.
Back to the downsides, though. The drop in price has meant the dropping of Razer's lovely Chroma lighting. The V2 let you highlight the GPU within with an angry red glow – your opponents will have to squint through this grille with a torch to see what you're packing. That's bad news for the peacocks among you. Personally, I wasn't fazed.
Connectivity and Set Up
Unfortunately, a lot has changed here. In order to cut costs, Razer has decided to remove the Ethernet and four USB 3.0 ports we had on the V2. Laptops aren't known for their overabundance of USB I/O which made the docking station-like nature of the V2 much appreciated. However, it's a loss with a low-cost solution since you can just buy a cheap USB hub for your laptop. I can't be as upbeat about the murdering of the Ethernet port – the stability they provide is useful to have and they're like hen's teeth on modern laptops.
Like the V2, you're connecting via a Thunderbolt 3 port with the (rather short) cable provided. But whereas the physical installation of the GPU is a cinch, I found the software side of things to be less intuitive. Though the Razer Blade Stealth was "seeing" the new GPU in Windows 10, my benchmark results were woeful enough to make me think that couldn't be true. Cue twenty minutes of registering to and updating two Razer software suites and some similar hoop jumping for Nvidia's GeForce Experience software. This process wasn't unexpected, but the two installations kept interfering with one another, which resulted in a few fresh-slate reboots to figure out what the correct sequence needed to be. Not ideal.
Gaming Performance
Mind you, once everything was up-to-date and communicating as it should, the Core X delivered the gaming goods. Just to reiterate: the laughably underpowered Intel-UHD-620 graphics chip in the Blade Stealth is nowhere near powerful enough for the modern, serious gamer. The only thing you'll be able to play at a stable framerate will be a bit of Rocket League and/or WoW. Anything above this will be an ugly PowerPoint presentation.
As we move to the main course (of chicken dinners), PUBG performed just as well as my old Core V2 tests – 93 fps on 3200 x 1800 with acceptable dips in city areas. Cranking everything up on Ultra for the Witcher III looks as gorgeous as ever on max res. CD Projekt's beautiful medieval sandbox flitted by at a solid 40 fps when I was on horseback and I spent far too much time marvelling at Geralt's luscious locks (Nvidia HairWorks – because you're worth it). Last, but not least, I dipped back into one of Ubisoft's best-lookers, The Division. Let me tell you, the pandemic post-apocalypse never looked so good, thanks to Ultra settings and a solid 50 fps.
Conclusion
Though the Core X is markedly cheaper than its predecessor, no expense has been spared and no corners cut where it counts. This still delivers reliable performance and, assuming you're fitting it with a halfway decent GPU, it'll pipe across some serious visuals to your laptop of choice. If you value that over bells, whistles and a small footprint, make a purchase without delay.
Verdict
The Core X is a solid follow-up for any price-minded gamer looking for a viable means to super-size their laptop. Of course, it's dropped some creature comforts and has put a lot of weight on, but the performance you're getting for the fraction of the price is totally worth it.
Pricing and availability
The Razer Core X is available at Razer Store and select partners. It retails for AUD$469.95.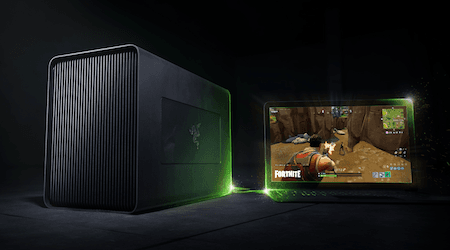 Razer Core X eGPU Specs
Display

13.3-inch Touch QHD + IGZO
Resolution

3200 x 1800
Graphics

Intel UHD Graphics 62
Memory

16GB RAM Dual-channel LPDDR3-2133MHz
Processor

Intel i7-8550U (Quad Core, 8 threads 6MB Cache @ 2.0 GHz (up to 3.9 GHz)
Storage

256GB / 512GB / 1TB SSD (PCIe M.2)
Battery

53.6Wh
Software

Windows 10
Weight

1.35kg
Dimensions

13.8 cm (Height) x 321 mm (Width) x 206 mm (depth)
Webcam

1280 x 720 @ 30 fps (HD)
---