Razer Blade Pro Full HD review
Razer's latest gaming laptop takes portable power to the next level.
Quick Verdict
With the graphical grunt of a high-end desktop gaming PC, the Razer Blade Pro is a stunning example of the future of portable gaming. If you can swallow the premium price tag, you won't be disappointed.
The Good
As powerful as many modern desktop gaming PCs.
Incredibly responsive both in-game and out.
Packed with features like Chroma lighting and a Thunderbolt 3 port.
That gorgeous 120Hz screen.
The Bad
Pretty dismal battery life.
$3,200 is a whole lot of money.
---
For a long time, gaming on-the-go meant compromise. As convenient as systems like the Gameboy or the Nintendo DS were, they always played second fiddle to their home console brethren, their games lacking the scale and complexity of the latest blockbuster titles.
This just isn't the case anymore. Now we've got the Nintendo Switch delivering the likes of DOOM and Skyrim wherever you want, phones recreating the full Fortnite experience on a 5-inch screen and laptops cramming the power of a high-end gaming rig into slim, portable packages that take a TARDIS-like approach to the laws of physics – somehow, they're bigger on the inside.
Within the latter category, Razer has established itself as one of the leading brands thanks to its Razer Blade line of gaming laptops. Boasting top-of-the-line components and a premium price tag, these power-packed machines aim to capture the desktop gaming experience in its entirety – no caveats, no concessions, no compromises.
While previous Razer Blade laptops have mostly achieved this, it wasn't until I got my hands on the company's new Razer Blade Pro that I felt like it truly delivered on its promise. From its jaw-dropping 120Hz display to its beefy GTX 1060 graphics card – the full desktop version, not some cut-down mobile edition – the Blade Pro is not only one of the most impressive laptops I've ever had the pleasure of using, it's one of the few devices of recent years that really feels like a significant step forward in computing technology.
Note: this review is based on the 1080p model of the Razer Blade Pro. A 4K model with higher specs is also available.
Design
Before I dive into the many aspects of the Razer Blade Pro that left me enamoured with the powerhouse device, there are a few minor gripes worth mentioning, nearly all of which centre on the laptop's design. To put it bluntly, I'm not the biggest fan of the way it looks. While it thankfully avoids the boxy, industrial look of Alienware's gaming laptops, it's still a little too business-like in its appearance for my tastes. The large bezel around the screen, for instance, gives the Blade Pro an oddly cheap look – not something you want in a $3000+ device. In contrast to the sleeker design of HP's Omen laptops and Dell's XPS machines, it's a slight blemish for those who want their flashy new toy to look as good as it performs.
The Razer Blade Pro's keyboard is an odd beast, too. Crammed into a space that's just a third the surface area of the laptop's base, its small keys and the minimal spacing between them take quite a while to get used to. More so than most laptops of its size, typing takes a lot of precision and is unusually error-prone thanks to the low action and feedback of the Blade Pro's key switches.
This design is especially peculiar given how much free space there is both above and below the Blade Pro's keys. Instead of sitting at the bottom as with most laptops, the Blade Pro's touchpad is nestled on the right side of the keyboard, where the number pad would be on a full-sized board. The bottom third of the Blade Pro's base is thus all empty real estate, and I can't but feel sacrificing some of it for larger keys and more spacing would have improved the usability considerably.
Given the Blade Pro is a gaming machine first and foremost, this all but necessitates that you hook up a USB keyboard if you plan on getting your WASD on. Technically, the right-hand positioning of the touchpad makes it more comfortable to play first-person shooters and the like without an external keyboard and mouse, but having tried this, I wouldn't recommend it. Unless you enjoy getting your butt handed to you online, of course.
With the ugly business out of the way, it's time to focus on the good stuff. First: the screen. With a slim 17.3-inch display, a 120Hz refresh rate and some of the crispest colors I've seen on a laptop, it easily holds its own against the many high-quality standalone PC gaming monitors on the market today. Admittedly, it is only 1080p – if you want to push the envelope with full 4K gaming, you'll need to upgrade to the more-expensive model of the Razer Blade Pro. Personally, though, given the size of the Blade Pro's screen, I feel like 4K is mostly overkill.
After putting the Blade Pro through its paces, I'm only more convinced that 1080p is ample for on-the-go gaming. Graphical grunt aside, the screen itself enlivens every scene it displays with bright, vibrant color, enhancing the visual quality of games even beyond their regular settings. Textures pop with stunning clarity while the action moves slick and smooth thanks to the 120Hz refresh rate. Specs alone don't do it justice: the Blade Pro's screen is quite simply one of the best I've laid eyes on.
Performance
Of course, a gorgeous screen won't get you very far without the graphical muscle to back it up, and it's here where the Razer Blade Pro really shines. Featuring an Intel i7-7700HQ CPU with a base clock speed of 2.8GHz and a turbo clock speed of 3.8GHz; a 6GB nVidia GTX 1060 graphics card; and a hefty 16GB of DDR4 2400Mhz RAM, the humble-looking device is very much a wolf in sheep's clothing.
Just navigating Windows is a joy, with none of the input delay I've grown accustomed to from laptops over the years. Programs respond instantly to every mouse click and key press, and switching between running programs is so seamless that it makes going back to other laptops feel sluggish and outdated. It's surprising how much this immediate responsiveness increased my sense of productivity, imbuing even the most basic of tasks with a welcome momentum.
A snappy operating system is nice and all, but you don't buy a gaming laptop just to speed up Microsoft Excel. High framerates and visual spectacle are the meat and potatoes here, and the Blade Pro serves them up on a silver platter.
To size up the Blade Pro's gaming capabilities, I loaded up a number of modern, graphically-intensive games and noted not only the FPS scores but the stability of the framerate, whether there were any hitches or other performance issues and the general responsiveness of playing each game. For consistency between games, I selected the "High" graphical preset, except where the game defaulted to something higher.
The first game on the list was Forza Horizon 3. Unsurprisingly, the game defaulted to High settings, and it looked utterly gorgeous. However, running at 120Hz proved a little too much for the Blade Pro, with the framerate rubber-banding back and forth between 60fps and 120fps. Cranking the refresh rate down to 60Hz cleared this right up, and the game maintained a solid 60fps from then on.
Rise of the Tomb Raider looked and ran just as spectacularly. It, too, defaulted to High, a setting that does a marvelous job of showing off the dust-choked tombs and lush jungles of Lara's adventure in full, unbridled glory. This visual splendour didn't bother the Blade Pro one bit, and it maintained a consistent 60fps without flinching while pumping out breathtaking vista after breathtaking vista.
Helpfully, Rise of the Tomb Raider also has a benchmark tool built in and running this only confirmed the impressive capabilities of the Blade Pro.
| Area | Average FPS | Minimum FPS | Maximum FPS |
| --- | --- | --- | --- |
| Mountain Peak | 91.48fps | 58.47fps | 148.93fps |
| Syria | 70.60fps | 29.19fps | 94.26fps |
| Geothermal Valley | 70.28fps | 28.25fps | 88.43fps |
| Overall average | 77.45fps | 38.64fps | 110.54fps |
---
Open-world games serve as a useful stress test for gaming PCs thanks to their large scope and complex systems. As one of the more recent examples, Final Fantasy XV fit this bill perfectly, and I expected it to give the Blade Pro a decent run for its money. The plucky laptop surprised me, though, handling the jaw-dropping visuals of FF XV's High settings without flinching. Despite running around populated towns, sprinting across the game's vast, detailed environments and engaging in fast-paced battles, I couldn't get the Blade Pro to drop below 50fps, a tremendous feat from such a small machine.
Rounding out the gameplay tests was Ghost Recon: Wildlands, another visually-stunning open-world game that I've had trouble running smoothly on desktop PCs in the past. The Blade Pro surprised me here yet again. On High settings, the lush vegetation and sprawling environments of Bolivia looked utterly spectacular. Nevertheless, the Blade Pro held to a steady 60fps, even in the midst of explosive firefights and high-speed chase scenes.
To supplement the in-game testing, I pitted the Blade Pro against Geekbench and Cinebench, two popular PC benchmarking tools. You can see the results below, but suffice it to say that it outperformed laptops in the same price range with similar specs, like the Alienware 17 R4 and HP OMEN 17t.
Geekbench
Cinebench
CPU Test
Single core: 4492
Multi-core: 14591
721cb
GPU Test
OpenCL: 124454
OpenGL: 88.00fps
As the icing on the cake to this slick performance, the Blade Pro's 256GB SSD and 16GB of high-speed DDR4 RAM mean loading times are practically non-existent in many games. While this is hardly uncommon for a gaming-focused PC, anyone who has spent time with the PS4 or Xbox One recently will appreciate not having to keep their phone within arm's reach for those interminable minutes-long load screens.
There are only two caveats to the Razer Blade Pro's impeccable performance, and the first is one that every gaming laptop struggles with: battery life. Between the bright 17-inch screen, the beefy GTX 1060 and the quad-core i7 processor, the Blade Pro draws a lot of power from its 70Wh battery. In my testing, regular, non-gaming use saw the battery drain within around two hours on full brightness, while turning down the backlight and activating power-saving mode extended that to around three hours. Gaming, meanwhile, blew through the juice even faster, with the battery tapping out after just a single hour.
My one other knock against the Blade Pro is how noisy it gets when gaming. Laptops are notoriously difficult to keep cool, so it's no surprise that a machine with as much power in it as the Blade Pro requires considerable air flow to avoid overheating. Still, the jet-engine whine of the fans is hard to ignore, and even if you throw on a pair of noise-cancelling headphones, that won't save anyone sitting around you from the aural assault.
Features
The Razer Blade Pro might not be the quietest laptop around, but it leans into that by doubling down on its audio capabilities. While the built-in speakers on most laptops are there as a last resort for when you don't have a decent set of headphones handy, the ones crammed into the Blade Pro pack some serious chops. Not only do they easily drown out the roar of the system fans during a heavy gaming session, they deliver crisp and clear audio even when you crank them up past the point at which most laptops would tap out. Heck, if you really wanted to, you could probably use the Blade Pro as your household Hi-Fi system – albeit an incredibly expensive one.
Being a Razer product, it should come as no surprise that the Blade Pro incorporates full Razer Chroma lighting for its keyboard and touchpad. Like the Razer Cynosa Chroma gaming keyboard, the Blade Pro's keys are individually backlit and support the entire 16.8 million-colour RGB spectrum. The touchpad, meanwhile, is outlined with a thin strip of LEDs.
Using the accompanying Razer Synapse app, you can select from a range of lighting patterns including a lateral wave, a breathing pulse and a reactive effect that lights up the keys as you press them. Alternatively, you can dive even deeper into customisation and select different colours for each individual key, and the app comes pre-loaded with a bunch of templates designed to evoke specific games and genres. Certain games like Quake Champions and Overwatch go one step further by implementing custom lighting effects that reflect what's happening in game, pulsing when your health is low or lighting up the relevant shortcut key when you pick up a new weapon.
It might not be as big a selling point as a beefy graphics card or a luminous screen, but connectivity is a crucial component of any good gaming laptop. The Blade Pro nails this, boasting three USB 3.0 ports, a USB-C Thunderbolt 3 port for hooking up the most demanding external devices and an HDMI 2.0 out port for connecting a second monitor. All this makes for one incredibly versatile device, saving you the hassle of lugging around a powered USB hub and a half-dozen adaptors just to connect all your gaming peripherals.
Verdict
The Razer Blade Pro is a stunning device. I've lost count of the times I've had to stop and shake my head in disbelief, awestruck that Razer managed to squeeze so much power into such a small package. No matter what I threw at it, the Blade Pro came out on top, proving that it is indeed a worthy replacement for a full-blown desktop gaming PC. True, the 1080p screen might be a deal-breaker for some gamers, but that's why Razer sells the more-expensive 4K model. For most gamers, though, the cheaper Full HD model delivers more than enough graphical splendour to satisfy the eyeballs.
Put simply, the Razer Blade Pro is a shining example of why the Razer Blade line is so popular among laptop gamers. If you're looking for portable, high-performance gaming without compromise, you're going to struggle to find better value than the Razer Blade Pro.
Pricing and availability
The Full HD version of the Razer Blade Pro retails for $3,399.95 from Razer, Microsoft Store, Scorptec, PC Case Gear and other PC hardware retailers.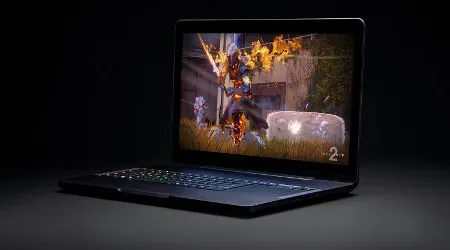 Buy Razer Blade Pro Full HD
from Razer
By cramming a 6GB GeForce GTX 1060 graphics card, a quad-core i7-7700HQ CPU and 16GB of DDR4 RAM into a luggable laptop, the Full HD model of the Razer Blade Pro delivers uncompromising desktop gaming performance on-the-go.
View details
Razer Blade Pro Full HD Specifications
Display

17.3-inch Full HD IPS screen @ 120Hz
Resolution

1920 x 1080
Graphics

Intel HD Graphics 630 onboard plus 6GB nVidia GeForce GTX 1060
Memory

16GB DDR4 at 2400MHz
Processor

Intel i7-7700HQ 2.8GHz/3.8GHz (Base/Turbo)
Storage

256GB SSD (PCIe M.2) + 2TB HDD (5400rpm)
Battery

70Wh with approx 2 hours battery life
Software

Windows 10
Weight

3.07kg
Dimensions

22.5mm x 424mm x 281mm
Webcam

2.0MP
---
Latest technology headlines