Razer announces its first mobile phone, but not for Australia
The subtly named Razer Phone is powerful and game-centric, but don't hold your breath for a release Down Under.
Rumours have circled for a while that gaming-centric tech company Razer was working on its first handset. Today, it has confirmed the existence of the Razer Phone, which will go on sale in the US from 17 November 2017 for an outright price of US$699.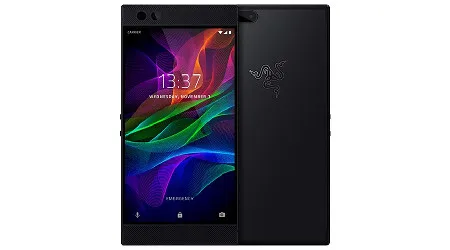 Buy the Razer Phone (import)
from Catch
Packing 8GB of RAM and the slick Qualcomm Snapdragon 835 processor, Razer's first smartphone is a beast built to handle anything you throw at it.
View details
In terms of specifications, the Razer Phone features a 5.7-inch LCD with a hefty 120Mhz "UltraMotion" display that the folks at Razer are claiming makes it ideal for game-centric smartphone users.
Under the hood lurks the Snapdragon 835 SoC that has powered the vast majority of this year's premium Android handsets, but Razer hopes to make its phone stand out by stuffing it with 8GB of RAM where many other makers have opted for 4GB or 6GB. On the camera front, it features dual 12MP rear cameras.
For audio duties, it features front-facing Dolby Atmos-certified twin speakers. There's no speaker jack, joining phones such as the
Google Pixel 2
and
Apple iPhone X
, but Razer will supply a THX-certified USB C adaptor for your existing high-end headphones.
All of which sounds very tasty, but Razer's local representatives have told us that there's currently no release date for the phone in Australia. That doesn't mean we'll never see it because it's feasible that direct importers may offer it if you're particularly keen, but it does make it less likely to appear on contract terms from any Australian telcos
Specifications
Product Name

Razer Phone
Display

5.7in
Resolution

1440 x 2560 pixels
ppi

515ppi
Software

Android 7.1
Storage

64GB
RAM

8GB
Battery

4000mAh
Front camera

8MP f/2.0
Rear camera

Dual 12MP f/1.75 Wide, 13MP zoom f/2.6
Processor

Qualcomm Snapdragon 835
Size

158.5 x 77.7 x 8 mm
Weight

197g
---
Follow us for all the latest mobile phone news and deals
---