13 Queensland road trips that are anything but ordinary
Crank down the windows and crank up the radio, you've got places to be.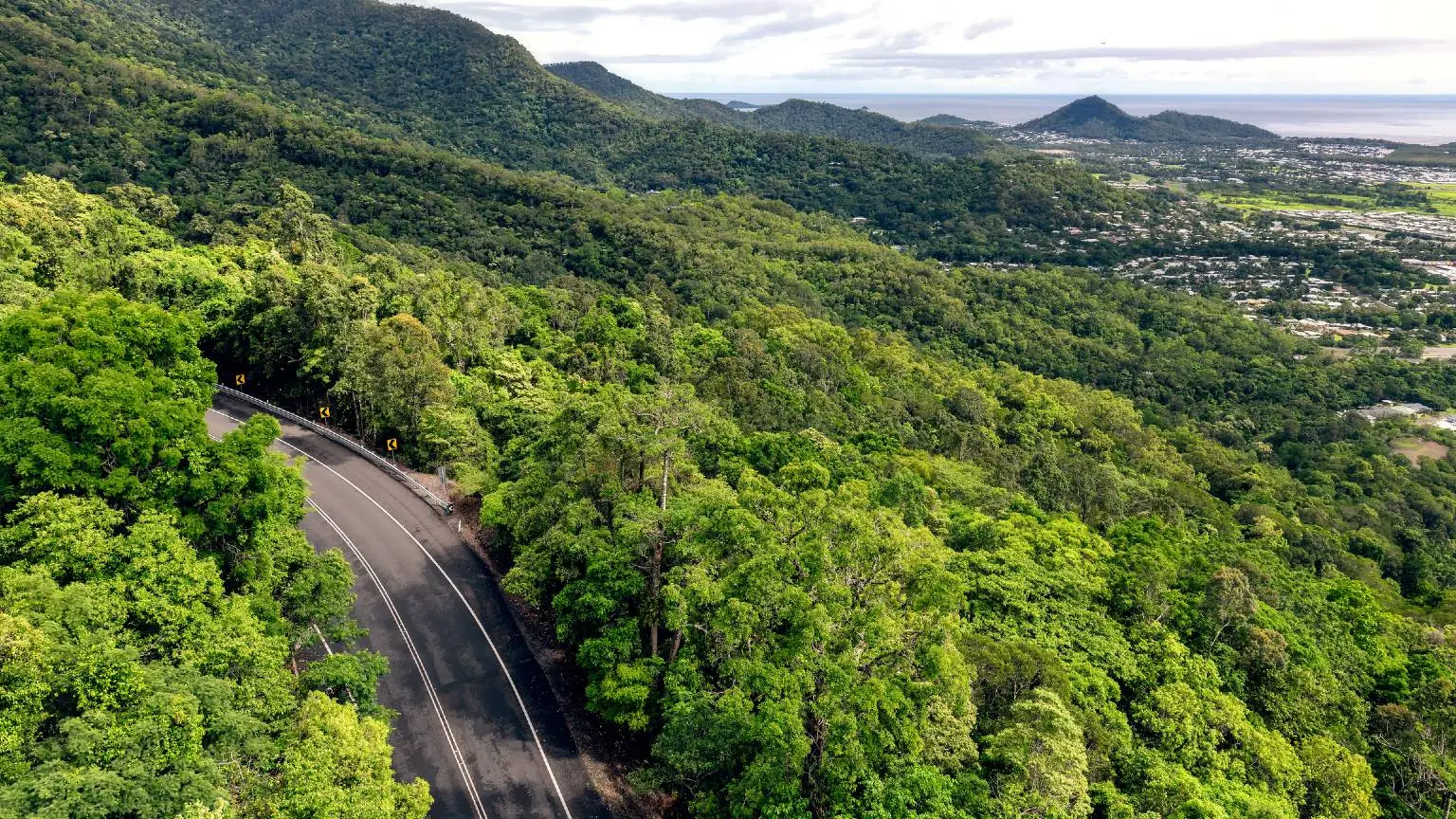 We're reader-supported and may be paid when you visit links to partner sites. We don't compare all products in the market, but we're working on it!
Queensland is made for road trips. Its weather is spot-on for outdoor pursuits year-round. Its landscapes celebrate the coast, the forest, the mountains and the outback. And its activities include everything from heart-pumping white water rafting to family-friendly animal encounters.
So why would you deny yourself the chance to get out and explore? The answer: no reason whatsoever. Here are our top 13 road trip ideas to fuel your travel addiction.
---
Savannah Way
This adventurous drive takes you across state borders through 15 national parks and 5 world heritage areas. Not one for the faint-hearted, the landscape starts tropical then moves into open outback as you make your way from Tropical North Queensland through the Top End and onto Broome. Choose to drive part way or challenge yourself to the full drive over a few weeks.
Total distance: 3,727km, 1 day 17 hours and 40 minutes one-way.
Route: Cairns-Broome via Katherine.
Highlights: Mt Surprise, Hells Gates, Limmen National Park, Katherine and Nitmiluk National Park, Timber Creek and Gregory National Park, Kununurra, Halls Creek and Fitzroy Crossing.
Best time to drive: Dry season to avoid flooding and potential closed roads/sections.
Things to do: Snorkel the Great Barrier Reef from Cairns, hike your choice of national park and go on a pearl farm tour in Willie Creek.
Stay at: Karumba Point Sunset Caravan Park in Normanton, Savannah Way Motel in Borroloola, Beagle Motor Inn in Katherine, Discovery Parks Lake Kununurra in Kununurra, Fitzroy River Lodge in Fitzroy Crossing or Moonlight Bay Suites in Broome.
Eat at: Ash's at The Point Cafe & Store in Karumba, Carpentaria Grill in Borroloola, Marksie's Stockman's Camp Tucker Night in Katherine, PumpHouse in Kununurra and Fitzroy River Lodge in Fitzroy Crossing.
---
Bloomfield Track
Waterfall-filled rainforests, creek crossings and sandy coastal landscapes are what you've signed yourself up for when taking on the Bloomfield Track from Cairns. The track itself is short, taking you along the Bloomfield River but is typically included in a trip from Cairns to Cooktown. Hire a 4WD for it though as the track is a rough one.
Total distance: 243km, 4.5 hours.
Route: Cairns to Cooktown, via Bloomfield Track.
Highlights: Port Douglas, Cape Tribulation, The Daintree, Emmagen Creek, Mt Sorrow Ridge, Cowie Beach, Bloomfield River and Wujal Wujal Falls.
Best time to drive: May to November is the dry season and the safest for driving the track.
Things to do: Outer Barrier Reef Cruise from Port Douglas, guided Daintree rainforest tour and horse riding along the beach at Cape Tribulation.
Stay at: Hillcrest Guest House in Cooktown.
Eat at: Daintree Village Hotel, Daintree Ice Cream Company and Bowled Over Bistro.
---
Old Telegraph Track, Cape York
Love getting stuck into off-road adventuring? The Old Telegraph Track is legendary. It follows the old Overland Telegraph Line in Cape York and is a spot of rough and rugged track scalable only by vehicles with low range gears and high ground clearance – in other words, a 4WD.
You'll need to push through deep creeks and slippery riverbeds, but the landscape of verdant bush and waterfalls that gush into swimmable pools are worth it.
Total distance: ~200km, 1-2 days.
Route: Bramwell Junction to Jardine River Ferry.
Highlights: Fruit Bat Falls, Eliot/Twin/Indian Head Falls, Sam Creek and Jardine River.
Best time to drive: May to October only. This is the dry season. The track is closed due to safety reasons otherwise.
Things to do: Swimming and camping.
Stay at: Canal Creek, Sam Creek, Mistake Creek, Cannibal Creek, Cypress Creek and Bridge Creek all have campgrounds. Otherwise, you can set up your tent in Jardine River National Park at the end of the drive.
Eat at: BYO as this route is very remote.
---
Pacific Coast Way
Keep the Pacific Ocean to your right as you follow the coast past golden beaches, lush rainforest, sparkling lakes and waters teeming with colourful wildlife. This drive captures all of Queensland's natural coastal beauty from beaches and reefs to rainforests and gorges taking you from the Gold Coast into the Tropical North city of Cairns.
Total distance: 1,894km, 22 hours.
Route: Gold Coast to Cairns.
Highlights: Sunshine Coast, Glasshouse Mountains, Hervey Bay, Fraser Island, Gin Gin, 1770, Agnes Waters, Rockhampton, Great Barrier Reef, Bowen, Silver Link Bridge, Townsville, Tyto Wetlands and Mission Beach.
Best time to drive: Summer.
Things to do: Whale watching on the Sunshine Coast, turtle discover tour in Hervey Bay, half-day cruise of the Whitsundays and Whitehaven Beach, explore Townsville and Magnetic Island, skydive over Mission Beach and snorkel the Great Barrier Reef from Cairns.
Stay at: Beach Motel in Hervey Bay or The Point Resort on the Coral Coast, Glenmore Tavern near Rockhampton, Colonial Palms Motor Inn in Airlie Beach, Mariners North Holiday Apartments in Townsville and Cairns Plaza Hotel.
Eat at: The Vinyard in Hervey Bay, Cafe Bliss in Rockhampton, Cafe One 3 on Airlie Beach, JAM in Townsville and Cairns Burger Cafe in Cairns.
---
Gillies Highway
What puts the Gillies Highway on the map – outside of it taking you through a stunning forested road – is its shape. It's windy. In fact, it boasts over 300 curves across less than 20km. This adrenaline-filled ride has made it a favourite for motorcyclists and scooter enthusiasts keen to twist and turn their way into adventure. Not surprisingly, it's a dangerous route and should be ridden with care as it's also popular with tourists in motor vehicles headed to the Atherton Tablelands.
Total distance: 60km, 1 hour.
Route: Gordonvale-Atherton.
Highlights: Robson's Track, Gillies Lookout, Heales Lookout, Lake Barrine and Curtain Fig Tree.
Best time to drive: Year-round.
Things to do: If you're based in Cairns, take a hot air balloon ride over the Atherton Tablelands. Otherwise, this is primarily a short, scenic drive through the national and state parks.
Eat at: Petals and Pinecones in Atherton.
---
Great Barrier Reef Drive
This touristic route takes in that entire stretch of land where the forest of the Daintree meets the sea of the Great Barrier Reef. From Palm Cove to Port Douglas, you'll literally be on the edge of the cliff face with the dozen shades of blue of the Great Barrier Reef to ogle over. Beyond that, you can take a side trip through the Daintree, where you can walk paths of green, crooking your neck up to the skies as you peep through the canopy while nature coos in the background.
Total distance: 152km, 2 hours and 50 minutes.
Route: Cairns to Cape Tribulation via Port Douglas.
Highlights: Fitzroy Island, Port Douglas, Lower and Upper Daintree and Mossman Gorge.
Best time to drive: Winter due to the dry conditions and low humidity in the Daintree.
Things to do: Swim, snorkel or dive the Great Barrier Reef from Port Douglas, Cairns or Cape Tribulation, explore the variety of Daintree trails or unwind with a massage and spa treatment in the Lower Daintree.
Stay at: Heritage Lodge in the Daintree.
Eat at: Tha Fish in Cairns, Daintree Tea House Restaurant in the Daintree and CJ's Bar & Cafe in Cape Tribulation.
---
Waterfall Circuit Cairns
For a longer trip out from Cairns, chase those waterfalls on the waterfall circuit. This dips down into the Atherton Tablelands and its scattering of waterfalls, lakes and all-round tropical landscape. The loop is easily completed over a full day as long as you don't distract yourself with a long hike along the way.
Total distance: 243km, 4 hours.
Route: Cairns-Atherton-Millaa Millaa return.
Highlights: Lake Barrine, Yungaburra, Millaa Millaa Waterfall, Zillie Falls and Ellinjaa Falls.
Best time to drive: End of summer, which is when the heaviest rainfall gets the falls gushing.
Things to do: Soaking up the views from the many viewpoints and marvelling at the waterfalls.
Stay at: Cairns Harbour Lights.
Eat at: Baba Curry in Atherton.
---
Overlander's Way
This outback road trip is an official touring route that journeys from the beach through dramatic rugged landscapes. Along the way are encounters with Indigenous culture, native wildlife, dinosaur relics, old mining towns and rural farm life.
Total distance: 906km, 9 hours, 50 minutes.
Route: Townsville to Mount Isa.
Highlights: Magnetic Island, Charters Towers, Hughenden, Richmond, Julia Creek, Cloncurry and Mount Isa.
Best time to drive: Year-round, though for relatively long days with low humidity, travel in spring.
Things to do: Swim among shipwrecks on Magnetic Island, ghost tour at Charters Towers, see wonderfully preserved dinosaur fossils in Kronosaurus Korner, sink into an artesian bath in Julia Creek and explore the underground mines in Mount Isa. From here, you may even like to go deeper into Queensland to Boodjamulla National Park and Herbertvale Station.
Stay at: The Royal Hotel in Hughenden, Julia Creek Hotel in Julia Creek and Mount Isa Caravan Park in Mount Isa.
Eat at: FJ Holden Cafe in Hughenden, Corrina's Cafe and Bakery in Julia Creek and Buffs Club in Mount Isa.
---
Brisbane to Sunshine Coast Hinterland
Here's one for the bushwalkers and the escapists. It's a short drive up north, but it's so rich in hiking trails and small towns that you'll need the weekend to return feeling complete.
The mountains loom in the distance and even though the drive follows the coast, you'll be so lost in the forest that you'll hardly realise it as you meander through the Hinterland Region and out to the beach.
---
Brisbane to Fraser Island
Spit up some sand at one of Australia's national treasures. Not for the faint-hearted, you'll need a good set of wheels to let loose on Fraser Island as it only permits 4WDs onto its shores. If you don't have one handy, you can park your car on the mainland and take the ferry over.
Total distance: 807km round trip, 14 hours, 40 minutes.
Route: Brisbane to Fraser Island, return.
Highlights: Champagne Pools, shipwrecks and 75 Mile Beach. If you have time, swing by Bribie Island, Sunshine Coast, Eumundi or Maryborough.
Best time to drive: Anytime is a good time to visit Fraser Island; however, if you wish to witness the whale migration, submit your leave for some time between May and November.
Things to do: Book a spot on a whale watching cruise, tour the island by 4WD or polish the day off with a sunset cruise from Hervey Bay.
Stay at: Kingfisher Bay Resort.
Eat at: Sand Bar and Bistro or The Vinyard on Fraser Island.
---
Brisbane to The Lost World/Scenic Rim
Like something out of the Jurassic Park series, The Lost World trail is a giant step back in time. Ancient trees tower overhead, razorback mountains loom in the distance and the scuttling of creatures hidden among the foliage pricks your ears. The good news is that there aren't any man-eating dinosaurs in your midst; the bad news is there is no Chris Pratt either.
The Lost World offers horse riding, 4WDing, rock-pool fishing and dairy-farm experiences.
Total distance: 340km round trip, 6 hours.
Route: Brisbane to Lamington National Park to Tamborine Mountain to Brisbane.
Highlights: Christmas Creek, Lamington National Park, Springbrook and Tamborine Mountain.
Best time to drive: Travel during autumn or winter for optimal weather conditions. Spring to summer (September to December) is storm season and is best avoided.
Things to do: Zipline guided tour or high ropes and flying fox adventure in Mount Tamborine.
Eat at: Clancy's Irish Bar & Restaurant or Three Little Pigs Bar & Bistro in Tamborine Mountain.
---
Brisbane to Stanthorpe
Cool, calm and utterly indulgent, Stanthorpe has all the makings of a romantic weekend getaway – particularly if you're a foodie.
Just skirting the NSW border, this former tin miner's town has a unique microclimate that has transformed it into a land of wines, fruits, vegetables and microbreweries. Follow your nose as you hop from vineyard to vineyard, or follow your tastebuds towards artisan jams and preserves made with love. For a fun day out, go apple picking or simply settle into your abode and watch the world drift by.
Total distance: 438km round trip, 5.5 hours.
Route: Brisbane to Stanthorpe, return.
Highlights: Peaks Crossing, Warwick and Mount Marley.
Best time to drive: Cool in summer and cosy in winter, there's no poor time to make this trip.
Things to do: Hop from artisan produce maker to artisan produce maker, eating your way around town.
Eat at: ZEST Pastries, Granite Belt Brewery & Restaurant and O'Mara's in Stanthorpe.
---
Queensland is queen when it comes to blissful beach escapes, but if you feel the call to hop the border, Byron Bay is where it's at.
The sleepy coastal town is a rite of passage for surfers seeking killer waves, hippies looking to let their hair down and festival punters of the indie persuasion. Plus, anyone looking to jump on a trend can hightail it over for the budding food scene. This features fresh local seafood, organic ingredients and modern and contemporary fine dining.
Look for a car hire in Queensland
---
Latest Queensland travel deals
Need to book a hire car for your trip or a hotel along the way? See our latest offers available across Queensland.
More guides on Finder