We're reader-supported and may be paid when you visit links to partner sites. We don't compare all products in the market, but we're working on it!
If your company needs a QR code generator for its customers, then you can expect QR code software to deliver what you need. But should you opt for a free platform or a paid-for solution? And what else should your business keep in mind?
Our guide answers the most commonly asked questions about QR codes.
Need to make a QR code quickly?

QR Stuff
If you need to create a QR code quickly, QR Stuff offers a free to use customisable QR code generator.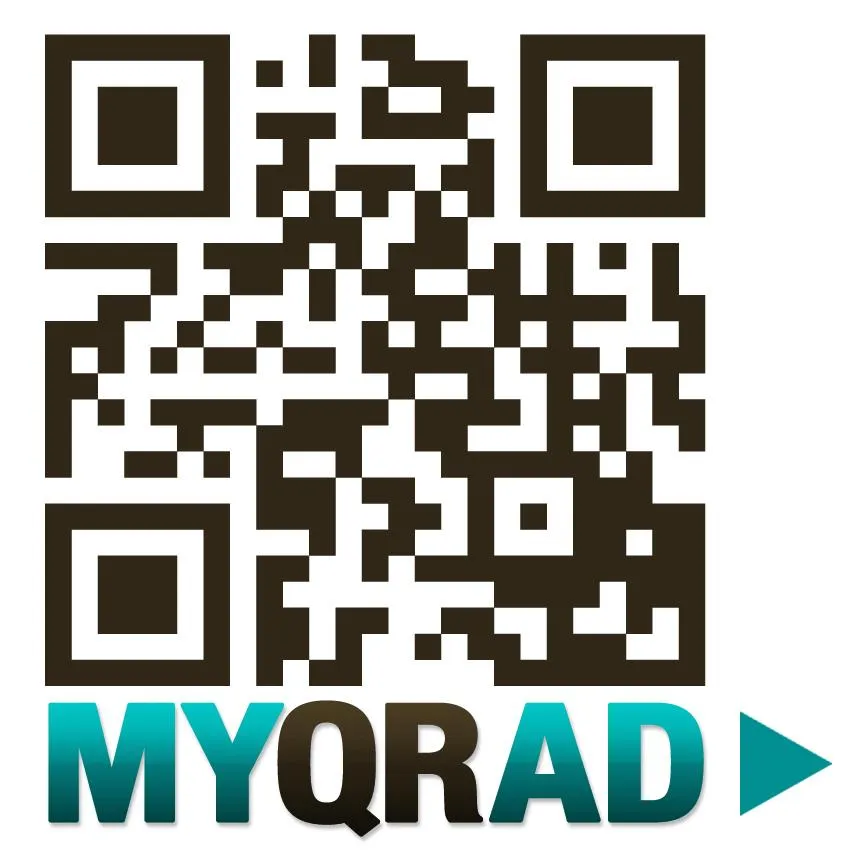 myQRad
myQRad allows you to quickly create QR codes for any purpose. It features integrated reporting and the option to change your QR codes reponsively.
Related: Read our comparison of COVID-19 check-in software
What is a QR code?
A QR code is a small box with unique combinations of black and white dots. These individual codes – which look similar to barcodes – present an image that must be scanned and read by a smartphone. The phone then displays the information in text format or by giving the user the option to visit a webpage.
As a QR code can hold large sums of data, it can securely store anything from URL information to transaction codes.
What's a QR code commonly used for?
In recent years, QR codes have been used to facilitate bank transfers, payments, shipping and for tracking purposes. Many supermarkets use QR codes to provide customers with safety or supplier information.
Additionally, new technology can print QR codes right on to a receipt, meaning some outlets can make bill payments as easy as scanning and approving payment.
During the Covid-19 pandemic, many businesses have turned to the software to check-in their customers and to directly aid their health and safety. For example, QR codes have replaced hard copies of menus in cafes and restaurants to help reduce the spread of germs.
How to scan a QR code
To scan QR codes, you'll need a smartphone or tablet. Most iPhones and Android devices will have a QR code reader application built into their devices within the camera. This is the case if you have an Apple product with iOS 11 or later, or an Android product with Android version 8 or later.
Here are the general steps to follow when using an iPhone or Android device with a built-in camera app:
Open the camera app
Point your camera at the QR code, as if you were taking a picture of it
Your phone should recognise the code and show you a notification at the top of your screen
Click the notification and you'll be able to get the information linked with the QR code.
Technically, a QR code no longer requires a dedicated app. In the last few years code libraries have been made publicly available to incorporate QR code scanning and decoding into a non-dedicated product, such as a bank app or a mobile wallet.
How can I make a QR code?
To create a QR code, you'll need to start by choosing a QR code generator. The software you'll need will vary depending on your business. Broadly, you'll want a QR code that's compatible with most QR code reader apps. You may want multiple options for how to use the QR code.
Once you've chosen a QR code generator, you'll then need to:
Choose your content format. Think about the information you want to convey to the user after they scan the QR code. For instance, you want to choose a URL or an email.
Enter the information. Complete any fields that appear: for an email, this would include a subject line and the message itself.
Pick between a static or dynamic code. A static code will encode your URL directly in the QR code and these are fixed permanently; they'll work for as long as your website URL doesn't change. Dynamic codes enable the target URL to be changed in the future if needed.
Add customisations. Edit the code's look and feel to meet your specific preferences, such as design colours (if your plan allows this).
Conduct a test. Check to see if the QR code reads correctly. There are free tools available that will automatically show you what the content 'reads to'.
Publish and share the QR code. Once your code is live, you'll want to place it wherever it'll help your customers. This could include social media as well as physical locations.
What to look for when comparing QR code software
Free vs paid tools. Your first choice is whether to use a code from a free QR code generator, or a professionally-created QR code.
User options. Premium options are likely to include more than one account user at your company. For example, Kaywa's Premium package allows up to five account holders.
Customisations. A professional looking QR code – particularly one that includes quality designs that can be amended to fit your brand colours – can drive a higher usage rate than one that looks like it may be spam. Dynamic codes usually include added features, such as user tracking.
Range of code formats. You may want codes that can meet a range of purposes, such as for emails, user feedback, maps, and more.
Performance tracking. Ask yourself: does the software make it easy for me to analyse how users are engaging with the QR code?
Business support. Look for a company with a solid reputation for customer service and support.
QR code generators available in Australia
There are a wide range of QR code platforms to consider, including the following:
Kaywa. Each of Kaywa's three paid-for deals include the ability to design and personalise your codes as many times as you want. Kaywa's Starter plan costs $13.75 USD (billed annually).
QR Codes Australia. Choose between seven paid-for plans. The Small Business option costs $11 AUD per month and includes up to nine sub-users. Features include the ability to export data files and get campaign email notifications.
Beaconstac. Create a range of QR Codes including for email and location codes. Also, take advantage of multilingual codes.
QRStuff. Try QRStuff for free without opening an account. Alternatively, choose a subscription from $7.50 USD a month for 12 months. Basic features included are unlimited dynamic and static QR codes.
QRCode Monkey. A 100% free option that offers static-only QR codes. QRCode Monkey boasts a solid range of design options and there's no limit to the number of scans you can set up.
Should I think about a free QR code generator?
When you're comparing QR software, you'll see multiple free and paid-for options to consider.
Free QR code generators can be a great choice if you're a small company who just wants to create the occasional static code to meet an immediate need. A few watch-outs on zero cost options include the use of ads and spam emails. Paid plans may be a better option for those who want to enjoy more flexibility. You'll get a wider range of features with a paid subscription, so you'll want you to weigh up whether a small extra cost upfront will pay off in the future.
Pros and cons of QR codes
Easy to generate codes
Versatile and simple to use
Suitable for a wide range of uses
A cost-effective way to capture marketing data
QR codes aren't a fully digital solution for many businesses – you may need to print a hard copy of the QR code and laminate it ensure it keeps working
Dependant on users having a compatible smartphone
Bottom line
QR code software may offer a useful and affordable solution for your company thanks to the range of different functions the codes can be used for. This may include the chance to gather helpful marketing information.
It's always a good idea to compare your options with care. Ultimately, the software that works for you will depend on the specifics of your business and the customer problems you're looking to address.
Frequently asked questions
What does QR stand for?
'QR' stands for Quick Response. The matrix-format barcode was first created in 1994.
What can I tell my customer if their smartphone doesn't have QR code scanning?
Users with older smartphones can need to download a QR scanner app from their app store in order to access your content.
Are QR codes safe for users?
They're essentially as safe or unsafe as any other website on the Internet. You'll still need to manually open a link; the codes aren't usually encrypted. As with any link online, be careful about what you do choose to open as it might be malicious.
More guides on Finder