Guide to Qantas Airport Lounges
Explore the different types of Qantas lounges you can visit in Australia or overseas and discover ways to get access.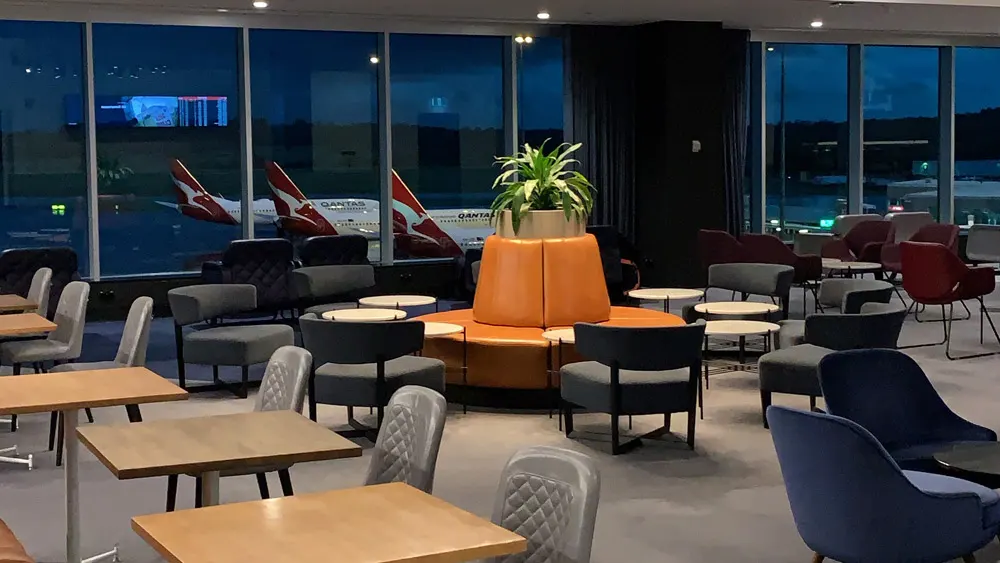 We're reader-supported and may be paid when you visit links to partner sites. We don't compare all products in the market, but we're working on it!
You can visit a Qantas Lounge to relax before your flights with comfortable seating, refreshments, Wi-Fi, showers and play zones for kids. If you're travelling in business or first class, Qantas lounge access is included as part of your fare. You can also enjoy complimentary Qantas lounge access when you have Gold or Platinum Qantas Frequent Flyer status, elite oneworld status, Qantas Club membership or an eligible frequent flyer credit card.
Depending on where you're travelling and the type of access you have, you could even choose between different Qantas lounges. You can use this guide to learn about the lounge options available both domestically and internationally.
Read our latest Qantas airport lounge reviews
What features and services do Qantas lounges offer?
The perks of your lounge visit can vary depending on where you are and whether you're travelling domestically or internationally. But some of the features you can expect include:
Food. This includes freshly made meals, buffets, snacks and – particularly at regional lounges – some pre-packaged items.
Drinks. Barista coffee is available at major lounges in the morning, as well as tea and coffee self-serve stations and bar services that open later in the day.
Bathrooms. Many lounges include showers, as well as toilets that are separate to those in the main part of the terminal. Some lounges also offer spa treatments.
Wi-Fi. You can get some work done or stay entertained with complimentary Wi-Fi for lounge guests.
Work stations and power points. All lounges include power points where you can charge your devices. Some lounges also have dedicated areas and meeting rooms where you can get work done.
Meeting rooms. Where available, you can hire private meeting rooms during your visit to a Qantas lounge.
Apple computers. A selection of lounges include Apple computers you can use during your visit.
Family zone. Play areas and entertainment options for children are set up in a few Qantas lounges, such as the Canberra and Gold Coast Qantas Club Lounges.
If you're planning to visit a lounge before your next trip, it's a good idea to arrive a few hours before your flight. That way, you can make the most of all the features available.
Domestic Qantas lounge options
If you're flying around Australia or if you have a domestic connection to an international flight, you could visit one of the following types of Qantas lounges.
Qantas Domestic Business Lounges
Qantas has five domestic business class lounges, located in Brisbane, Canberra, Melbourne, Perth and Sydney. You can access these lounges if you're travelling on a domestic Qantas flight in business class, or if you have an eligible international business or first class fare with a domestic connection on the same day.
Beyond fare class, the only other way to get access to a Domestic Business Lounge is with frequent flyer status. With Qantas, you'll get complimentary entry as a Platinum or Platinum One member when you're travelling on a flight operated by Qantas, Emirates, Jetstar or a oneworld airline partner. You can also visit these lounges if you have platinum status with Emirates Skywards or China Eastern Miles, Emerald status with oneworld, or if you are a oneworld business or first class passenger travelling on a valid fare.
Qantas Domestic Business Lounge Locations
Qantas Club Lounges
This extensive network of domestic lounges covers all the major airports in Australia, as well as regional locations such as Coffs Harbour, Devonport, Emerald and Karratha. Unlike the business class lounges, you have the option of buying a Qantas Club membership, which gives you access to these lounges when you're travelling on a Qantas- or Jetstar-marketed flight.
You can also access Qantas Club Lounges when you're travelling on an eligible domestic business class fare or an international business or first class fare with a domestic connection on the same day. Access is also offered to the following frequent flyer members:
Qantas Gold, Platinum and Platinum One members
Emirates Skywards Gold and Platinum members
oneworld international business and first passengers
As well as these options, some frequent flyer credit cards offer complimentary, single-use Qantas Club Lounge invitations as an annual benefit. Usually, you'll need to meet a set of requirements to access these invitations, such as using the card to book Qantas flights or paying your account's annual fee. When the invitations are issued, you'll have a set period of time to use them when flying domestically with Qantas.
Compare credit cards with Qantas Club Lounge invitations
Qantas Club Lounge Locations
International Qantas lounge options
If you're flying overseas, you can enjoy access to one of the international lounges operated by Qantas or to an associated lounge (depending on your fare). See a breakdown of the different options below.
Qantas International and International Business Lounges
Qantas has 11 Business-branded international lounges and another 5 lounges that are branded simply as "International". Both of these lounges offer access to guests travelling on business class fares with Qantas, Emirates, China Eastern and Jetstar (Business Max only).
If you're a Qantas Club member, you can also access these lounges when you're travelling on a Qantas- or Jetstar-marketed international flight. The following Qantas, Emirates and oneworld frequent flyers may also visit these lounges when travelling on eligible international flights:
Qantas Gold, Platinum and Platinum One members
Emirates Skywards Gold and Platinum members
oneworld Sapphire and Emerald members
oneworld international business and first passengers
If you're travelling in first class with Qantas or Emirates, you also have the option of visiting these lounges. However, it's worth noting first class passengers usually get more premium service when visiting a Qantas First or associated lounge.
Lounge locations
Qantas International Business Lounge locations
Adelaide
Auckland
Darwin
Honolulu
Los Angeles (Tom Bradley Terminal)
Melbourne
Perth (T1)
Perth (T4)
Sydney
Tokyo (Narita)
Wellington
Qantas International Lounges
Brisbane
Hong Kong
Perth Transit Lounge (T3)
Qantas International First Lounges
Qantas operates four first class lounges, located in Sydney, Melbourne, Auckland and Los Angeles. You're eligible to visit any of these lounges when you're travelling in first class with Qantas and your ticket has a QF flight number. Both the Australian International First Lounges also offer access to guests travelling in first class with Emirates, as long as your next flight is operated by Emirates or Qantas and has an EK flight number.
The following high-status frequent flyers may also have access when flying with Qantas, Jetstar, Emirates or China Eastern, although these requirements do vary between the lounges:
Qantas Platinum and Platinum One members
Emirates Skywards Platinum members (excludes Los Angeles lounge)
oneworld Emerald members
oneworld international first passengers
Qantas International First Lounge locations
Auckland
Los Angeles (Tom Bradley Terminal)
Qantas international associated lounges
These lounges are operated in conjunction with other airlines or third-party organisations, so entry does vary between them. In most cases, you'll enjoy access when travelling with Qantas on a first or business class international flight. Some of them, such as the Beijing lounge (operated by Cathay Pacific) and the Dubai International Business Lounge (operated by Emirates), also offer access when you're flying first or business class with Emirates.
You'll also enjoy access to most (if not all) of these lounges when you have Qantas Club membership or if you're a Qantas Frequent Flyer with Platinum One, Platinum or Gold status. Usually, your next flight must be with Qantas, though many lounges also extend this offer to guests travelling with Emirates, Jetstar or oneworld airlines. As it does vary depending on the lounge, you may want to check the eligibility requirements for an individual lounge via the Qantas website before you travel.
Qantas international associated lounge locations
Bangkok
Beijing
Christchurch
Dallas Fort Worth
Denpasar
Dubai (International Business Lounge)
Dubai (First Lounge)
Jakarta
Johannesburg (Shongololo Lounge)
Manila
Nadi
New York (American Airlines Flagship Lounge)
New York (American Airlines Admirals Club)
Noumea
Osaka (JAL Sakura)
Osaka (KIX Airside Lounge)
Queenstown
San Francisco (Business Lounge)
Santiago
Shanghai (Business Lounge)
Shanghai (First Lounge)
Tokyo Haneda (Business Lounge)
Tokyo Haneda (First Lounge)
Vancouver
What is the difference between the Qantas Club and Qantas lounges?
The Qantas Club is a membership program that gives you access to Qantas Club Lounges in Australia, as well as international lounges at airports around the world. A major benefit of Qantas Club membership is that you can visit a lounge when booked on an economy fare, as long as you're flying with an eligible airline.
In Australia, that's usually Qantas or Jetstar flights with a QF, JQ, 3K, BL or GK flight code. Access to international lounges varies, but you'll typically be able to visit a Qantas International, International Business Lounge or associated lounge when you're flying with Qantas and have a QF flight number. Many international lounges also offer access when you're flying on a Jetstar-operated flight, while a select few extend this perk to travellers with Emirates.
Other key benefits of Qantas Club membership include:
A complimentary guest visit each time you travel
Priority check-in
Additional checked baggage allowance
Discounts on Qantas Meeting Rooms in Australia
The opportunity to request an upgrade at the airport between 3 hours and 20 minutes before your scheduled domestic flight (using Qantas Points)
30% off Secure-a-Spot airport parking
How much does Qantas Club membership cost?
If you're new to Qantas Club, you'll have to pay a one-off joining fee of $399 or 70,000 Qantas Points for an individual membership in Australia. You then have a choice of a 1-, 2- or 4-year membership, with the following prices:
| Membership period | Cost in dollars (AUD) | Cost in Qantas Points | Cost of membership + joining fee (AUD) |
| --- | --- | --- | --- |
| 1 year | $540 | 78,000 | $939 |
| 2 years | $980 | 155,000 | $1,379 |
| 4 years | $1,850 | 285,000 | $2,249 |
If you only fly a few times per year, Qantas Club membership probably isn't worth the cost, particularly if you also have to pay the joining fee.
Tip: Earn Qantas Points on your lounge membership
You can earn 3 Qantas Points per $1 spent if you pay for Qantas Club membership with cash or a credit card and include your Qantas Frequent Flyer membership number at the time of your payment. This is in addition to any points you would earn by using a Qantas Frequent Flyer credit card for the purchase, meaning you can earn points twice.
When you're considering different Qantas lounge options, keep in mind that the features you'll enjoy depend on the type of Qantas lounge available at the airport you're visiting, whether you're travelling internationally or domestically and if you're flying in first class or business class. Happy travelling.
Images: Finder
Back to top
More guides on Finder
Supercharge your frequent flyer points with Points Finder