The complete list of PlayStation VR games
Here is every PS4 game built explicitly for and supporting Sony's virtual-reality headset.
We're reader-supported and may be paid when you visit links to partner sites. We don't compare all products in the market, but we're working on it!

Since its launch back in October 2016, PlayStation VR has seen steady support both from Sony and from third-party developers. Not only has there been an impressive number of virtual-reality-only titles released for the system, 110 as of November 2017, plenty of traditional flat-screen titles like Resident Evil 7 and Thumper have implemented optional VR modes that offer a fresh way to experience their digital worlds.
In February 2021, it was revealed PSVR 2 is on the way, proving that Sony remains dedicated to the cause.
To help you navigate the many PSVR titles currently available, we've collected them all in the table below along with whether they require PSVR to play or simply offer PSVR support. You can also use the search box to find a specific title, or you can click the headings to sort the table according to your preference.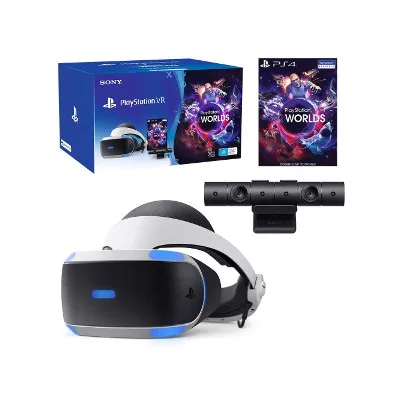 PlayStation VR bundle with Camera and VR Worlds
from Amazon
View details
| Game | Release date | Size (GB) | Publisher | VR Required |
| --- | --- | --- | --- | --- |
| PlayStationVR Demo Collection 2 | 08/11/17 | 15.21 | Sony Interactive Entertainment Europe | NO |
| Shooty Fruity Pre-Order | 19/12/17 | Unavailable | nDreams | YES |
| League of War VR Arena | 07/11/17 | 0.43 | MunkyFun Inc. | YES |
| End Space | 07/11/17 | 0.95 | Orange Bridge Studios Inc | YES |
| PixelJunk VR Dead Hungry | 07/11/17 | 0.52 | Q-GAMES | YES |
| Stifled | 31/10/17 | 5.09 | Sony Interactive Entertainment Europe | NO |
| Moss | 27/02/18 | Unavailable | Polyarc Inc. | YES |
| anywhereVR | 27/10/17 | 0.46 | Sony Music Entertainment(Japan) Inc. | NO |
| The Ministry of Time VR Save the time | 27/10/17 | 2.05 | EL FARO DEL FUTURO S.L. | YES |
| PlayStationVR Demo | 13/10/16 | 33.42 | Sony Interactive Entertainment Europe | YES |
| Gran Turismo Sport | 18/10/17 | 42.99 | Polyphony Digital Inc | NO |
| Gran Turismo Sport Digital Deluxe Edition | 18/10/17 | Unavailable | Polyphony Digital Inc | NO |
| Stunt Kite Masters VR | 25/10/17 | 0.50 | www.handy-games.com GmbH | YES |
| Raw Data | 18/10/17 | 8.64 | Survios Inc. | YES |
| The Invisible Hours | 17/10/17 | 6.37 | GameTrust Games | YES |
| Baskhead Training | 11/10/17 | 0.24 | VRLINES | YES |
| EVEREST VR | 04/10/17 | 8.19 | SOLFAR STUDIOS EHF | YES |
| DreamWorks Voltron VR Chronicles | 03/10/17 | 0.98 | Digital Domain Interactive LLC. | YES |
| Chernobyl VR Project | 29/09/17 | 7.95 | THE FARM 51 GROUP SA | YES |
| HeroCade | 26/09/17 | 3.55 | Lucid Sight Inc | YES |
| Light Tracer | 27/09/17 | 0.96 | OASIS GAMES LIMITED | YES |
| The Solus Project | 18/09/17 | 3.94 | GRIP DIGITAL S.R.O. | NO |
| The Lost Bear | 07/09/17 | 3.31 | FABRIK GAMES LTD | YES |
| Radial-G Racing Revolved | 12/09/17 | 2.91 | TAMMEKA LIMITED | NO |
| Bloody Zombies | 12/09/17 | 7.65 | nDreams | NO |
| Sneaky Bears | 31/08/17 | 1.52 | WarDucks Ltd | YES |
| Don't Knock Twice | 26/09/17 | 1.27 | Wales Interactive Limited | NO |
| MONSTER OF THE DEEP FINAL FANTASY XV | 21/11/17 | Unavailable | Square Enix LTD | YES |
| Sparc | 29/08/17 | 2.46 | CCP Games | YES |
| Dino Frontier | 01/08/17 | 1.15 | UBER ENTERTAINMENT INC | YES |
| CastleStorm VR Edition | 01/08/17 | 0.77 | ZEN STUDIOS LTD | YES |
| VRog | 31/07/17 | 0.20 | ByteRockers' Games GmbH Co. KG | YES |
| Theseus | 2017-07-26 | 1.136197632 | FORGE REPLY S.R.L. | YES |
| Tiny Trax | 2017-07-25 | 2.419720192 | FUTURLAB LIMITED | YES |
| Smashbox Arena | 2017-07-25 | 1.628962816 | ARCHIACT INTERACTIVE LTD | YES |
| SUPERHOT VR | 2017-07-19 | 2.922119168 | Superhot | YES |
| SUPERHOT MIND IS SOFTWARE BUNDLE | 2017-07-19 | 2.930573312 | Superhot | YES |
| RIGS Mechanized Combat League | 2016-10-13 | 19.96593562 | Sony Interactive Entertainment Europe | YES |
| PlayStationVR Worlds | 2016-10-13 | 8.119123968 | Sony Interactive Entertainment Europe | YES |
| DRIVECLUB VR | 2016-10-13 | 19.2373719 | Sony Interactive Entertainment Europe | YES |
| DRIVECLUB VR | 2016-10-13 | 19.2373719 | Sony Interactive Entertainment Europe | NO |
| Batman Arkham VR | 2016-10-13 | 8.581152768 | WARNER BROS. INTERACTIVE | YES |
| Battlezone | 2016-10-13 | 3.000369152 | REBELLION DEVELOPMENTS LTD | YES |
| Until Dawn Rush of Blood | 2016-10-13 | 13.26291354 | Sony Interactive Entertainment Europe | NO |
| Hustle Kings VR | 2016-10-13 | 0.983891968 | Sony Interactive Entertainment Europe | NO |
| Hustle Kings VR | 2016-10-13 | 0.983891968 | Sony Interactive Entertainment Europe | NO |
| Super Stardust Ultra VR | 2016-10-13 | 3.523805184 | Sony Interactive Entertainment Europe | NO |
| Super Stardust Ultra VR | 2016-10-13 | 3.523805184 | Sony Interactive Entertainment Europe | NO |
| Here They Lie | 2016-10-13 | 6.302990336 | Sony Interactive Entertainment Europe | NO |
| Tumble VR | 2016-10-13 | 2.844655616 | Sony Interactive Entertainment Europe | NO |
| THE PLAYROOM VR | 2016-10-10 | 2.215706624 | Sony Interactive Entertainment | NO |
| SUPERHYPERCUBE | 2016-10-13 | 0.223739904 | POLYTRON CORPORATION INC | YES |
| Thumper | 2016-10-13 | 1.275265024 | Drool LLC | NO |
| Harmonix Music VR | 2016-10-13 | 0.854654976 | Harmonix Music Systems Inc. | YES |
| Wayward Sky | 2016-10-13 | 2.719678464 | UBER ENTERTAINMENT INC | YES |
| Headmaster | 2016-10-13 | 1.771831296 | Frame Interactive Studio LLC | YES |
| Keep Talking and Nobody Explodes | 2016-10-13 | 0.70320128 | STEEL CRATE GAMES INC | YES |
| Job Simulator | 2016-10-13 | 0.969670656 | OWLCHEMY LABS LLC. | YES |
| Hatsune Miku VR Future Live | 2016-10-13 | 0.740687872 | SEGA EUROPE LTD | YES |
| Hatsune Miku VR Future Live Demo | 2017-01-24 | 0.400490496 | SEGA EUROPE LTD | NO |
| Hatsune Miku Project DIVA X | 2016-08-30 | 6.561595392 | SEGA EUROPE LTD | NO |
| Gunjack | 2017-01-24 | 0.680198144 | CCP Games | YES |
| The Assembly | 2016-10-13 | 4.223270912 | nDreams | NO |
| Loading Human Chapter 1 | 2016-10-13 | 3.947626496 | MAXIMUM GAMES | YES |
| Sports Bar VR 2.0 | 2017-01-24 | 0.859308032 | Cherry Pop Games Limited | YES |
| INVASION | 2017-01-24 | 1.368850432 | Baobab Studios Inc. | YES |
| Allumette | 2017-01-24 | 0.91717632 | PENROSE STUDIOS INC. | YES |
| KISMET | 2017-01-24 | 0.776339456 | PSYOP INC | YES |
| Rez Infinite | 2016-10-13 | 0.503250944 | ENHANCE GAMES INC. | NO |
| Waddle Home | 2017-01-24 | 0.51052544 | ARCHIACT INTERACTIVE LTD | YES |
| Volume | 2015-08-19 | 0.853082112 | MIKE BITHELL GAMES LTD | NO |
| Kitchen demo | 2017-01-24 | 0.790757376 | CE EUROPE LIMITED | NO |
| Ace Banana | 2016-10-13 | 1.18521856 | OASIS GAMES LIMITED | YES |
| Bound | 2016-08-16 | 1.554579456 | Sony Interactive Entertainment Europe | NO |
| VEV Viva Ex Vivo VR Edition | 2016-05-17 | 0.295370752 | Truant Pixel LLC | NO |
| Rise of the Tomb Raider 20 Year Celebration | 2016-10-11 | 20.04647936 | Square Enix LTD | NO |
| Pixel Gear | 2016-10-20 | 1.26976 | OASIS GAMES LIMITED | YES |
| Tethered Demo | 2016-12-13 | 0.703594496 | SECRET SORCERY LIMITED | NO |
| Tethered Divine Edition | 2016-12-06 | 0.006029312 | SECRET SORCERY LIMITED | NO |
| Tethered | 2016-10-25 | 1.57843456 | SECRET SORCERY LIMITED | NO |
| Windlands | 2017-01-24 | 1.71147264 | PSYTEC GAMES LTD | YES |
| Weeping Doll | 2016-10-27 | 1.139146752 | OASIS GAMES LIMITED | YES |
| Carnival Games VR | 2017-01-24 | 1.1534336 | 2K | YES |
| CALL OF DUTY INFINITE WARFARE JACKAL ASSAULT VR EXPERIENCE | 2016-11-04 | 1.24059648 | Activision Blizzard Int'l BV | YES |
| Eagle Flight | 2017-01-24 | 3.33545472 | UBISOFT ENTERTAINMENT SA | YES |
| Robinson The Journey | 2016-11-09 | 6.56244736 | Crytek Gmbh | YES |
| The Brookhaven Experiment | 2016-11-09 | 2.643853312 | PHOSPHOR GAMES STUDIO | YES |
| SPACE RIFT - Episode 1 | 2016-11-15 | 3.15162624 | BITCOMPOSER INTERACTIVE GMBH | YES |
| The Martian VR Experience | 2016-11-15 | 3.497394176 | TWENTIETH CENTURY FOX FILM CORPORATION | YES |
| O My Genesis VR | 2016-11-18 | 0.80576512 | XPEC Entertainment Inc. | YES |
| Time Machine VR | 2016-11-18 | 8.588230656 | Minority Media Inc. | YES |
| NBA 2KVR Experience | 2016-11-22 | 1.14819072 | 2K | YES |
| How We Soar | 2016-11-29 | 4.02194432 | Penny Black Studios Ltd | YES |
| Pinball FX2 VR | 2017-01-24 | 0.397737984 | ZEN STUDIOS LTD | YES |
| HoloBall | 2016-11-29 | 0.324993024 | TREEFORTRESS INC | YES |
| Trackmania Turbo | 2016-03-24 | 4.104257536 | UBISOFT ENTERTAINMENT SA | NO |
| Surgeon Simulator Experience Reality | 2016-12-03 | 1.533280256 | Bossa Studios Limited | YES |
| Crystal Rift | 2016-11-29 | 1.043267584 | PSYTEC GAMES LTD | NO |
| Werewolves Within | 2017-01-24 | 1.481048064 | UBISOFT ENTERTAINMENT SA | YES |
| Star Wars Battlefront Rogue One VR Mission | 2016-12-06 | 1.91823872 | EA Swiss Sarl | YES |
| Perfect | 2017-01-24 | 2.7295744 | nDreams | YES |
| Lethal VR | 2017-01-24 | 0.601030656 | Team 17 Digital LTD | YES |
| Fruit Ninja VR | 2017-01-24 | 0.499187712 | Halfbrick Studios | YES |
| Starship Disco | 2016-12-21 | 0.332333056 | Solus Games | YES |
| DEXED | 2017-02-01 | 0.82640896 | Ninja Theory | YES |
| RESIDENT EVIL 7 biohazard Deluxe Edition | 2017-01-24 | 0.015859712 | CE EUROPE LIMITED | NO |
| RESIDENT EVIL 7 biohazard | 2017-01-24 | 22.1355049 | CE EUROPE LIMITED | NO |
| I Expect You To Die | 2017-02-07 | 0.999161856 | Schell Games LLC | YES |
| VR Ping Pong | 2017-02-08 | 0.802226176 | MERGE GAMES.LIMITED | YES |
| Lens for PS VR | 2017-02-13 | 0.03145728 | LENS ENTERTAINMENT PTY. LTD. | YES |
| Joshua Bell VR Experience | 2017-02-14 | 0.872022016 | Sony Interactive Entertainment Europe | YES |
| Proton Pulse | 2017-02-15 | 0.588382208 | ZEROTRANSFORM LLC | YES |
| VirZOOM Arcade | 2017-02-15 | 1.988820992 | virZOOM Inc. | YES |
| DiRT Rally PLUS PLAYSTATIONVR BUNDLE | 2017-02-17 | Unavailable | CODEMASTERS SOFTWARE COMP | NO |
| DiRT Rally PLAYSTATIONVR UPGRADE DLC ADD-ON | 2017-02-17 | Unavailable | CODEMASTERS SOFTWARE COMP | YES |
| Psychonauts In The Rhombus Of Ruin | 2017-02-21 | 4.459462656 | Double Fine Productions | YES |
| Mervils A VR Adventure | 2017-02-21 | 3.71556352 | Vitruvius Technologies Inc. | YES |
| DYING Reborn PSVR | 2017-02-28 | 1.560150016 | OASIS GAMES LIMITED | YES |
| Unearthing Mars | 2017-03-07 | 9.405464576 | Winking Skywalker Entertainment Limited | YES |
| Darknet | 2017-06-05 | 0.339083264 | ARCHIACT INTERACTIVE LTD | NO |
| Cyber Danganronpa VR The Class Trial Demo | 2017-03-10 | 0.693108736 | Spike Chunsoft Co. Ltd. | YES |
| Virry VR Feel the Wild | 2017-03-10 | 6.965362688 | FOUNTAIN DIGITAL LABS LIMITED | NO |
| Korix | 2017-03-28 | 0.523436032 | STELLARVR LIMITED | YES |
| Fated The Silent Oath | 2017-03-28 | 1.851588608 | FRIMA STUDIO | YES |
| Atomic Ghost Fleet | 2017-04-07 | 2.206334976 | Alchemy VR Ltd. | YES |
| Cocos Shark Island | 2017-04-07 | 1.428619264 | Alchemy VR Ltd. | YES |
| David Attenboroughs First Life VR | 2017-04-07 | 0.93749248 | Alchemy VR Ltd. | YES |
| StarBlood Arena | 2017-04-12 | 5.551947776 | Sony Interactive Entertainment Europe | YES |
| VR Invaders - Complete Edition | 2017-04-18 | 0.665714688 | MY.COM B.V. | YES |
| Bandit Six Combined Arms | 2017-04-19 | 0.663027712 | Climax Studios Limited | YES |
| Statik | 2017-04-24 | 1.174470656 | Tarsier Studios | YES |
| Symphony of the Machine | 2017-04-26 | 1.732247552 | STIRFIRE PTY LTD | YES |
| VR Levels | 2016-10-27 | 0.002359296 | InFramez Technology Corp | NO |
| Polybius | 2017-05-10 | 0.171769856 | LLAMASOFT LTD | NO |
| VR Karts | 2017-05-11 | 1.327366144 | Viewpoint Games Ltd. | YES |
| The Virtual Orchestra (Premium) | 2017-05-08 | 2.746351616 | Philharmonia Orchestra | YES |
| Farpoint | 2017-05-17 | 11.4940969 | Sony Interactive Entertainment Europe | YES |
| Dick Wilde | 2017-05-17 | 0.588644352 | PLAYSTACK LIMITED | YES |
| Star Trek Bridge Crew | 2017-05-30 | 2.982936576 | UBISOFT ENTERTAINMENT SA | YES |
| Ancient Amuletor Demo | 2017-05-30 | 1.375338496 | BEIJING SHI GUANG MENG HUAN TECHNOLOGY CO.LTD | NO |
| Mortal Blitz | 2017-06-07 | 1.175781376 | SKONEC Entertainment | YES |
| DOOM VFR | 2017-12-01 | Unavailable | Bethesda | NO |
| The Elder Scrolls V Skyrim VR | 2017-11-17 | 0.004521984 | Bethesda | NO |
| Ctrl | 2017-06-23 | 1.696530432 | Breaking Fourth Limited | YES |
| EVE Valkyrie Warzone | 2017-06-07 | 5.866258432 | CCP Games | NO |
| Chess Ultra | 2017-06-21 | 2.375286784 | RIPSTONE LTD | NO |
| Ancient Amuletor | 2017-06-27 | 2.732916736 | BEIJING SHI GUANG MENG HUAN TECHNOLOGY CO.LTD | YES |
| Spider-Man Homecoming - Virtual Reality Experience | 2017-06-30 | 0.744620032 | Sony Pictures Virtual Reality | YES |
| Arizona Sunshine | 2017-07-05 | 6.217728 | Vertigo Games B.V | YES |
| GNOG | 2017-05-02 | 1.567883264 | KO-OP MODE INC. | NO |
| Fantastic Contraption | 2017-07-11 | 0.441319424 | Radial Games Corp. | YES |
| Apollo 11 VR | 2017-03-01 | 5.1134464 | IMMERSIVE VR EDUCATION LTD | YES |
| Archangel | 2017-07-18 | 5.265752064 | Skydance Interactive LLC | YES |
| THE IDOLMSTER CINDERELLA GIRLS VIEWING REVOLUTION | 2017-07-19 | 0.01703936 | BANDAI NAMCO ENTERTAINMENT EUROPE | YES |
| Within | 2016-12-08 | 0.14155776 | Within Unlimited Inc. | YES |
| Littlstar VR Cinema | 2016-10-13 | 0.210829312 | Little Star Media Inc. | YES |
---